Happy Mother's Day from Fenton Art Glass. . .
As we celebrate Mother's Day this year, we pay tribute to all mothers and special people who take care of loved ones with a few quotes from some "well-known" children:
"Youth fades; love droops, the leaves of friendship fall; A mother's secret hope outlives them all." ─ Oliver Wendell Holmes

"I remember my mother's prayers and they have always followed me. They have clung to me all my life." ─ Abraham Lincoln

"My mother was the most beautiful woman I ever saw. All I am I owe to my mother. I attribute all my success in life to the moral, intellectual and physical education I received from her." ─ George Washington
---
Fenton Presents. . . Whimsical Delights!
Fenton jewelry designers Jena Lane Blair and Truda "TJ" Mendenhall enjoy teaming up to create fun and playful designs for our popular Whimsy collection.
The 2016 Whimsy Collection includes beautiful glass hues of blue, lavender, mint green, topaz and Milk Glass.

Jena and Truda added colorful three-dimensional and hand applied decorations. Each handcrafted bead is initialed by the artist who completed it. According to Jena, "Creating a three dimensional bead is like 'painting with molten glass' and takes patience as well as skill!"
The name of each bead suits the design perfectly! A "story card" that tells the "story" for each bead's design is included with this collection. Our 2016 Whimsy Collection includes the ten designs shown here (l-r by row): Bunny Buddies; Butterfly Awe; Froggie Kisses; Hey, Diddle, Diddle; Hunny Bees; Just Snail'n Along; Shelley the Sea Turtle; Tiger Tales; Twinkles the Firefly; and Wally Koala. Shown below (l-r) are our returning popular designs: Beach Buddies, Bookworm Boogie, Delightful Dragonfly, Feisty, Lavender Fields, Lucky Ladybug, Nighttime Garden, Picnic Time, and Twitterlight Owl. Mix and match with regular line beads to create a fun and festive look for your fashions! Click here to view the complete Whimsy collection or visit www.fentonglassjewelry.com and be sure to register for your online shopping account!
---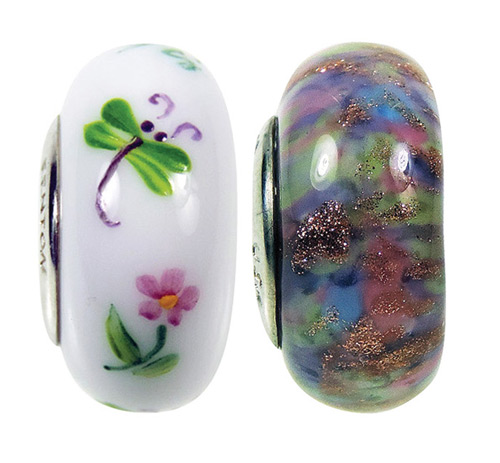 Frequent Buyer Program for Beads. . . Changes Coming!
The current Fenton Frequent Buyer Bead Program will end on May 31st, 2016. A new program will start through the Fenton Glass Jewelry web site on June 1st. Details coming soon! What is the Frequent Buyer Program? Simply purchase ten beads from any authorized Fenton jewelry dealer or website and you'll qualify for a FREE bonus bead! Click here for details! The current offerings are Gracie (decorated) and Mikayla (Vasa Murrhina) shown here. NOTE: If you have purchased ten beads, please let us know. Send an email: askfenton@fentonartglass.com with "Frequent Buyer Qualifier" in the subject line.
---
NEW Fenton Gift Shop Limited Editions . . .

Fenton Gift Shop is pleased to offer a new selection of Limited Editions! Each piece features a design by our award-winning Fenton artists, and will be hand painted, signed, numbered, and dated by the artist. Included in this grouping are a 12.5" vase, a 10.5" Feather vase and a 9" vase, all handcrafted in Opal Satin by Davis-Lynch Glass. Also included is a 5.25" Opal Satin Rooster figurine made by Mosser. These pieces were made exclusively for the Fenton Gift Shop, using a Fenton mould, and returned to our factory where our talented designers created these wonderful Limited Edition designs!

To pre-order any of these Limited Editions, please call the Fenton Gift Shop:
1-800-319-7793 or 1-304-375-7772, ext. 342 or send an email, listing the item(s) you want: purchasing@fentongiftshop.com. You may also request that we add your email address to Fenton Gift Shop's mailing list so you may receive future limited edition notifications.
Left: We all agree that Robin Spindler's creativity shines as bright as the golden sun on the back side of this vase! This impressive Opal Satin vase provides the perfect canvas for Robin's hand painted majestic elephant. Robin added zebra stripes and leopard spots as the perfect accents around the bottom. Each Majestic Elephant Vase is $260.
Below: The shape of our elegant Feather vase appealed to Robin for her hand painted design of a white-breasted nuthatch. She added sprigs of berries and sparkling gem accents around the top of the vase, along with a sponge-like background and subtle airbrushing for a beautiful overall look.

Often seen at bird feeders, this petite songbird is active and agile, often foraging up, down and sideways on trees. You can attract nuthatches to your backyard by offering sunflower seeds, peanuts, and by putting out suet. Each White-breasted Nuthatch Vase is $185.

Note: Be sure to watch for a companion vase with two birds coming soon on our Fenton eBay auctions! Pre-orders for the Majestic Elephant Vase and the White-breasted Nuthatch Vase will be accepted until midnight (ET) on Monday, May 9th.
Frances Burton continues her popular "Butterfly Rainbow" design on this 9" Opal Satin vase. You may recall this design on our Alley Cat and Ghost figurines and both were very well received!

Butterflies are meaningful to people in many ways. To Native Americans, the butterfly is a symbol of change, joy and color, and is considered a miracle of transformation and resurrection. And in some cultures the butterfly is associated with the soul.

Frances added soft pastel shades of blue and pink to the vase before hand painting these delicate winged creatures. Her vibrant, multi-colored butterflies encircle the vase. This Butterfly Rainbow Vase is $180 each.

Robin Spindler has created a tender scene of a mouse peacefully "cat napping" next to a tiger kitten with another kitten snuggled in a blanket on this Opal Satin Chessie Cat Covered Box. The hand painted details are meticulously done and Robin's technique of adding slightly thicker white accent lines really make her design stand out, especially on the ears and eyes. We're positive that you will smile every time you see this piece! Each Cat Nappin' Chessie Cat covered Box is $195 and is limited to just 12 sets, so don't you be caught nappin' and miss your opportunity to add this wonderful Chessie Cat Covered Box to your collection!
Roosters may be funny looking creatures, but we think figurine collectors will want to add this 5.25" rooster to their collection! This Opal Satin Rooster figurine looks great hand painted in a folk art style by Frances Burton. Her use of pastel colors are perfect for this figurine! The polka dot accents on the rooster's comb, front and tail feathers complete the folk art look of this rooster. Each Folk Art Rooster figurine is $95.

Pre-orders for the Butterfly Rainbow Vase, the Cat Nappin' Chessie Cat covered Box and the Folk Art Rooster figurine will be accepted until midnight (ET) on Wednesday, May 11th.

To pre-order any of these Limited Editions, please call Fenton Gift Shop: 1-800-319-7793 or 1-304-375-7772, ext. 342 or send an email, listing the item(s) you would like to purchase: purchasing@fentongiftshop.com
---
Visit Fenton Gift Shop. . . Perfect Gifts for Any Occasion!


Fenton Gift Shop Hours: Wednesday-Saturday: 10 a.m.- 3 p.m. (ET). Closed Sunday-Tuesday.
Please call to confirm hours as they are subject to change. 1-800-319-7793 or 1-304-375-7772

Stop by and see the latest offerings in glass, jewelry specials and Fenton memorabilia at Fenton Gift Shop, located at 420 Caroline Avenue in Williamstown, WV 26187. Fenton Gift Shop has a nice selection of NEW one-of-a-kind art glass creations and limited editions, as well as excellent regular line glass with newly arrived items. . . all available while supplies last as they may be just one of a particular item! Be sure to check out our specials on handcrafted jewelry from Designer Sample and one-of-a-kind beads to sterling silver accessories and art glass earrings in a rainbow of colors, designs and glass treatments!

Love history? We have catalogs, marketing materials and other unique items related to the Fenton Art Glass Company's 111-year-old history. You never know what you'll find in our odds and ends section of remaining factory items! Fenton Art Glass. . . perfect for gift giving, for special occasions or treat yourself!
---
Fenton's Weekly eBay Auctions. . .
Here's your opportunity to own a beautiful one-of-a-kind item through our weekly eBay Auctions! Each one-of-a-kind art glass creation is dated, identified and signed by the award-winning Fenton artist who designed it. Shown here are our latest offerings. Items featured this week. . .
Here's a wonderful, one-of-a-kind hand painted Alley Cat (11" tall) by Robin Spindler. The Alley Cat is one of our most popular and collectible items. The mould, which originated at the old U.S. Glass Co. in Tiffin, Ohio, in the 1920s was purchased by Fenton in the 1960s. That original mould was used by Mosser Glass to produce this example in their Buttercream glass color. You'll love the hand painted, stylized floral motif accented with gemstones. My, oh my, look at those big, beautiful blue eyes!

With Lotus Mist Burmese (a classic Fenton glass color that contains pure gold) for her canvas, Michelle Kibbe created and hand painted this splendid one-of-a-kind pitcher (4.25" tall). The vivid colors and realistic daisies and dotted accents will amaze you!

With Persimmon glass for her canvass, Frances Burton designed and hand painted this remarkably delicate floral motif on the shiny surface of this vividly colored vase (Persimmon glass has an inner layer of Milk Glass). Every hand painted flower and leaf is just perfect, and the white beading adds a note of real elegance. Take a look at these offerings and other "Buy It Now" items available on our Fenton eBay Auctions.
---
If you have a question about a piece of glass. . .
We no longer have the staff to respond to questions regarding glass identification, values of antique glass, or related matters that come to us through "Ask Fenton" or by telephone. There are two collector clubs devoted to Fenton glass, the Fenton Art Glass Collectors of America (FAGCA) and the National Fenton Glass Society (NFGS), that may be of assistance to you. Reference books on Fenton Art Glass are also available on our web site: http://www.fentonartglass.com/shop/product.asp?c=0&l=books and magazines, however, they do not include current price guides. We suggest you contact your local antiques dealer(s), the local library, or one of the collector clubs: http://www.fentonartglass.com/collectors. There are also fan sites, such as the Fenton Fanatics, on Facebook. You may also find your piece listed on eBay, which may provide current pricing information. The Williamstown Antique Mall may also provide assistance: 304-375-6315. Otherwise, please send email inquiries about glass production to: purchasing@fentonartglass.com
---