Fenton Presents. . . Show Your Patriotic Spirit with Fenton Beads!
Show your patriotic spirit with handcrafted art glass beads. . . made in the USA!

New for 2016, these Milk Glass beads feature colorful hand applied decorations for either Patriotic Democrat or Patriotic Republican. Each bead also includes a top hat, U.S. flag and stars design (see smaller images). Our God Bless America bead has these hand lettered words as well as the U.S. flag and a fireworks display. Designed by Truda "TJ" Mendenhall, each bead is initialed by the artist who completed it. Jena Lane Blair designed the two beads shown below as perfect complements to the patriotic beads.

Proud to Be An American is made with vibrant red, white and blue glass encased in crystal with beautiful deep bubbles. Fireworks has the classic Vasa Murrhina glass treatment, a term which means "vessel of gems." Each bead captures a glittering layer of Goldstone and our bead makers use extreme care to maintain its sparkle in the hot flame. Tiny bits of colored glass add a variety of hues in each different design, and no two are identical! This difficult process is one of the secrets of Fenton quality and the brilliance of its beads.

Fenton USA Jewelry is handcrafted with quality and tested for durability. Each hand decorated bead is initialed by the talented artist who completed it and has a sterling silver core embossed Fenton USA. Because of the handmade process, bead size may vary slightly. Visit www.fentonglassjewelry.com and be sure to register for your online shopping account!
April Garden Focal Bead Online Special. . .
| | |
| --- | --- |
| | |
If a picture is worth a thousand words. . . imagine the striking conversations this unique Focal bead will bring! Designed by Jena Lane Blair and Truda ''TJ'' Mendenhall, this beautiful Milk Glass Focal bead is named April Garden. The story behind the creation of this bead is that it reminded each designer of "lovely jonquils and blue iris, my garden of tranquility". April Garden is approximately 1" in length and is initialed by the Fenton artist who meticulously completed it. Shown above are a few of the "production" steps involved in creating this beautiful bead. We are pleased to offer our remaining inventory (fewer than 20 now remain) at 35% discount! Regularly $95, our Online Special price is $61.75 each . . . while supplies last! This offer expires at noon (ET) on Thursday, May 5th. . . and there's still time to receive it by Mother's Day if you place your order today! Click on the image to order. April Garden. . . a unique "forever gift" for someone special (Mother's Day, Graduation, Wedding, Birthday) or just because!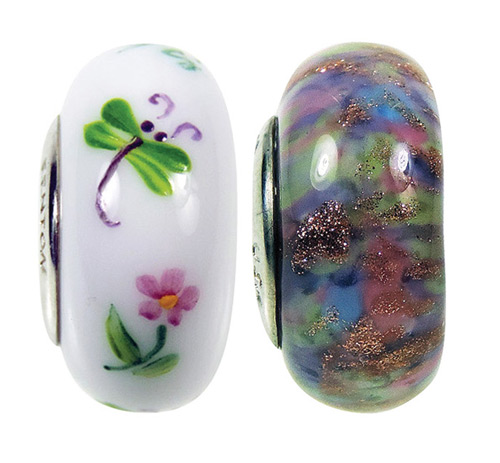 Frequent Buyer Program for Beads. . . Changes Coming!
The current Fenton Frequent Buyer Bead Program will end on May 31st, 2016. A new program will start through the Fenton Glass Jewelry web site on June 1st. Details coming soon! What is the Frequent Buyer Program? Simply purchase ten beads from any authorized Fenton jewelry dealer or website and you'll qualify for a FREE bonus bead! Click here for details! The current offerings are Gracie (decorated) and Mikayla (Vasa Murrhina) shown here. NOTE: If you have purchased ten beads, please let us know. Send an email: askfenton@fentonartglass.com with "Frequent Buyer Qualifier" in the subject line.
---
NEW Fenton Gift Shop Limited Editions . . .
Fenton Gift Shop is pleased to offer a new selection of Limited Editions! Each piece features a design by our award-winning Fenton artists, and will be hand painted, signed, numbered, and dated by the artist. Included in this grouping are an 11" Alley Cat figurine, a 5" Stylized Cat figurine, 9" Candy Box, and a pair of duck figurines, all handcrafted in Opal Satin by Mosser Glass. Also included is a 10" Opal Satin Vase, made by Davis-Lynch. These pieces were made exclusively for the Fenton Gift Shop, using a Fenton mould, and returned to our factory where our talented designers created these wonderful Limited Edition designs! To pre-order any of these Limited Editions, please call the Fenton Gift Shop: 1-800-319-7793 or 1-304-375-7772, ext. 342 or send an email, listing the item(s) you want to purchase: purchasing@fentongiftshop.com. You may also request that we add your email address to Fenton Gift Shop's mailing list so you may receive future limited edition notifications.
If you liked the Fungi Fairy
Alley Cat by Robin Spindler offered in late March, then
you'll want to add this "Fairy
and Friends" Opal Satin Alley
Cat to your collection! Robin
has meticulously hand painted
a wonderful scene, complete with flora and fauna, a fairy
and mice. A fairy with brilliant blue wings sits on a toadstool, accepting a lovely bouquet
from a mouse, while another mouse is shown gathering flowers on the back side of
the figurine. Robin added
gem accents to the fairy
wings for extra sparkle.

Each Fairy and Friends
Alley Cat figurine is $265.
Kim Barley continues her popular "Gray Wolf" design on one of our new shapes, the 9" Candy Box. Handcrafted in Opal Satin, Kim has airbrushed most of the outside in a soft blue hue as the background for her "Gray Wolf" scene. The golden eyes of a gray wolf peer out from the trees. The beautiful hand painted white birch and pine trees encircle the entire candy box.

Note the distinctive wolf paw print on the base of the candy box!
Kim's design was also featured on our Alley Cat in the April 1 eNewsletter. This Gray Wolf Candy Box is $185 each.

Shown at right is a our 5" Opal Satin Stylized Cat figurine featuring a colorful "Purrfect Peacock" design by Kim Barley. Kim airbrushed the figurine in soft blue hues and added amazing hand painted peacock feather details, especially the metallic gold highlights. Note the Peacock mask on the face . . . doesn't it remind you of the masks worn during Mardi Gras?

A great piece for cat figurine collectors or any Fenton figurine collection! Each Purrfect Peacock Stylized Cat Figurine is $90.

Pre-orders for the Fairy and Friends Alley Cat figurine, the Gray Wolf Candy Box and the Purrfect Peacock Stylized Cat Figurine will be accepted until midnight (ET) on Monday, May 2nd.
Frances Burton's artistic talent and her love of nature are evident on this 10" Opal Satin vase. Frances hand painted a beautiful scene with a male and a female Rufous Hummingbird pair sipping nectar from a trumpet vine. You can almost hear the flutter of the wings of these feisty, jewel-toned tiny birds. Frances added a darker color accent band near the top to complete this vase. Each Hummingbird Delight Vase is $185.
Pre-orders for the Hummingbird Delight vase and the Mallard Duck figurines will
be accepted until midnight (ET) on Wednesday, May 4th. To pre-order any of these Limited Editions, please call Fenton Gift Shop: 1-800-319-7793 or 1-304-375-7772, ext. 342 or send an email, listing the item(s) you would like to purchase: purchasing@fentongiftshop.com.

Robin Spindler has transformed these Opal Satin duck figurines into an elegant pair of Mallards. These trim, wary and fast-flying ducks are often found at parks, ponds and wetlands. Known as "dabbling ducks", Mallards feed in the water by tipping forward and grazing on underwater plants. Did you know that almost all domestic ducks come from this species? A great addition to any figurine collection, these duck figurines are available
for $75 each or the pair for $140.
---

Find Perfect Gifts for Mom & Grads. . .
Visit Fenton Gift Shop!
Stop by and see the latest offerings in glass, jewelry specials and Fenton memorabilia at Fenton Gift Shop, located at 420 Caroline Avenue in Williamstown, WV. Fenton Gift Shop has a nice selection of NEW one-of-a-kind art glass creations and limited editions, as well as excellent regular line glass with newly arrived items!

Be sure to check out our specials on handcrafted jewelry from Designer Sample and one-of-a-kind beads to sterling silver accessories and art glass earrings in a rainbow of colors, designs and glass treatments!

Love history? We have catalogs, marketing materials and other unique items related to the Fenton Art Glass Company's 111-year-old history.

Odds and ends. . . you never know what you'll find in our odds and ends section of remaining factory items!

Fenton Art Glass. . . perfect for gift giving, for special occasions or treat yourself!


Fenton Gift Shop Hours:
Wednesday-Saturday: 10 a.m.- 3 p.m. (ET).
Closed Sunday-Tuesday.
Please call to confirm hours as they are subject to change.

1-800-319-7793 or 1-304-375-7772
---
Fenton's Weekly eBay Auctions. . .
Here's your opportunity to own a beautiful one-of-a-kind item through our weekly eBay Auctions! Each one-of-a-kind art glass creation is dated, identified and signed by the award-winning Fenton artist who designed it. Shown here are our latest offerings.
Items featured this week. . .
The stately Giraffe is a giant among the animal kingdom, and this spectacular one-of-a-kind Rosalene vase (10.5 tall, 6.5" wide at shoulder) will really make a statement in any collection! Robin Spindler designed the scene, which depicts a herd of Giraffes as they move through the mist in their native habitat, complete with realistic trees and foliage. Robin appropriately named this vase "Out of the Mist" for this marvelous scene. The details are meticulously done and wonderfully realistic.

What could be nicer to display on your tabletop than a hand painted Butterfly by Michelle Kibbe on a one-of-a-kind Rosalene bowl with six-point crimp? The exterior is satin finished, and the interior is shiny (the bowl is 3.75" tall and the diameter across the crimps is 4.5"). The Butterfly, flowers and leaves are beautifully hand painted, and everything about this bowl says Spring!

This splendid one-of-a-kind basket is handcrafted in Lotus Mist Burmese, a classic Fenton color that contains pure gold in the glass batch. Frances Burton designed and hand painted the lush Dogwood Blooms floral motif that graces this great basket. The basket is 9" tall, and the measurement across at the widest points on the elaborate lily crimp is 9.25". Special reheating techniques create the pink blush. Note the fine rib twisted handle and the distinctive handler's mark. Take a look at these offerings and other "Buy It Now" items available on our Fenton eBay Auctions.
---
If you have a question about a piece of glass. . .
We no longer have the staff to respond to questions regarding glass identification, values of antique glass, or related matters that come to us through "Ask Fenton" or by telephone. There are two collector clubs devoted to Fenton glass, the Fenton Art Glass Collectors of America (FAGCA) and the National Fenton Glass Society (NFGS), that may be of assistance to you. Reference books on Fenton Art Glass are also available on our web site: http://www.fentonartglass.com/shop/product.asp?c=0&l=books and magazines, however, they do not include current price guides. We suggest you contact your local antiques dealer(s), the local library, or one of the collector clubs: http://www.fentonartglass.com/collectors. There are also fan sites, such as the Fenton Fanatics, on Facebook. You may also find your piece listed on eBay, which may provide current pricing information. The Williamstown Antique Mall may also provide assistance: 304-375-6315. Otherwise, please send email inquiries about glass production to: purchasing@fentonartglass.com
---