Fenton Presents. . . Gift Giving Ideas and Online Specials!
Celebrate the special people in your life with extra-special gifts from the heart or add to your jewelry collection with new online specials from www.fentonartglass.com. Quantities are very limited, so don't miss your opportunity to add these beautiful beads and jewelry selections to your collection or keep as a gift for someone special! These Online Specials expire at 8 a.m. (ET) on Wednesday, April 27th. All items must be ordered via www.fentonartglass.com and these offers do not apply to previous purchases.
Dress to Impress with Handcrafted Fenton Glass "Impression" Beads!

u 30% discount on "retired" Impression Beads. These larger-sized glass beads are approximately 1.25'' in length, but will vary because of the handmade process. Choose from the ten Impression beads shown above and note that quantities are very limited! Make your fashion statement with Fenton's Impression beads! Impression beads look great on the horizontal ribbon pendant holder as well as many styles of necklaces and bracelets.
Sterling Silver Tassel Necklace
Online Special Continues. . .
u We are pleased to continue the online special on our remaining inventory of this beautiful 33" sterling silver tassel necklace You'll receive a 50% discount!
Just $47.50 each, while supplies last!

Pair this necklace with our larger-sized beads for any occasion!

Shown at left is the Tassel necklace with the Jitterbuggin' Dragonfly Impression Bead (sold separately, see above).


33" Sterling Silver Tassel Necklace
Originally $95, Now $47.50
$49.50 Online Leather Bracelet Special. . .
u We are pleased to offer our remaining inventory of the two leather bracelets shown below for $49.50 each, while supplies last! Regular retail is $75. Don't delay. . . quantities are very limited! These made in the USA leather bracelets each include a handcrafted Fenton glass pendant bead. Designed by Jena Lane Blair, they make a unique gift for a graduate or someone special in your life. . . or treat yourself! A versatile fashion accessory, each bracelet will accommodate a variety of Fenton handcrafted art glass beads or pendants.

Our Grace Bracelet has the handcrafted "Grace" pendant paired with a brown leather bracelet, and each piece has antique silver fittings. This bracelet is adjustable from 6''-8.25'' in length.

"Grace" Bracelet
$75, Now $49.50
Just six available!


The glass pendants are approx. 2-3/8" long with a special message (either hand pressed or handwritten into the glass) and a hand applied decoration designed by Truda "TJ" Mendenhall. Each decorated pendant is initialed by the artist. Shown below is the Hopeful Bracelet with a pendant in soft hues of pink glass with a hand applied floral decoration and antique brass clasps. This pendant comes on a black leather bracelet with antique brass fittings.
Hopeful Bracelet, $75, Now $49.50, Just 11 available!

---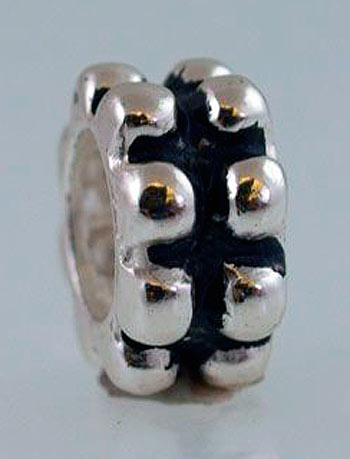 While Supplies Last "Retired" Spacer Bead. . .
This sterling silver spacer bead has been "retired" from our accessory line and fewer than a dozen now remain in our inventory! Place this spacer bead between your Fenton Art Glass handcrafted beads on a bracelet, necklace, pendant or other jewelry accessory as the perfect accent piece! Don't delay as this spacer will soon be going, going, GONE! Right: 60044 Sterling Silver Spacer Bead, $15 each While Supplies Last!
Fashionable Accents to Complete Your Look. . .

Choose from a variety of styles of handcrafted unique and sparkling spacer and stopper beads to complete your look!

Click on the image to view the complete line and be sure to register for your online shopping account at Fentonglassjewelry.com!

---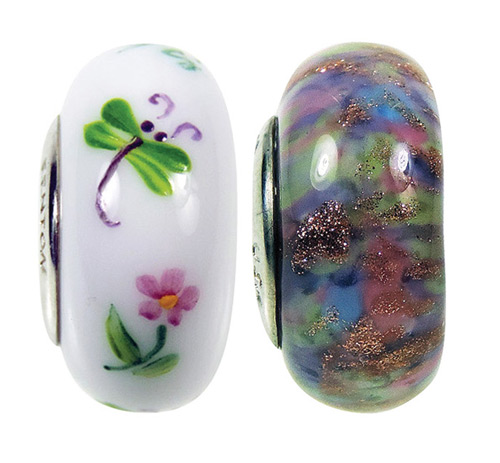 Frequent Buyer Program for Beads. . . Changes Coming!
The current Fenton Frequent Buyer Bead Program will end on May 31st, 2016. A new program will start through the Fenton Glass Jewelry web site on June 1st. Details coming soon! What is the Frequent Buyer Program? Simply purchase ten beads from any authorized Fenton jewelry dealer or website and you'll qualify for a FREE bonus bead! Click here for details! The current offerings are Gracie (decorated) and Mikayla (Vasa Murrhina) shown here. NOTE: If you have purchased ten beads, please let us know. Send an email: askfenton@fentonartglass.com with "Frequent Buyer Qualifier" in the subject line.
---
NEW Fenton Gift Shop Limited Editions . . .
Fenton Gift Shop is pleased to offer a new selection of Limited Editions! Each piece features a design by our award-winning Fenton artists, and will be hand painted, signed, numbered, and dated by the artist. Included in this grouping are a 9.75" Candy Box, a 2.75" bird figurine, a 5.75" Ghost figurine, and an 11" Alley Cat figurine, handcrafted in Opal Satin by Mosser Glass. Also included is a 9" Vase handcrafted in Opal Satin by Davis-Lynch. These pieces were made exclusively for the Fenton Gift Shop, using a Fenton mould, and returned to our factory where our talented designers created these wonderful Limited Edition designs! To pre-order any of these Limited Editions, please call the Fenton Gift Shop: 1-800-319-7793 or 1-304-375-7772, ext. 342 or send an email, listing the item(s) you want to purchase: purchasing@fentongiftshop.com. You may also request that we add your email address to Fenton Gift Shop's mailing list so you may receive future limited edition notifications.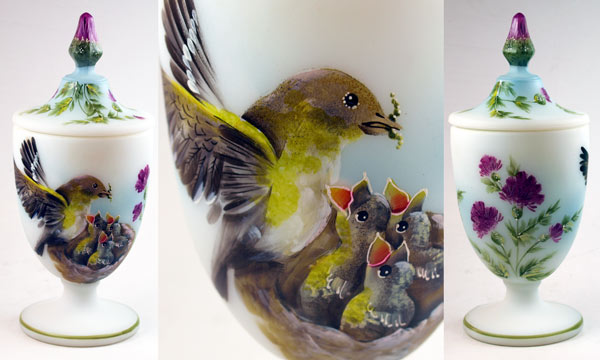 This elegant Opal Satin Candy Box features a realistic hand painted design by Robin Spindler of an American Goldfinch feeding her young. Robin added vibrant purple flowers on the other side of this candy box, and adorned the top with more blossoms. Note how the hand painted bloom on the very top of the lid resembles a budding flower!
Each Goldfinch Feeding Time Candy Box is $225.

Shown at right is a wonderful figurine,
hand painted by Robin Spindler to resemble one of our favorite backyard birdfeeder favorites. . . the male American Goldfinch. This figurine is also a perfect companion piece to the Goldfinch Candy Box shown above!

Note the hand painted details on the wings and tail feathers! And, the eyes appear to be looking right at you!

A great piece for figurine collectors and as a gift for bird watchers! Each American Goldfinch Figurine is $80.


This Opal Satin 9" Vase has been transformed with a lovely scene from nature. . . a buck deer is watching out for the doe as both deer wander near a rustic barn. Designed by Frances Burton, the soft background hues lend a feeling of serenity to the entire scene. This Watchful Deer Vase is $195 each.

Pre-orders for the Goldfinch Feeding Time Candy Box, the American Goldfinch Figurine and the Watchful Deer Vase will be accepted until midnight (ET) on Monday, April 25th.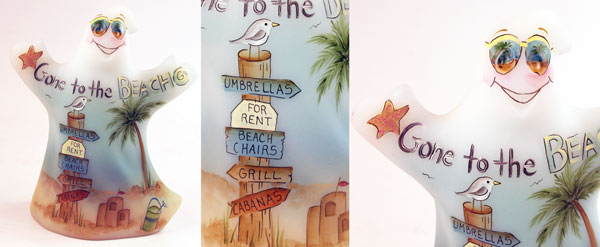 Our friendly Ghost has "Gone to the BEACH" . . . and it appears to be having a great time! Kim Barley created this fun beach scene on our 5.75" Opal Satin Ghost figurine. Kim's hand painted details are full of whimsy and will delight one and all. . . from the starfish, sand castle (complete with flag!) and bucket with shovel to the seagull resting atop the sign post! And, don't miss the reflections in the sunglasses! Each Gone to the Beach Ghost figurine is $120.
| | |
| --- | --- |
| | Michelle Kibbe has created a wonderful summer beach scene on this 11" Opal Satin Alley Cat figurine. We call this the "Beach Buddy" Alley Cat and it is sure to brighten any room in your home! Michelle's hand painted details provide a pleasant reminder of a day spent at the beach. Note the sun hat and sunglasses resting on the striped beach towel. There is even a white sailboat on the front of this figurine (see arrow). Matching beach umbrellas are stuck in the sand nearby and vibrant blue hues create a perfect water scene. Each Beach Buddy Alley Cat is $215. |
Pre-orders for the Gone to the Beach Ghost figurine and the Beach Buddy Alley Cat Figurine will be accepted until midnight (ET) on Wednesday, April 27th. To pre-order any of these Limited Editions, please call Fenton Gift Shop: 1-800-319-7793 or 1-304-375-7772, ext. 342 or send an email, listing the item(s) you would like to purchase: purchasing@fentongiftshop.com.
Visit Fenton Gift Shop. . .
Stop by and see the latest offerings in glass and Fenton memorabilia from Fenton Gift Shop, located at 420 Caroline Avenue in Williamstown, WV.

There is a nice selection of NEW one-of-a-kind art glass creations and limited editions, as well as an excellent selection of regular line glass with newly arrived pieces! Fenton Art Glass is perfect for gift giving for special occasions or treat yourself! Shown at left are new Hen on Nest sets for $37.50 each.

Fenton Gift Shop Hours:
Wednesday-Saturday: 10 a.m.- 3 p.m. (ET). Closed Sunday-Tuesday. Please call to confirm hours as they are subject to change.
---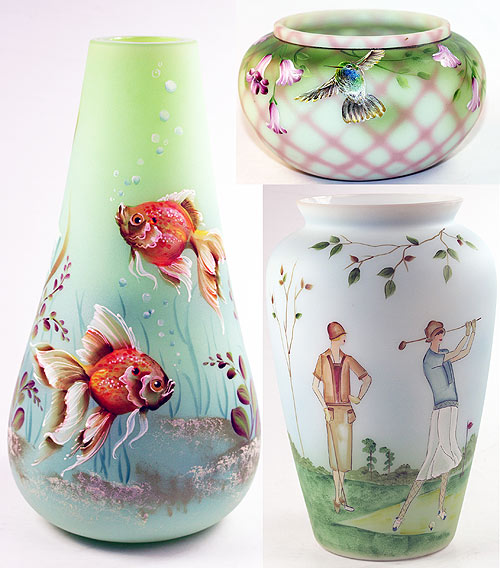 Fenton's Weekly eBay Auctions. . .
Here's your opportunity to own a beautiful one-of-a-kind item through our weekly eBay Auctions! Each one-of-a-kind art glass creation is dated, identified and signed by the award-winning Fenton artist who designed it. Shown here are our latest offerings. Items featured this week. . .
Sometimes those who enjoy fishing are saddened to see a "No Fishing" sign, but here's an example from award-winning Fenton designer Robin Spindler that will delight anyone who has ever wet a line! This one-of-a-kind, multi-layered cased glass vase (9.5") in wonderful tones of green features vivid orange-yellow fish and underwater foliage. The fish are remarkably realistic with delicate fins and tails that seem to be in motion as they swim near that "No fishing" sign!
Perfect for potpourri or for safekeeping some of your treasures, this one- of-a-kind bowl in Lotus Mist Burmese features a hand painted decoration by the talented Fenton artist Michelle Kibbe. Lotus Mist Burmese is a classic Fenton glass color that contains pure gold, and our skilled glassworkers used a detailed mould and special reheating techniques to create the pink blush in a diamond optic pattern. Michelle's vibrant, hand painted Hummingbird is poised to go from flower to flower in gathering nectar, and her stylized floral motif is simply breathtaking!

Golf season is now officially here, and this one-of-a-kind hand painted Opal Satin vase (8.75" tall) was made as an exclusive for Fenton Gift Shop by Davis-Lynch, using a Fenton mould. The talented Kim Barley has created a wonderful nostalgic scene as two fashionable lady golfers prepare to "hit the links!" The background captures the crisp green of Springtime on the course, and the lady golfers and their period clothing are perfectly done in every possible detail. Take a look at these offerings and other "Buy It Now" items available on our Fenton eBay Auctions.
---
If you have a question about a piece of glass. . .
We no longer have the staff to respond to questions regarding glass identification, values of antique glass, or related matters that come to us through "Ask Fenton" or by telephone. There are two collector clubs devoted to Fenton glass, the Fenton Art Glass Collectors of America (FAGCA) and the National Fenton Glass Society (NFGS), that may be of assistance to you. Reference books on Fenton Art Glass are also available on our web site: http://www.fentonartglass.com/shop/product.asp?c=0&l=books and magazines, however, they do not include current price guides. We suggest you contact your local antiques dealer(s), the local library, or one of the collector clubs: http://www.fentonartglass.com/collectors. There are also fan sites, such as the Fenton Fanatics, on Facebook. You may also find your piece listed on eBay, which may provide current pricing information. The Williamstown Antique Mall may also provide assistance: 304-375-6315. Otherwise, please send email inquiries about glass production to: purchasing@fentonartglass.com
---