Fenton Presents. . . Tax Time Online Specials!
Here's something sure to make you smile. . . Tax Time Jewelry Specials! Fenton is pleased to offer a 30% Discount on recently "Retired" Focal Beads.
These larger style hand-crafted glass beads create beautiful statement pieces for your jewelry collection. Simply start with a basic piece of sterling and make multiple styles of necklaces and bracelets by just varying the size and color of the glass beads.

The "Focal" beads shown here fit beautifully on our ribbon and vertical pendants and also on our silky tassel necklace. Choose from these six recently "retired" Focal beads and receive a 30% discount when ordered online via www.fentonartglass.com. This offer does not apply to previous purchases and expires at 8 p.m. (ET) on Wednesday, April 20th. Quantities are very limited, so don't delay adding one of these beautiful Focal beads to your jewelry collection or give to someone special!
---
Sterling Accessories
Online Special Continued. . .
Receive a 50% discount on these beautiful sterling silver accessories. Pair our Ribbon Pendant or Tassel Necklace with our larger-sized beads to make a unique and elegant gift for Mother's Day!

This Online Special ends at 8 p.m. (ET)
on Wednesday, April 20th and applies
only to online orders placed through www.fentonartglass.com (not valid on previous purchases).

NOTE: Quantities are limited and are available "while supplies last".



Sterling Silver Ribbon Horizontal
Pendant Beadholder
Originally $99, Now $49.50

33" Sterling Silver Tassel Necklace
Originally $95, Now $47.50
---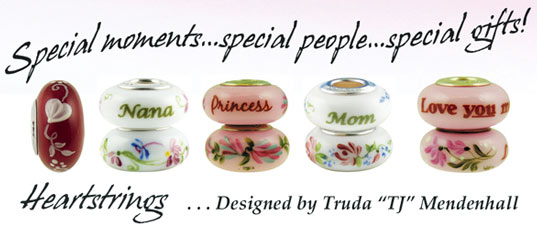 Keepsake Gifts from the Heart. . .
Say "I Love You" with a keepsake bead for someone special! Shown at left are beautiful handcrafted beads that celebrate the special bonds and moments in your life.
Shown, l-r: My Heart's Desire, Nana, Princess, Mom, and Love you more. Each bead has a sterling silver core embossed with Fenton USA. The hand applied decorations (initialed by the artist) were designed by Truda "TJ" Mendenhall.

Our "Heartstrings Collection" includes beads with a special word (Nana, Princess, Mom, etc.) on one side and a hand applied decoration
on the other side. Because of the handmade process, bead size may vary from 1/2'' to 5/8'' in diameter. Fenton beads are compatible with and will fit most major brands of bracelets and necklaces, including our own line of accessories. Mix and match with our accessories to create your perfect look! Visit Fentonglassjewelry.com and order your gift for someone special today! Be sure to register for an online shopping account!
---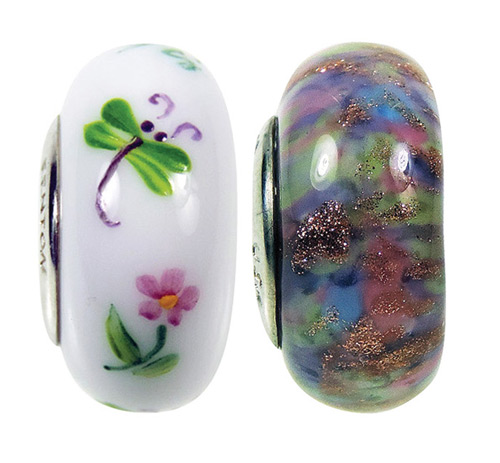 Frequent Buyer Program for Beads. . . Changes Coming!
The current Fenton Frequent Buyer Bead Program will end on May 31st, 2016. A new program will start through the Fenton Glass Jewelry web site on June 1st. Details coming soon! What is the Frequent Buyer Program? Simply purchase ten beads from any authorized Fenton jewelry dealer or website and you'll qualify for a FREE bonus bead! Click here for details! The current offerings are Gracie (decorated) and Mikayla (Vasa Murrhina) shown here. NOTE: If you have purchased ten beads, please let us know. Send an email: askfenton@fentonartglass.com with "Frequent Buyer Qualifier" in the subject line.
---
NEW Fenton Gift Shop Limited Editions . . .
Fenton Gift Shop is pleased to offer a new selection of Limited Editions!
Each piece features a design by our award-winning Fenton artists, and will be hand painted, signed, numbered, and dated by the artist.


Included in this grouping are a 9.25" Vase in Seabreeze glass made by Blenko, as well as an 8" Chessie Cat Covered Box and a 3.5" Bear figurine handcrafted in Crown Tuscan glass by Mosser Glass. Also included is a 9.5" Vase handcrafted in Opal Satin by Davis-Lynch. These pieces were made exclusively for the Fenton Gift Shop, using a Fenton mould, and returned to our factory where our talented designers created these wonderful Limited Edition designs!

To pre-order any of these Limited Editions, please call the Fenton Gift Shop: 1-800-319-7793 or 1-304-375-7772, ext. 342 or send an email, listing the item(s) you would like to purchase: purchasing@fentongiftshop.com. You may also request that we add your email address to Fenton Gift Shop's mailing list so you may receive future limited edition notifications.

Shown at right is the lovely Seabreeze Vase, with a stylized floral design by Frances Burton. Her design encircles the vase and features delicate, yet colorful, hand painted leaves, petals and swirls. A beautiful vase to display in any room of your home. Each Seabreeze Blossoms Vase is $170 and limited to 12 pieces.

Shown below is the "Randy Raccoon" Chessie Cat Covered Box in Crown Tuscan. Kim Barley has transformed our traditional Chessie Cat into an adorable catnapping raccoon! Or is it? The eyes are wide open. . . perhaps those fireflies hovering about the little green lantern are keeping this little fella awake!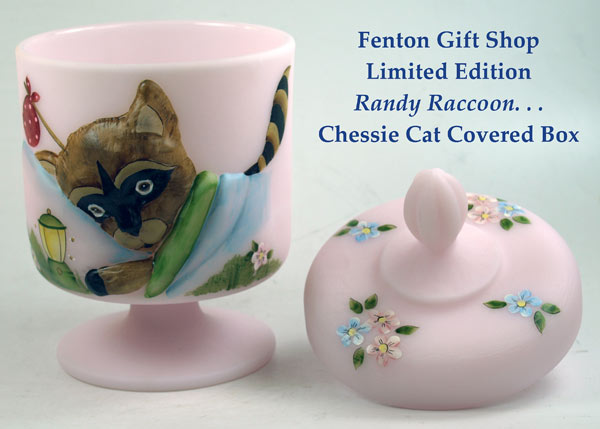 Note the "bindle" on the stick behind the raccoon's head.
A "bindle" is the bag or sack, usually with a polka dot or bandana design, used by the American hobos. The bindle is shown as a stick with a cloth or a blanket tied around one end for carrying items. Kim's added hand painted flower sprigs to adorn the lid and provide the perfect accents to complete this set! Each Randy Raccoon Chessie Cat Covered Box is $185.

Pre-orders for the Seabreeze Blossoms Vase and the Randy Raccoon Chessie Cat Covered Box will be accepted until midnight (ET) on Monday, April 18th.


J. K. "Robin" Spindler has created a wonderful scene on this Opal Satin vase of a young bird taking it's first flight and named it appropriately "Fledgling's First Flight". The bird's wings are spread and the ground in is sight! Robin added a soft blue background with pine cone laden branches and gold accents around the top of this vase. Each Fledgling's First Flight Vase is $190.
Kim Barley continues her popular and recently featured "Hello Friend" hand painted design on this Crown Tuscan Bear figurine. The "Hello Friend" Cat on Fount and Chessie Box was very popular. If you ordered the other two pieces, this figurine makes the perfect companion piece! E
ach Hello Friend Bear Figurine is $85 and is limited to 9 figurines!
Pre-orders for the Fledgling's First Flight Vase and the Hello Friend Bear Figurine will be accepted until midnight (ET) on Wednesday, April 20th.

To pre-order any of these Limited Editions, please call the Fenton Gift Shop: 1-800-319-7793 or 1-304-375-7772, ext. 342 or send an email, listing the item(s) you would like to purchase: purchasing@fentongiftshop.com.
Visit Fenton Gift Shop. . .
Stop by and see the latest offerings in glass and Fenton memorabilia from Fenton Gift Shop, located at 420 Caroline Avenue in Williamstown, WV.

There is a nice selection of NEW one-of-a-kind art glass creations and limited editions, as well as an excellent selection of regular line glass with newly arrived pieces! Fenton Art Glass is perfect for gift giving for special occasions or treat yourself!

Hours: Wednesday-Saturday from 10 a.m. to 3 p.m. (ET). Fenton Gift Shop is closed Sunday-Tuesday.

Please call to confirm hours as they are subject to change.
---
Fenton's Weekly eBay Auctions. . .

Here's your opportunity to own a beautiful one-of-a-kind item through our weekly eBay Auctions! Each one-of-a-kind art glass creation is dated, identified and signed by the award-winning Fenton artist who designed it. Shown here are our latest offerings. Items featured this week. . .
Wild horses could not stop us from listing this vase! This Opal Satin vase (8.75" tall) was made as an exclusive for Fenton Gift Shop by Davis-Lynch, using a Fenton mould. Designed and hand painted by the award-winning Fenton artist Robin Spindler, the design features magnificent pink buttes in the background and a band of colorful wild horses on the prairie. We can hear the thunder of their hooves! Robin's perfect hand painting captures all the majesty and muscle!

This one-of-a-kind Square Vase (7.25" tall) features (count them ...1, 2, 3, 4!) beautifully hand painted birds and lush flowers and foliage, all designed and hand painted in remarkable detail by Fenton artist Frances Burton. Can you name all of the birds? The mould for this vase originated at the Duncan-Miller glass company in the 1920s, and Fenton acquired it in the 1960s. Our friends at Mosser Glass made this example especially for us in Milk Glass, and our employees satin-finished the exterior while the interior remains shiny. The birds depicted are as follows: Bluebird, Black-Capped Chickadee, Cardinal, and Goldfinch.

Lotus Mist Burmese, a classic Fenton glass color that contains pure gold, is the perfect background for this wonderful, one-of-a-kind Tumble-Up set with a hand painted Hummingbird amidst lush flowers and foliage by Michelle Kibbe. Lotus Mist Burmese is a delicate, light green hue, and our glassworkers used special reheating techniques to create the pink blush. The colors and details of Michelle's hand painting are a delight to see! The Tumble-Up set (water bottle and tumbler) were made a few years ago at Fenton Art Glass with historic Fenton moulds that originated in the 1920s. The overall height is about 6.75" with the tumbler in place, and the tumbler itself is about 3" tall. Take a look at these offerings and other "Buy It Now" items available on our Fenton eBay Auctions.
---
If you have a question about a piece of glass. . .
We no longer have the staff to respond to questions regarding glass identification, values of antique glass, or related matters that come to us through "Ask Fenton" or by telephone. There are two collector clubs devoted to Fenton glass, the Fenton Art Glass Collectors of America (FAGCA) and the National Fenton Glass Society (NFGS), that may be of assistance to you. Reference books on Fenton Art Glass are also available on our web site: http://www.fentonartglass.com/shop/product.asp?c=0&l=books and magazines, however, they do not include current price guides. We suggest you contact your local antiques dealer(s), the local library, or one of the collector clubs: http://www.fentonartglass.com/collectors. There are also fan sites, such as the Fenton Fanatics, on Facebook. You may also find your piece listed on eBay, which may provide current pricing information. The Williamstown Antique Mall may also provide assistance: 304-375-6315. Otherwise, please send email inquiries about glass production to: purchasing@fentonartglass.com
---