Fenton Presents. . . The 2016 Mother's Day Collection!
Fenton Glass Jewelry is pleased to present the 2016 Mother's Day Collection, featuring "Encased" beads. These eye-catching beads are created using a thick layer of clear glass floating over a design made of multiple colors of glass with results that are prismatic. . . reflecting light. Four of the beads in this collection have lovely glass florals designed by Jena Lane Blair. Each glass flower is embedded in the glass. The remaining four beads feature hand applied decorations with a mother/child theme designed by Truda "TJ" Mendenhall. The colorful decorations on these beads include a bumblebee, butterfly, dragonfly and a ladybug. Each bead is initialed by the artist who completed it.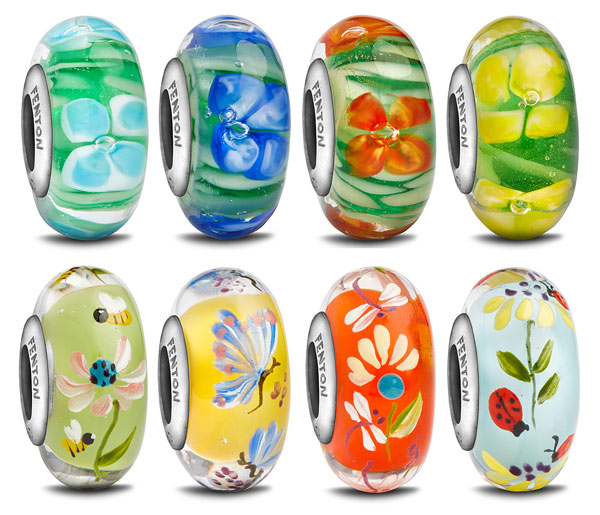 Handcrafted in Williamstown, West Virginia, each bead has a sterling silver core embossed Fenton USA. A "story card", showing the entire Mother's Day Collection, is provided with each bead. For example, the story for the "A Chorus of Blue Bells" bead is Keep a Song in Your Heart.
Top row, l-r: A Chorus of Blue Bells, Blue Dahlias, Tiger Lilies, and What's Up Buttercup.
Bottom row, l-r: BumbleBee Love, Butterfly Love, Dragonfly Love, and Ladybug Love.
Say "I Love You" this Mother's Day with Fenton Glass Jewelry. . . a perfect keepsake gift for someone special!
Click on the image at right to shop the Mother's Day Collection or visit Fentonglassjewelry.com. Mix and match with our line of accessories to create the perfect fashionable look! Be sure to register for your online shopping account!
---
Spring Online Specials on "Recently Retired" Jewelry!
We continue our celebration of Spring's arrival with more Spring Online Specials from www.fentonartglass.com! You'll receive a 30% Discount on recently "retired" Sand and Sea Pendant Necklace and Essence of Spring Pendant.

This Online Spring Special ends at 8 p.m. (ET) on Thursday, April 14th and applies to online orders placed through www.fentonartglass.com (not valid on previous purchases). Quantities are limited and are available "while supplies last".

The art glass part of the beautiful Essence of Spring Pendant measures approximately 3/4" in height and the overall pendant size is 1.5". The hand applied decoration was designed by Truda ''TJ'' Mendenhall and features a sprig of Wisteria blossoms. The story for this bead: "Ah remember . . . so lovely.'' Each Pendant is initialed by the artist who completed it.
Above: Essence of Spring 1.5" Pendant, $75.00, Now $52.50 - Buy Now! Just ten remain!

This lovely 24" sterling silver necklace with a handcrafted Vasa Murrhina art glass pendant was designed by Jena Lane Blair. She named this pendant Sand and Sea because it reminded her of "warm glittering sand, kissed by the blue green waves." The pendant is approx. 1" in height. Vasa Murrhina is a term meaning "vessel of gems." Each unique Fenton bead captures a glittering layer of Goldstone. Our beadmakers use extreme care to maintain its sparkle in the hot flame. Tiny bits of colored glass add a variety of hues in each different design, and no two are identical! Fenton USA Jewelry is handcrafted with quality and tested for durability. This necklace includes gem accents in complementary colors.
---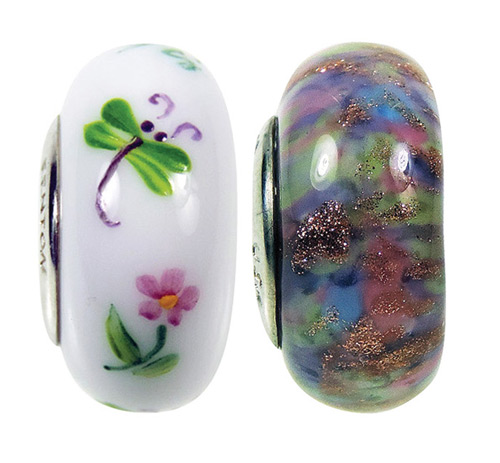 Frequent Buyer Program for Beads. . . Changes Coming!
The current Fenton Frequent Buyer Bead Program will end on May 31st, 2016. A new program will start through the Fenton Glass Jewelry web site on June 1st. Details coming soon! What is the Frequent Buyer Program? Simply purchase ten beads from any authorized Fenton jewelry dealer or website and you'll qualify for a FREE bonus bead! Click here for details! The current offerings are the Gracie (decorated) and Mikayla (Vasa Murrhina) beads shown here. NOTE: If you have purchased ten beads, please let us know if we haven't notified you. Send us an email: askfenton@fentonartglass.com with "Frequent Buyer Qualifier" in the subject line.
---
NEW Fenton Gift Shop Limited Editions . . .
Fenton Gift Shop is pleased to offer these new Limited Edition selections, including NEW shapes! Each piece features a design by our award-winning Fenton artists, and will be hand painted, signed, numbered, and dated by the artist. Included in this grouping are items made at Mosser Glass: an 11" Ruby Satin Alley Cat and a 3.5" Opal Satin Sitting Cat figurine. Also included is a 14" Vase and a 10.25" Feather Vase, each handcrafted in Opal Satin by Davis-Lynch. These pieces were made exclusively for the Fenton Gift Shop, using a Fenton mould, and returned to our factory where our talented designers created wonderful Limited Edition designs!
This majestic 14" Opal Satin vase, another new shape for Fenton Gift Shop's Limited Editions, provided the perfect canvas for the stately giraffe and zebra scene designed by
J. K. "Robin" Spindler.


Robin designed a marvelous scene with giraffes on the front and back
of this vase, and a young zebra on the front that appears to be searching amongst these tall animals for its mother. The hand painted details are amazing. . . from the shadowy effect of the trees in the background to the metallic gold accents. Each Where is Mama Vase is $260.
Our delightful Sitting Cat figurine has been transformed into a tiger cat decked out in a bright polka dotted tie and ready for a day of cat tasks! Kim Barley hand painted this figurine in vibrant stripes and black accents on the ears. Note those expressive eyes and brightly colored nose! Each Tony the "Tie-ger" Sitting Cat figurine is $80 and limited to 11 pieces.

Pre-orders for the Where is Mama Vase and the Tony the "Tie-ger" Sitting Cat figurine will be accepted until midnight (ET) on Monday, April 11th.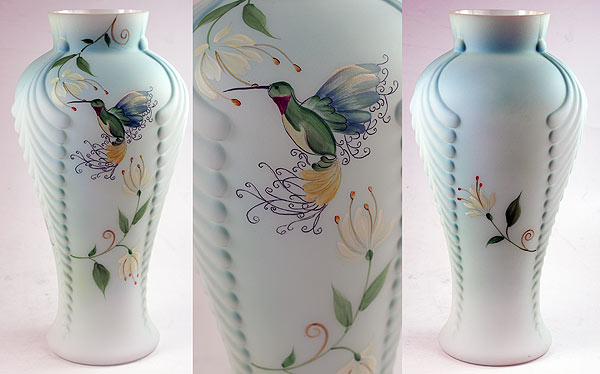 The talented Kim Barley created a beautiful stylized hummingbird design for this 10.25" Opal Satin Feather Vase, a new shape for Fenton Gift Shop limited editions. Kim's delicate brushstrokes on the flowers and on the hummingbird's wings and tail feathers add to the elegance of this vase. Each Hummingbird Vase is $190.

Dogwoods are blooming beautifully on this Ruby Satin Alley Cat! Dogwood blossoms encircle this 11" figurine, even covering one eye! These hand painted delicate white blooms, designed by Robin Spindler, are beautiful on the dark satin of Ruby glass. Robin also added white accents to the face and legs of this Alley Cat figurine.

There are many legends concerning the Dogwood tree. According to Native American lore, Dogwoods are symbols of protection and safety.
In some parts of the United States there is a old saying that is a warning to farmers each Spring: "Do not plant a garden until it has snowed on the Dogwoods!" Each Dogwood Blooms Alley Cat is $230.

Pre-orders for the Hummingbird Vase and the Dogwood Alley Cat will be accepted until midnight (ET) on Wednesday, April 13th.

To pre-order any of these Limited Editions, call the Fenton Gift Shop: 1-800-319-7793, ext. 342 or email us, listing the items you want to purchase: purchasing@fentongiftshop.com. You may also request that we add your email address to Fenton Gift Shop's mailing list so you may receive future limited edition notifications.

Visit Fenton Gift Shop. . .
Stop by and see the latest offerings in glass and Fenton memorabilia from Fenton Gift Shop, located at 420 Caroline Avenue in Williamstown, WV.

There is a nice selection of NEW one-of-a-kind art glass creations and limited editions, as well as an excellent selection of regular line glass with new pieces COMING SOON! Fenton Art Glass is perfect for gift giving for special occasions (Mother's Day, graduation day and weddings) or to treat yourself!

Hours: Wednesday-Saturday from 10 a.m. - 3 p.m. (ET).
Fenton Gift Shop is closed Sunday-Tuesday. Please call to confirm hours as they are subject to change.


---