Fenton Presents. . . 2016 Spring Collection
Be sure to visit www.fentonglassjewelry.com and choose from a great selection of glass treatments and hand applied decorations created by Fenton jewelry designers Jena Lane Blair and Truda "TJ" Mendenhall, handcrafted in trendy and coordinating colors and styles!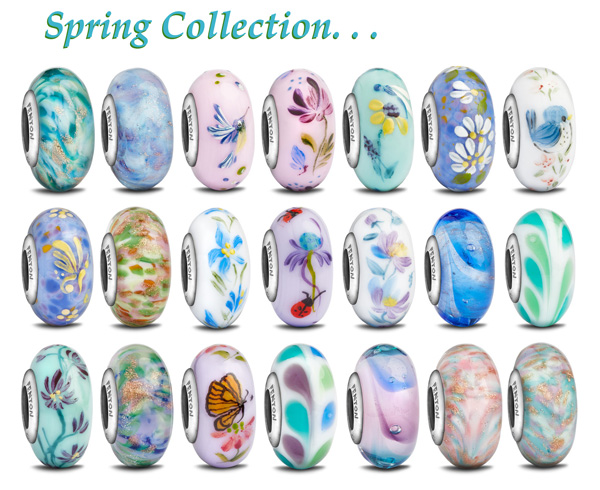 Shown l-r by rows:
Aruba, Blue Lilacs, Bubbles, Butterfly So Blue, Dainty Sipper, Daisy Tell Me True, and Freckled Bluebird;
Row 2: Flutterby, Garden Path, Helena, Miss Dotty, Misty Morning, Moonlit Skies, and Peek A Boo Spring;
Row 3: Purple Passion, Purple Waves, Queen of the Garden, Raindance, Reflections, Roses and Robin's Eggs, and Sweet Dreams.

Click on any image or visit Fentonglassjewelry.com and be sure to register for your online shopping account!
---
Fenton Art Glass Presents. . . No Foolin' Online Specials!
Spring has arrived and we are celebrating with more Spring Online Specials from www.fentonartglass.com! Choose from these April 1st No Foolin' Online Specials:
Receive a 50% Discount on select "retired" sterling silver accessories: our 33" Tassel Necklace and our Ribbon Pendant Horizontal Bead holder AND receive a 40% Discount on our impressive Jitterbuggin' Dragonfly or Pink Beauty Impression Beads. Mix and match these items and create your stylish look for Spring! These handcrafted pieces will also make memorable gifts for someone special (Mother's Day, birthday and graduation to name just a few)!

This Online Special ends at 8 p.m. (ET) on Wednesday, April 6th and applies to online orders placed through www.fentonartglass.com and is not valid on previous purchases. Don't delay placing your order as quantities are limited and available "while supplies last". . . no foolin'! Please click on each image to order.

Jitterbuggin' Dragonfly Impression Bead
Originally $85, Now $51.00
33" Tassel Necklace, Originally $95, Now $47.50


Pink Beauty Impression Bead, Originally $85, Now $51.00
Ribbon Horizontal Pendant Bead holder is sold separately.
Sterling Silver Ribbon Horizontal Pendant Bead holder
Originally $99,Now $49.50
---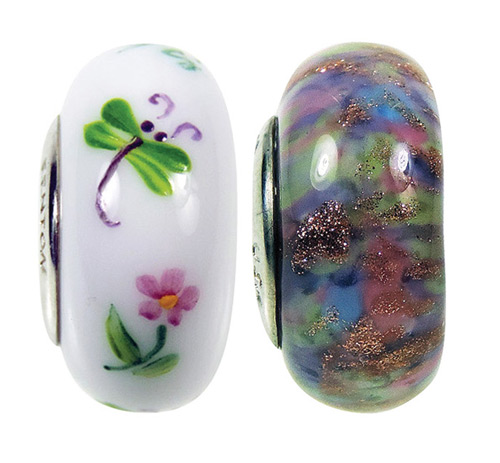 Frequent Buyer Program for Beads. . . Changes Coming!
The current Fenton Frequent Buyer Bead Program will end on May 31st, 2016. A new program will start through the Fenton Glass Jewelry web site on June 1st. Details coming soon! What is the Frequent Buyer Program? Simply purchase ten beads from any authorized Fenton jewelry dealer or website and you'll qualify for a FREE bonus bead! Click here for details! The current offerings are the Gracie (decorated) and Mikayla (Vasa Murrhina) beads shown here. NOTE: If you have purchased ten beads, please let us know if we haven't notified you. Send us an email: askfenton@fentonartglass.com with "Frequent Buyer Qualifier" in the subject line.
---
NEW Fenton Gift Shop Limited Editions . . .
Fenton Gift Shop is pleased to offer these new Limited Edition selections, including two NEW shapes! Look for more new items in future newsletters. Each piece features a design by our award-winning Fenton artists, and will be hand painted, signed, numbered, and dated by the artist. Included in this grouping are items made at Mosser Glass: an 11" Opal Satin Alley Cat and 2.5" Ruby Satin Mouse figurine. Also included is a 8.5" Vase and a 10" Vase, each handcrafted in Opal Satin by Davis-Lynch. These pieces were made exclusively for the Fenton Gift Shop, using a Fenton mould, then returned to our factory where our talented designers created these wonderful Limited Edition designs!

Pre-orders for the Delightful Dragonflies Vase and April Showers Mouse
figurine will be accepted until midnight (ET) on Monday, April 4th.


This beautiful 8.5" Opal Satin vase, a new item for our limited editions, features a hexagonal shape. Frances Burton designed the alternating panels with hand painted lush florals and dragonflies. Each Delightful Dragonflies Vase is $185.


Our delightful 2.5" Ruby Satin Mouse figurine is ready for April showers! Kim Barley's hand painted design has this figurine decked out in a yellow rain slicker and matching cap, rain boots with red polka dots and a green umbrella at the ready. Note the raindrops already falling on its ears and those expressive eyes! Each April Showers Mouse figurine is $85.00.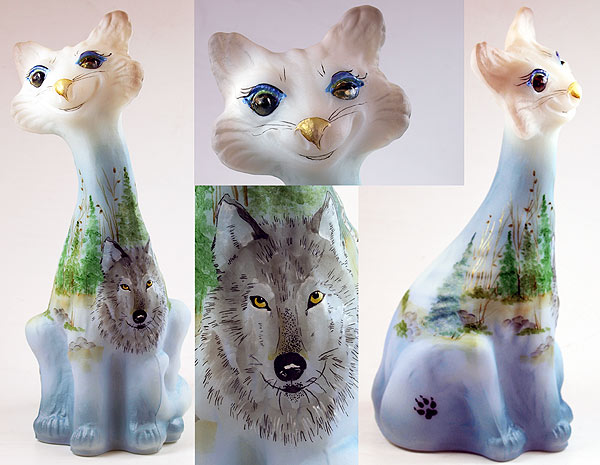 Kim Barley said she "stepped outside her design box" and tried something new on this 11" Opal Satin Alley Cat. We think you'll agree that she can step outside that box any time! Her hand painted depiction of a Gray Wolf in its natural habitat is spot on and wonderful to behold! Those golden eyes seem to look right through you and note the paw print! Did you know. . . Wolves have unique howls, much like fingerprints, that wolf pack members (as well as scientists) use to tell them apart. These dog-like canids communicate using barks, whines, growls and howls. They don't actually "howl at the moon", but they are more active at dawn and dusk, and they do howl more when it's lighter at night, like during a full moon. Each Gray Wolf Alley Cat is $235.
Another new shape for our limited editions is this beautiful 10.5" Opal Satin vase. Frances Burton added an elegant, yet stylized, Fuchsia floral design and delicate banding. Note the vibrant brushstrokes on each flower. The symbolism associated with the Fuchsia is confiding love and good taste, so this vase would be perfect to display in any room of your home! Each Stylized Fuchsia Vase is $185.

Pre-orders for the Gray Wolf Alley Cat and the Stylized Fuchsia Vase will be accepted until midnight (ET) on Wednesday, April 6th.
To pre-order any of these Limited Editions, call the Fenton Gift Shop: 1-800-319-7793, ext. 342 or email us, listing the items you want to purchase: purchasing@fentongiftshop.com. You may also request that we add your email address to Fenton Gift Shop's mailing list so you may receive future limited edition notifications.
---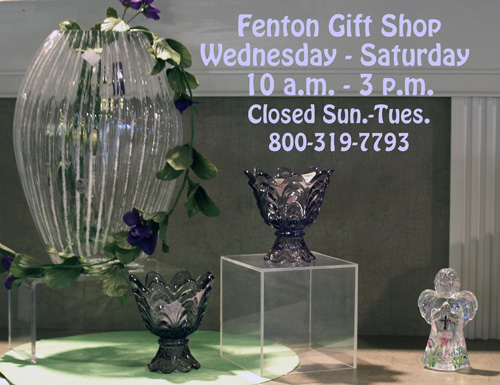 Visit Fenton Gift Shop!
Shown at left are a few of the beautiful selections at Fenton Gift Shop, including jewel-toned two-way votive candle-holders, angel figurines and unique glass creations, available while supplies last!

Also available are a wide variety of glass Hen on Nest sets, perfume stoppers, glassmaking tools, lamp parts, wood chills, Fenton catalogs, books, and other miscellaneous items. Stop in to see the great deals you can find at Fenton Gift Shop! We suggest you call before planning your trip to confirm hours.
To order any of the items shown here, please call the Fenton Gift Shop or send an email, listing the items that you wish to purchase: purchasing@fentongiftshop.com.

---
If you have a question about a piece of glass. . .
We no longer have the staff to respond to questions regarding glass identification, values of antique glass, or related matters that come to us through "Ask Fenton" or by telephone. There are two collector clubs devoted to Fenton glass, the Fenton Art Glass Collectors of America (FAGCA) and the National Fenton Glass Society (NFGS), that may be of assistance to you. Reference books on Fenton Art Glass are also available on our web site: http://www.fentonartglass.com/shop/product.asp?c=0&l=books and magazines, however, they do not include current price guides. We suggest you contact your local antiques dealer(s), the local library, or one of the collector clubs: http://www.fentonartglass.com/collectors. You may also find your piece listed on eBay, which may provide current pricing information. The Williamstown Antique Mall may also provide assistance: 304-375-6315. Otherwise, please send email inquiries about glass production to: purchasing@fentonartglass.com