Fenton Art Glass Presents. . . Spring Special on Retired Beads!

Spring has arrived and we are celebrating with a great Spring Special on Retired-While Supplies Last Beads from www.fentonartglass.com!

Receive a 35% Discount
on Fenton "Retired" Beads!
This online only offer ends at 8 p.m. (ET) on March 31st and does not apply to previous purchases. The 35% discount shows in red above each item and will be applied at checkout. All "Spring Special" orders must be placed online by 8 p.m. on March 31st through www.fentonartglass.com.
Each year we must "retire" some of our regular line beads to allow room for new additions to our handcrafted jewelry collection. These retired beads are available on a "while supplies last" basis, so quantities may be very limited!
Choose from a wide variety of art glass beads, ranging from lovely Vasa Murrhina and three-dimensional styles to beautiful hand applied decorations perfect for your Spring fashions.

Shown at right is a selection of our available "retired" beads. Click here to view all "Retired-While Supplies Last Beads". Don't miss your opportunity to add one of these "made in America" beads to your jewelry collection. . . as they are going, going, GONE! "Spring Special" orders must be placed by 8 p.m. on March 31st through www.fentonartglass.com.
---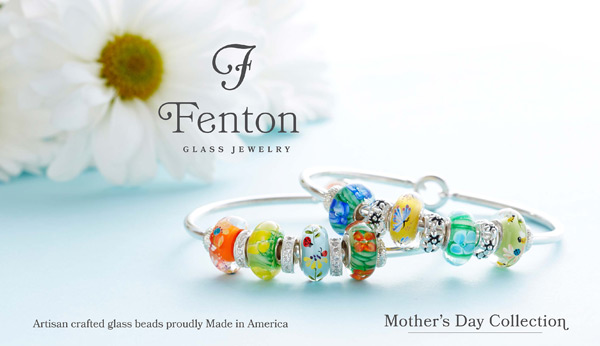 Mother's Day is Sunday, May 8. This day celebrates motherhood and is a time to show appreciation to mothers and mother figures─including grandmothers, great-grandmothers, stepmothers, and foster mothers to name a few. This year, choose a Made in America gift for that special "mother" in your life! Visit www.fentonglassjewelry.com to see the latest styles and jewelry accessories.
---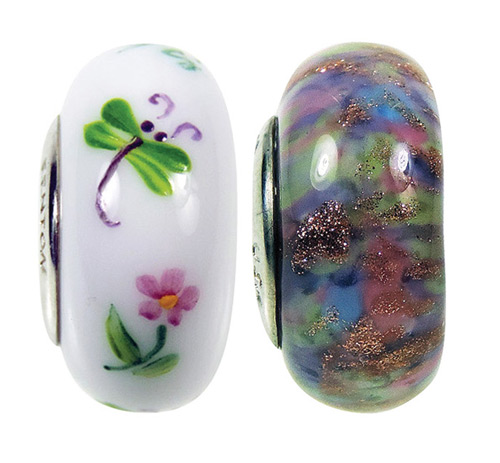 Frequent Buyer Program for Beads. . . Changes Coming!
The current Fenton Frequent Buyer Bead Program will end on May 31st, 2016. A new program will start through the Fenton Glass Jewelry web site on June 1st. Details coming soon! What is the Frequent Buyer Program? Simply purchase ten beads from any authorized Fenton jewelry dealer or website and you'll qualify for a FREE bonus bead! Click here for details! The current offerings are the Gracie (decorated) and Mikayla (Vasa Murrhina) beads shown here. NOTE: If you have purchased ten beads, please let us know if we haven't notified you. Send us an email: askfenton@fentonartglass.com with "Frequent Buyer Qualifier" in the subject line.
---
NEW Fenton Gift Shop Limited Editions . . .
Fenton Gift Shop is pleased to offer these new Limited Edition selections. Each piece features a design by our
award-winning Fenton artists, and will be hand painted, signed, numbered, and dated by the artist. Included in this grouping are these items made at Mosser Glass for the Fenton Gift Shop: an 11" Alley Cat and 2.5" Mouse figurine in Ruby Satin and an 8" Chessie Cat Covered Box in Opal Satin with a Buttercream lid. Also included is a 9" Opal Satin Vase handcrafted by Davis-Lynch. These pieces were made exclusively for the Fenton Gift Shop, using a Fenton mould, then returned to our factory where our talented designers created the wonderful Limited Edition designs!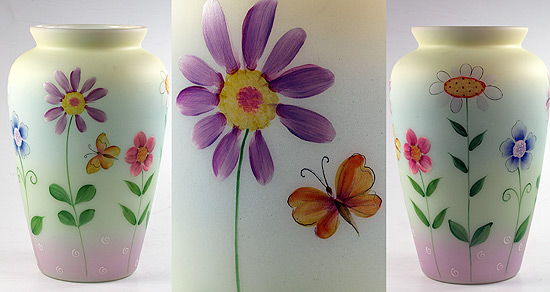 Kim Barley's talent for whimsical, uplifting designs continue on this colorful Opal Satin Vase. . . perfect for your Spring tabletop display. We named this vase "Spring Has Sprung!" because the flowers look like they are springing up to welcome the sunshine and butterflies! Note the airbrushed pastel hues and the swirl accents along the bottom of the vase. Each Spring Has Sprung! Vase is $170.

This delightful 2.5" Mouse figurine, handcrafted in Ruby Satin glass, is garbed in patriotic finery! Robin Spindler's hand painted design has "Petey, the Patriotic Mouse" all decked out in red, white and blue with stripes for his shirt, stars sparkling in his ears of blue and big blue eyes and a pink nose! Petey, The Patriotic Mouse figurine is $75.00 each.

Pre-orders for the Spring Has Sprung! Vase and Petey, The Patriotic Mouse figurine will be accepted until midnight (ET) on Monday, March 28th.
Robin Spindler's meticulous hand painted details on our popular Ruby Satin Alley Cat are amazing, and also challenging to show their true beauty in photographs, so we added close-ups of Robin's fantasy-themed "Fungi Fairy" scene encircling this Alley Cat. Note the two mice, and the interesting-looking toadstools on the lush, mossy landscape.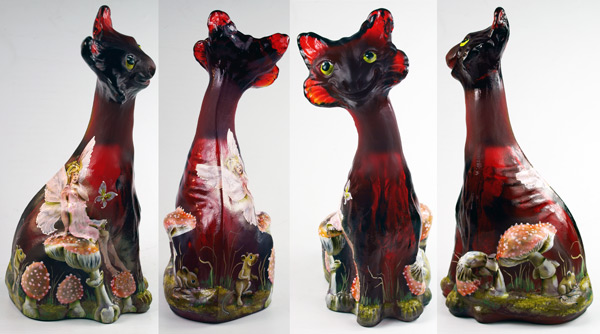 Robin's design depicts a fairy girl (dressed in frilly pink with matching gossamer wings), reclining on an "Amanita Muscaria" toadstool, gazing at a beautiful butterfly. Commonly known as "fly agaric" or "fly amanita", this colorful toadstool is often depicted in children's books and on Christmas cards. It is a highly distinctive toadstool and is rarely confused with any other species. Each Fungi Fairy Alley Cat is $265.
Frances Burton has incorporated her signature hand painted roses into the background on this Opal Satin Chessie Cat Covered Box. The lid is handcrafted in a soft Buttercream color, and Frances added stylized flowers and a band of delicate rosebuds around the bottom of the lid. The adorable gray cat has lovely green eyes. Each Victorian Roses Chessie Cat Covered Box is $170.

Pre-orders for the Fungi Fairy Alley Cat and the Victorian Roses Chessie Cat Covered Box will be accepted until midnight (ET) on Wednesday, March 30th.
To pre-order any of these Limited Editions, call the Fenton Gift Shop: 1-800-319-7793, ext. 342 or email us, listing the items you want to purchase: purchasing@fentongiftshop.com.
---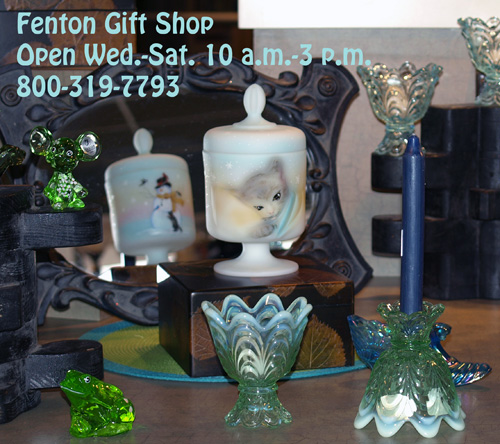 Visit Fenton Gift Shop!
Shown at right are a few of the beautiful art glass selections available at Fenton Gift Shop: lovely two-way votives (also great for trinkets and candy!), a Limited Edition Chessie Cat Covered Box as well as mouse and frog figurines.

Also available are a wide variety of Hen on Nest sets, perfume stoppers, glassmaking tools, lamp parts, wood chills, Fenton catalogs, books, and other miscellaneous items. Stop in to see the great deals you can find at Fenton Gift Shop! We suggest you call before planning your trip to confirm hours.
To order any of the items shown at right, please call the Fenton Gift Shop or send an email, listing items you want
to purchase: purchasing@fentongiftshop.com.

You may also request that we add your email address to Fenton Gift Shop's mailing list so you may receive future limited edition notifications.
---
If you have a question about a piece of glass. . .
We no longer have the staff to respond to questions regarding glass identification, values of antique glass, or related matters that come to us through "Ask Fenton" or by telephone. There are two collector clubs devoted to Fenton glass, the Fenton Art Glass Collectors of America (FAGCA) and the National Fenton Glass Society (NFGS), that may be of assistance to you. Reference books on Fenton Art Glass are also available on our web site: http://www.fentonartglass.com/shop/product.asp?c=0&l=books and magazines, however, they do not include current price guides. We suggest you contact your local antiques dealer(s), the local library, or one of the collector clubs: http://www.fentonartglass.com/collectors. You may also find your piece listed on eBay, which may provide current pricing information. The Williamstown Antique Mall may also provide assistance: 304-375-6315. Otherwise, please send email inquiries about glass production to: purchasing@fentonartglass.com
---
Fenton's Weekly eBay Auctions. . .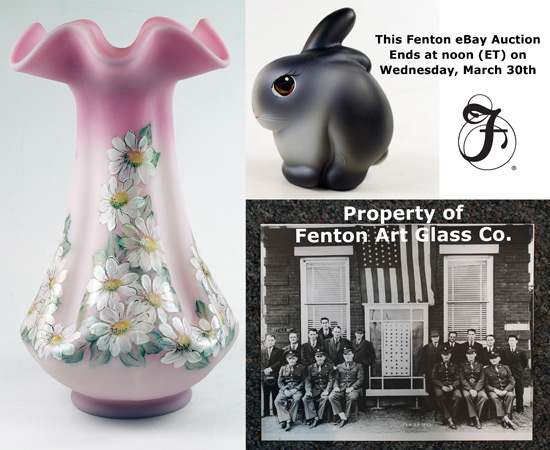 Here's your opportunity to own a beautiful, unique, rare, or one-of-a-kind item through our weekly eBay Auctions! Each one-of-a-kind art glass creation is dated, identified and signed by the award-winning Fenton artist who designed it. Shown here are our latest offerings. Items featured this week. . .
With satin-finished Rosalene glass for her canvas, Fenton artist Frances Burton designed and hand painted this wonderful one-of-a-kind vase (8.5" tall). We like the way these detailed hand painted daisies follow the graceful contours of the glass, and, as always, the colors are especially rich and vibrant. This vase is identified, dated and signed on the underside by Frances Burton.

Spring is well on its way, and this one-of-a-kind Bunny figurine (3" tall to the top of the raised ear) has been beautifully hand painted by the talented Kim Barley. The Opal Satin glass is airbrushed to create a realistic gray tone, and the details (check out those whiskers!) are wonderful. As always, the eyes are remarkably expressive. This one-of-a-kind Bunny figurine is identified, dated and signed on the underside by Kim Barley.

Dated February 28, 1943, this 8" x 10" black-and-white photo was made from an original print in the Fenton archives. This photo pictures 17 men, all of whom were associated with the Fenton Art Glass Co. Six of them are in uniform and seated in the front row. The photo was taken outside the Fenton office, and you can see the "OFFICE" directional pointer just above the heads of the men standing on the left. Between the groups of men, you'll see a roll of honor with 55 stars to recognize the number of past and present Fenton employees who were in the armed forces at that time in 1943. You'll receive a copy of the photo showing the name and seat location of each man shown in this photo. Take a look at these offerings and other "Buy It Now" items available on our Fenton eBay Auctions.
---
For questions or comments, please do not reply to this email. Instead, email: askfenton@fentonartglass.com.

This email has been sent to you because you have agreed to receive offers and information from the Fenton Art Glass Company. We respect your privacy and do not sell your personal information. For details, please review our privacy policy.

How to unsubscribe: If you prefer not to receive offers or information from Fenton Art Glass, please use this page to unsubscribe.

If you use a Challenge-Response system for email, please make certain that you can receive our email by adding askfentononline@fentonartglass.com to your Allow List.

For specific instructions for major ISPs, click here.

The sender of this email is the Fenton Art Glass Co., 700 Elizabeth St., Williamstown, WV, 26187