Fenton Presents. . . "Spring Bling" Fashion Accessories!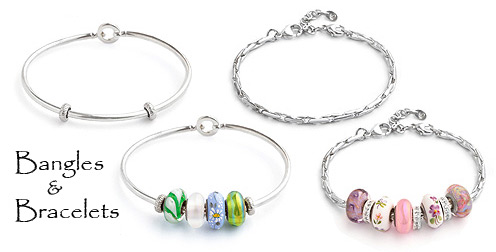 Spring officially arrives on March 19 and it's time to add some extra "Spring bling" to your fashion jewelry! Choose from a sparkling variety of quality jewelry accessories. Shown above are the Bangle and Hammered Cable Bracelets. The Bangle has the word "FENTON" embossed on the clasp and includes two crosscut stopper beads. This Bangle is available in 7.5", 8" and 8.5" sizes. The 3.5 mm sterling silver Hammered Cable Bracelet includes a Fenton logo tag and an extender chain to fit most wrist sizes. Click on the above images to order. Mix and match with our other stoppers and beads to create YOUR Spring fashion jewelry statement!
Vertical Pendant Beadholder, $49.50;
Hammered Cable Necklace, $65.00;
Beads shown must be purchased separately at www.fentonglassjewelry.com or an authorized
Fenton jewelry retailer.






Right:
Leverback
Earrings
for Beads,
$49.00/pr.
Fenton beads shown must be purchased separately.



Shown above are our popular Leverback Earrings . . . perfect accessories for Fenton beads! Simply choose your favorite Fenton beads to suit your fashionable mood of the moment and attach a bead to each earring, and you're done! Mix it up and show your style by using two different beads!

Create your own look with our Vertical Pendant Beadholder (inset photo). . . handcrafted in sterling silver especially for Fenton glass beads! We're paired this sterling silver accessory with our 3.5mm Hammered Cable Necklace and brilliant Fenton beads. This 18" necklace includes a Fenton logo tag and an extender chain.

Create It, Wear It, LOVE It!


Our jewelry accessories include a beautiful variety of decorative accents. Add a touch of bling with any spacer. Use the stoppers to prevent movement of the beads on a necklace or bracelet. Click on the image to order or check with your favorite Fenton jewelry retailer.
---
"Retired" Jewelry Accessories . . . Available While Supplies Last!
To prepare space in our line for new styles in 2016, certain jewelry accessories have been "retired" and are now available while supplies last! For a limited time, we are pleased to offer an Online Special of 50% discount on the two "retired" jewelry accessories shown below! This offer ends at 8 a.m. (ET) on Thursday, March 24th and applies to online orders through www.fentonartglass.com only and is not valid on previous purchases.

Sterling Silver Ribbon Horizontal Pendant Beadholder, $99,Now $49.50
The word FENTON is embossed on the horizontal bar of this Ribbon Pendant Beadholder. A script Fenton "F" is also embossed on the top. Wear either way with Fenton beads, including Cornerstone, Focal
and Impression styles! Shown with Cincinnati and Nocturne Beads (not included in this special online offer).


33" Tassel Necklace, $95, Now $47.50
Necklace has Elven Woods Focal Bead and two Spacer beads (not included in this offer).
ONLINE SPECIAL: 50% Discount on "Retired" Accessories (shown above)
Ends at 8 a.m. (ET) on March 24th!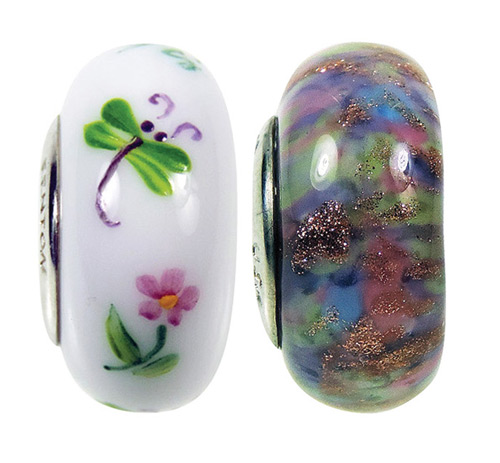 Frequent Buyer Program for Beads. . . Changes Coming!
The current Fenton Frequent Buyer Bead Program will end on May 31st, 2016. A new program will start through the Fenton Glass Jewelry web site on June 1st. Details coming soon! What is the Frequent Buyer Program? Simply purchase ten beads from any authorized Fenton jewelry dealer or website and you'll qualify for a FREE bonus bead! Click here for details! The current offerings are the Gracie (decorated) and Mikayla (Vasa Murrhina) beads shown here. NOTE: If you have purchased ten beads, please let us know if we haven't notified you. Send us an email: askfenton@fentonartglass.com with "Frequent Buyer Qualifier" in the subject line.
---
NEW Fenton Gift Shop Limited Editions . . .
Fenton Gift Shop is pleased to offer these new Limited Edition selections. Each piece features a design by our
award-winning Fenton artists, and will be hand painted, signed, numbered, and dated by the artist. Included in this grouping are a pair of Fenton Bear figurines in Opal Satin, a 9" Opal Satin Vase handcrafted by Davis-Lynch, as well as an Opal Satin 11" Alley Cat and a Crown Tuscan 8" Chessie Cat Covered Box made at Mosser Glass.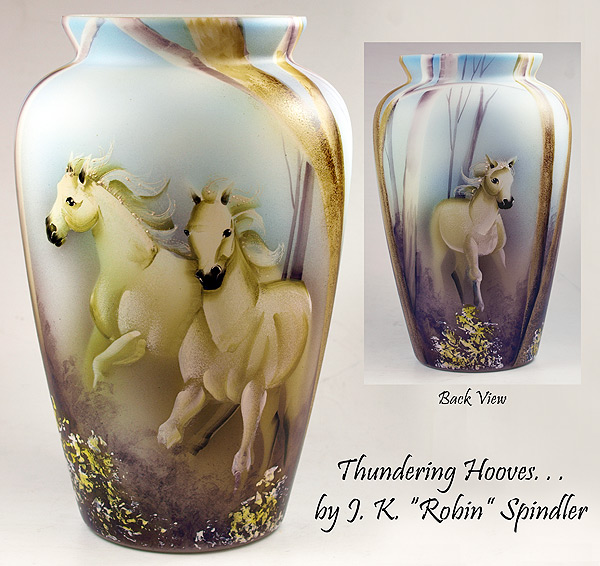 The Davis-Lynch and Mosser Glass pieces were made exclusively for the Fenton Gift Shop, using a Fenton mould, then returned to our factory where our talented design team created these wonderful Limited Editions!
Left: Robin Spindler's talent shines on this 9" Opal Satin Vase. Her depiction of majestic white horses thundering through a grove of trees is spectacular. You can almost hear the "thundering hooves" as they gallop by, kicking up dust with their manes a flyin'.
Three horses are depicted on this vase and each one is meticulously hand painted. Robin added sponge-like painted accents along the bottom to resemble the forest flora and fauna.
Each Thundering Hooves
Opal Satin Vase is $220.

Kim Barley has transformed our Opal Satin Fenton bear figurines into a pair of adorable, playful Panda cubs lazing around in a bamboo patch! Note the hand painted details on each face, especially the eyes, as well as the pastel hues on their paws! The figurine on the left is our "daydreaming" bear and the other one is our "reclining" bear. These figurines will make perfect additions for any Fenton animal collection! Choose either one for $75 each or take home the Panda Pals pair for $140! The daydreaming Panda Pal Bear is limited to 18 and the reclining Panda Pal Bear is limited to 20 figurines. . . first come, first served!
Pre-orders for the Thundering Hooves Vase and the Panda Pals Bear figurines will be accepted until midnight (ET) on Monday, March 21st. Please be sure to specify if you want one or both of the bear figurines!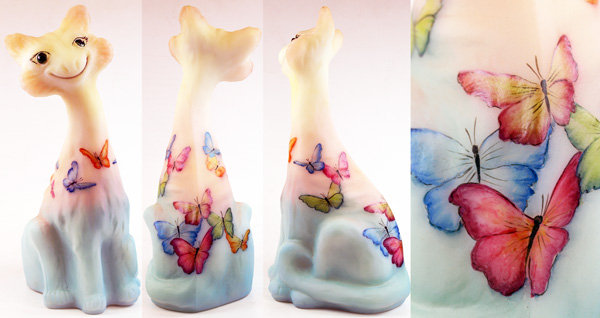 Frances Burton continues her popular "Rainbow Butterflies" theme on our 11" Opal Satin Alley Cat and we think it looks great! Frances airbrushed soft pastel hues on the figurine as background before hand painting the butterflies in a vibrant rainbow of colors. This beautiful figurine will brighten any room! Each Rainbow Butterflies Alley Cat is $230.
Kim Barley continues her recently featured "Hello Friend" hand painted design on this Crown Tuscan Chessie Cat Covered Box. The "Hello Friend" Cat on Fount was very popular and we're sure you'll love this Chessie Box too! If you ordered the Cat on Fount, this Chessie Box makes the perfect companion piece! Each Hello Friend Chessie Cat Covered Box is $170.

Pre-orders for the Butterfly Rainbow Alley Cat figurine and the Hello Friend Chessie Cat Covered Box will be accepted until midnight (ET) on Wednesday, March 23rd.

To pre-order any of these Limited Editions, call the Fenton Gift Shop: 1-800-319-7793, ext. 342 or email, listing items you want: purchasing@fentongiftshop.com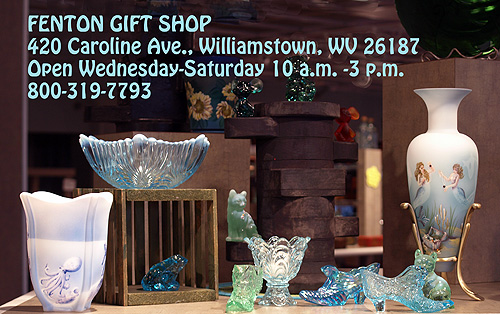 Visit Fenton Gift Shop!
Shown at right are a few of the beautiful art glass selections available at Fenton Gift Shop. Also available are a wide variety of Hen on Nest sets, perfume stoppers, glassmaking tools, lamp parts, wood chills, Fenton catalogs, books, and other miscellaneous items. Stop in to see the great deals you can find at Fenton Gift Shop!
To order any of the items shown at right, please call the Fenton Gift Shop or send an email, listing the items that you would like to have more information: purchasing@fentongiftshop.com
You may also request that we add your email address to Fenton Gift Shop's mailing list so you may receive future limited edition notifications.
---
If you have a question about a piece of glass. . .
We no longer have the staff to respond to questions regarding glass identification, values of antique glass, or related matters that come to us through "Ask Fenton" or by telephone. There are two collector clubs devoted to Fenton glass, the Fenton Art Glass Collectors of America (FAGCA) and the National Fenton Glass Society (NFGS), that may be of assistance to you. Reference books on Fenton Art Glass are also available on our web site: http://www.fentonartglass.com/shop/product.asp?c=0&l=books and magazines, however, they do not include current price guides. We suggest you contact your local antiques dealer(s), the local library, or one of the collector clubs: http://www.fentonartglass.com/collectors. You may also find your piece listed on eBay, which may provide current pricing information. The Williamstown Antique Mall may also provide assistance: 304-375-6315. Otherwise, please send email inquiries about glass production to: purchasing@fentonartglass.com
---
Fenton's Weekly eBay Auctions. . .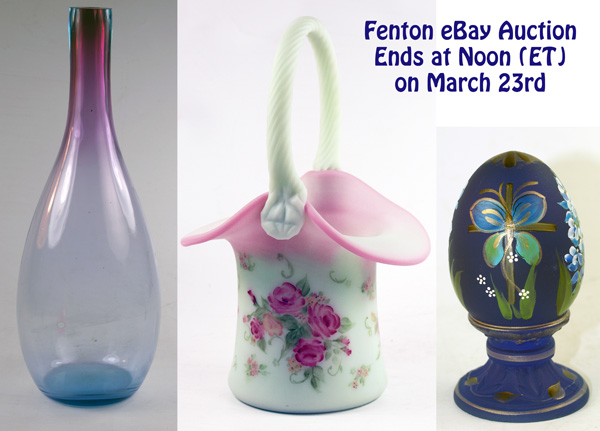 Here's your opportunity to own a beautiful, unique, rare, or a one-of-a-kind item through our weekly eBay Auctions! Each art glass creation is dated, identified and signed by the award-winning Fenton artist who designed it. Shown here are our latest offerings. Items featured this week. . .
Here's your once in a lifetime opportunity to acquire a glassblower's sample item from Fenton Art Glass. This 11" tall piece is very lightweight, but it will stand upright and can be used as a vase. This is Fenton's famous Mulberry glass hue, made by casing a bud of gold ruby glass with Azure Blue glass. It takes great skill to "hold" the Mulberry color in the top 1/3 of the item, and this sort of sample is what our skilled glassblowers would do to perfect their technique before beginning to produce items for the Fenton line. This piece, which was made about 1999, has some small air bubbles in it, and those are to be expected when such samples are made (most of these are discarded, so we are delighted to offer this one!).

Think Spring … with this one-of-a-kind Top Hat basket (8.8" tall) in Lotus Mist Burmese glass with a gorgeous hand painted decoration, created and painted by Frances Burton. Lotus Mist Burmese is a classic glass color from Fenton, and it requires pure gold in the glass batch to develop that wonderful pink blush when our glassworkers do their work (note the applied ribbed handle and Dave Vincent's handler's mark). The hand painted roses and foliage done by Frances have remarkable colors and details. The Top Hat mould is a Fenton classic, dating back to the 1920s-1930s!

This one-of-a-kind Egg on Stand (3.5" tall) features a splendid hand painted decoration on satin-finished cobalt blue glass. The glass color is the perfect background for the talented Kim Barley's delicate yet vibrant flowers and a stunning cross with stylized butterfly (a symbol of hope). Note the gold accents, created with special paint. This one-of-a-kind Egg on Stand is identified, dated and signed on the underside by Kim Barley.

Take a look at these offerings and other "Buy It Now" items available on our Fenton eBay Auctions.
---