Fenton Presents. . . March Madness Begins!
As the sportscasters say, "The Big Dance Begins" on March 15-16 and the final 2016 NCAA Basketball Championship Game is scheduled for April 4th. Show your team spirit with handcrafted art glass jewelry. . . made in America! More than 45 schools are available (as a regular size or as a larger Cornerstone bead), each with a hand applied decoration of officially licensed artwork for each college or university.

Fenton Glass Jewelry beads include a sterling silver core embossed "Fenton USA" and are compatible with most jewelry accessories, including our own line of beautiful sterling silver bracelets and necklaces. Click on the image above to shop the University Jewelry Collection from Fenton Glass Jewelry.
Accessorize with Collegiate Earrings and Bracelets!
Accessorize your "Team Spirit" fashions with handcrafted earrings and bracelets in team colors from Fenton! The sterling silver "dangle" earrings feature glass accents and officially licensed artwork on a Milk Glass bead. In an age of mass production, Fenton remains committed to honoring the tradition of expressive, handmade creations. Each Fenton USA earring bears the signature of handcraftsmanship; those slight variations that convey distinction, character and charm. Shop Collegiate Earrings.
Each bracelet features a Milk Glass bead with an officially licensed hand applied decoration, a coordinating leather cord with two accent beads and a 2'' extender chain in Silvertone. The extender chain allows the bracelet to fit most wrist sizes, from 5-3/4'' to 8-1/4''. Handcrafted in Williamstown, WV. Click on each image below to order or click here and find your school!
---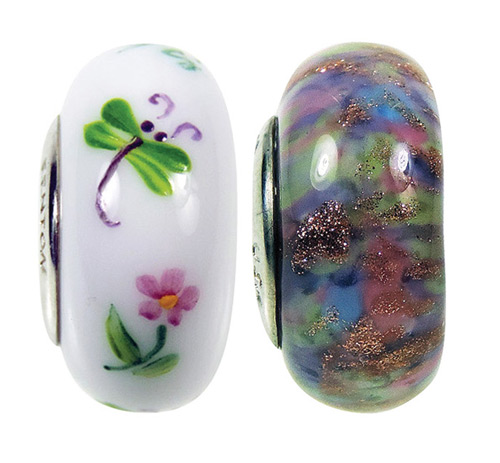 Changes Coming to Frequent Buyer Program for Beads. . .
The current Fenton Frequent Buyer Bead Program will end on May 31st, 2016. A new program will start through the Fenton Glass Jewelry web site on June 1st. Details coming soon! What is the Frequent Buyer Program? Simply purchase ten beads from any authorized Fenton jewelry dealer or website and you'll qualify for a FREE bonus bead! Click here for details! The current offerings are the Gracie (decorated) and Mikayla (Vasa Murrhina) beads shown here. NOTE: If you have purchased ten beads, please let us know if we haven't notified you. Send us an email: askfenton@fentonartglass.com and put "Frequent Buyer Qualifier" in the subject line.
---
NEW Fenton Gift Shop Limited Editions . . .
Fenton Gift Shop is pleased to offer these new Limited Edition selections. Each piece features a design by our
award-winning Fenton artists, and will be hand painted, signed, numbered, and dated by the artist. Included in this grouping are an 11" Alley Cat and a 3" Bear figurine in Opal Satin glass, as well as an 8" Chessie Cat Covered Box
(includes a Buttercream lid and Opal Satin box), all handcrafted by Mosser Glass. Also included is a 9" Opal Satin Vase handcrafted by Davis-Lynch. These pieces were made exclusively for the Fenton Gift Shop, using a Fenton mould, then returned to our factory where our talented design team created the wonderful Limited Edition designs!

You'll soon be in the patriotic spirit with this Opal Satin Alley Cat! This 11" figurine features a patriotic design by Robin Spindler that she calls "Faded Glory." Her use of muted red and blue tones with white star shapes suit the Opal Satin glass color of this figurine. Note those expressive eyes and how the stripes resemble a sweater! Each Faded Glory Alley Cat figurine is $250.

Our "God Bless America" Opal Satin Bear figurine is airbrushed to a more natural look by Fenton designer Frances Burton. This patriotic figurine has the words "God Bless America" hand painted on a raised paw. Each God Bless America Bear is $75 and limited to just ten figurines.


Pre-orders for the Faded Glory Alley Cat figurine and the God Bless America Bear figurine will be accepted until midnight (ET) on Monday,
March 14th.

A beautiful vase for a Welcome Spring tabletop display! This beautiful 9" Opal Satin Vase was designed by Kim Barley. With lush green and brown colors and birds in the distant background, Kim hand painted Violets in hues of vibrant purple and added cattails as a frame around a lone swan. Each Violets & Cattails Swan Vase is $180.
Robin Spindler created a perfect match by pairing a Buttercream lid with an Opal Satin Chessie Cat Covered Box. She painted the lid to match the creamy color of the box, then added a delightful design of dragonflies hovering amongst the foliage. Robin's design theme is continued on the Chessie Cat Box.

Note the gemstone accents on the dragonflies! The vivid hues on the cat and leaves really stand out on this Limited Edition piece! Each Dragonfly Dreams Chessie Cat Covered Box is $190.

Pre-orders for the Dragonfly Dreams Chessie Cat Covered Box and the Violets & Cattails Swan Vase will be accepted until midnight (ET) on Wednesday, March 16th.

To pre-order any of these Limited Editions,
call the Fenton Gift Shop: 1-800-319-7793, ext. 342 or email us, listing items you want to purchase: purchasing@fentongiftshop.com.

You may also request that we add your email address to Fenton Gift Shop's mailing list so you may receive future limited edition notifications.

---
Fenton Gift Shop
Ruby Glass Christmas Trees

While Supplies Last!

Fenton Gift Shop has a nice selection
of Ruby Christmas Trees available. . .
while supplies last!

This beautiful, handcrafted Ruby 6.5" tree was made at Mosser Glass, using the Fenton mould for our 5535 Christmas Tree.

$34.50 each + shipping
Available While Supplies Last!
Contact Fenton Gift Shop to order:
1-800-319-7793 or 304-375-7772

Visit Fenton Gift Shop
420 Caroline Avenue
Williamstown, WV 26187.
Hours: Wednesday-Saturday
10 a.m. - 3 p.m. (ET).
Closed Sunday-Tuesday.