Fenton Presents. . . Whimsical and Fun Beads!

Our talented jewelry designers look forward to creating new styles each year, and one of their favorite collections to design is the Whimsy Collection from Fenton Glass Jewelry.

Jena Lane Blair and Truda "TJ" Mendenhall enjoy teaming up to create fun and playful designs for this popular collection. The 2016 Whimsy Collection includes beautiful glass hues of blue, lavender, mint green, topaz and Milk Glass. Jena and Truda then add the delightful three-dimensional and hand applied decorations. Each bead is initialed by the artist who completed it.
According to Jena, "Creating a three dimensional bead is like 'painting with molten glass' and takes patience as well as skill!"
The name of each bead suits the design perfectly! Shown here are the new Whimsy Collection beads for 2016 and we're sure they will soon be fan favorites! Choose from ten new designs: Bunny Buddies; Butterfly Awe; Froggie Kisses; Hey, Diddle, Diddle; Hunny Bees; Just Snail'n Along; Shelley the Sea Turtle; Tiger Tales; Twinkles the Firefly; and Wally Koala. Click on the image above to place your order or visit Fentonglassjewelry.com.
Art Glass Pendants. . . Create it, Wear it, LOVE it! . . . While Supplies Last
These Art Glass Pendants are created by hand from molten glass and wonderful imagination! Shown below are a few of our recently retired pendants: Faith, Grace and Hopeful. These versatile pendants carry a meaningful message and the glass portion measures approximately 1-1/4'' in length. They will clasp on to necklaces and bracelets, including our Creative Spirit Collection.
---
NEW Fenton Gift Shop Limited Editions . . .
Fenton Gift Shop is pleased to offer these new Limited Edition selections. Each piece features a design by our award-winning Fenton artists, and will be hand painted, signed, numbered, and dated. Included in this grouping are a 9" Vase handcrafted in Opal Satin glass by Davis-Lynch, as well as an 8" Chessie Cat Covered Box and Sitting Cat figurine, each handcrafted in Crown Tuscan and a Ruby Satin 11" Alley Cat, all handcrafted by Mosser Glass. These Limited Edition pieces was made exclusively for the Fenton Gift Shop, using a Fenton mould.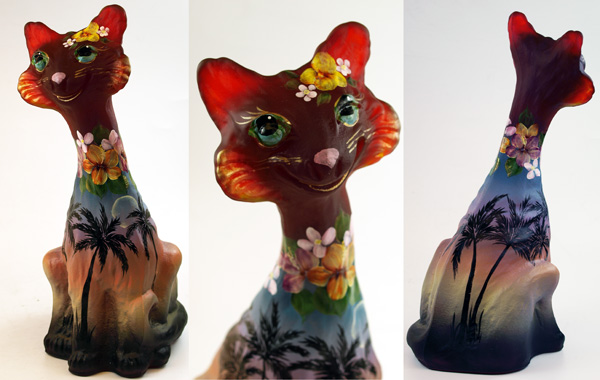 The hand painted design by Kim Barley on this Ruby Satin Alley Cat will definitely have you daydreaming about watching a golden sunset in Hawaii! Kim's hand painted colorful flowers are beautiful and the setting sun behind the palms set the mood! As always, the details on the expressive face are delightful! Note the wonderful Ruby Amberina effect on the face. Each Hawaiian Sunset Alley Cat is $250.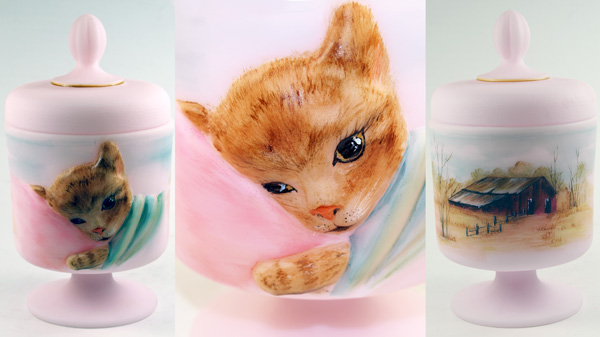 Frances Burton has captured perfectly with her brush a Catnappin' Cat for her hand painted design for this Crown Tuscan Chessie Cat Covered Box. The little Orange Tabby is settling down for a nice nap. . . perhaps to dream about the mice still hiding in the rustic red barn (shown on the back of this piece). Each Catnappin' Barn Cat Chessie Cat Covered Box in Crown Tuscan is $200.
Pre-orders for the Hawaiian Sunset Alley Cat and the Catnappin' Barn Cat Chessie Cat Covered Box will be accepted until midnight (ET) on Monday, March 7th.
| | |
| --- | --- |
| | Pre-orders for the Goldfinch Delight Opal Satin Vase and the Rosie the Sitting Cat figurine in Crown Tuscan will be accepted until midnight (ET) on Wednesday, March 9th. |
Welcome Spring with this beautiful 9" Opal Satin "Goldfinch Delight" Vase! Designed by Frances Burton, this vase features hand painted Goldfinches perched on flowering stems. The scene encircles the vase with three of these beautiful and colorful Spring warblers. Each Goldfinch Delight Vase is $210.

Frances Burton adorned our Crown Tuscan Sitting Cat figurine in with a hand painted design of lush pink roses and vining Morning Glories. Each Rosie, the Sitting Cat figurine is $75.

To pre-order any of these Limited Editions, please call the Fenton Gift Shop: 1-800-319-7793, ext. 342 or email us, listing items you want to purchase: purchasing@fentongiftshop.com. You may also request that we add your email address to Fenton Gift Shop's mailing list so you may receive future limited edition notifications.

Visit Fenton Gift Shop
420 Caroline Ave., Williamstown, WV 26187.

Hours: Open Wednesday-Saturday 10 a.m. - 3 p.m. (ET).
The Gift Shop is closed Sunday-Tuesday.