Fenton Presents. . . Beautiful Inspirational Designs

Our handcrafted art glass beads are perfect for Easter and Spring fashions or as an inspirational fashion accessory
to wear all year long. Included in the Heartstrings Collection, these beads were designed by Jena Lane Blair and
Truda "TJ" Mendenhall and feature hand applied decorations coordinating with the glass color of each bead. Three of the beads shown above include a word of inspiration that is hand applied to each bead.

The three-dimensional Hallelujah bead is included in the Whimsy Collection. Painting with molten glass to create beautiful three-dimensional artwork requires a steady hand and keen eye. The bead artisan carefully applies the thread-like strands of glass to the hot bead, being ever watchful not to melt the artwork while maintaining the bead temperature of 900 degrees. Each flower, leaf, animal, or berry is added one at a time, then secured to the bead.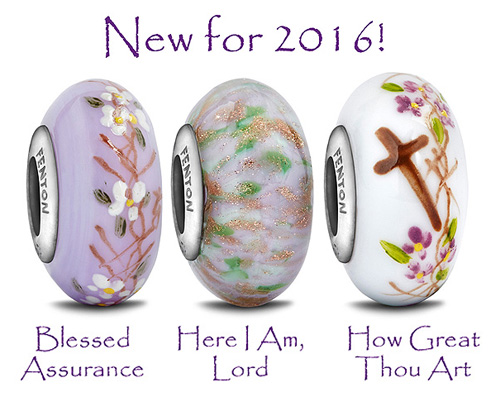 Shown at left are new inspirational designs for 2016. Blessed Assurance and How Great Thou Art each have a hand applied decoration and Here I Am, Lord is a new Vasa Murrhina bead. These beads are included in Fenton Glass Jewelry's Holiday Collection.
Each "Collection" comes with a keepsake card listing the special story behind each bead's design. Beads with hand applied decorations are initialed by the talented Fenton artist who completed it. Mix and match to make your personal fashion statement this season!
Click on any image or visit Fentonglassjewelry.com

Create it, Wear it, LOVE it!
---

NEW arrivals
from Fenton Glass Jewelry include these handmade spacer beads that feature a genuine Mother of Pearl mosaic design and a sterling silver core. Perfect accents! Click on the image for details!

---
Online Specials. . .
Make a dramatic fashion statement this Spring with our Faith Blooms Tassel Necklace.
This special offering is available for a limited time
. . . just four necklaces are available. . .
while supplies last!

This necklace features our handcrafted three-dimensional Faith Blooms Focal bead, designed by Jena Lane Blair. Creating a three-dimensional bead is like ''painting with molten glass'' according to Jena. As you can see, the results for Faith Blooms is beautiful! Raised glass flower blooms in colorful hues encircle the entire bead. We have paired
this beautiful bead with our 33" sterling silver tassel necklace and an ornamental spacer.

11027 Faith Blooms 33" Tassel Necklace
Originally $189.50, Online Special $132.50 - Buy Now!

You can also create your own look by adding
any Fenton bead or spacer to the Tassel Necklace!

30022 Tassel Necklace - 33'' length
Originally $95, Online Special $71.25 - Buy Now!

These offers expire March 4 at 8 a.m. (ET)
---
NEW Fenton Gift Shop Limited Editions . . .
Fenton Gift Shop is pleased to offer these new Limited Edition selections. Each piece features a design by our award-winning Fenton artists, and will be hand painted, signed, numbered, and dated. Included in this grouping are a 9" Vase handcrafted in Opal Satin glass by Davis-Lynch, as well as an 8" Chessie Cat Covered Box and Cat on Fount in Crown Tuscan, an Opal Satin 7.25" Square Vase and 5.5" Ghost figurine, all handcrafted by Mosser Glass. Each of these Limited Edition pieces was made exclusively for the Fenton Gift Shop, using a Fenton mould.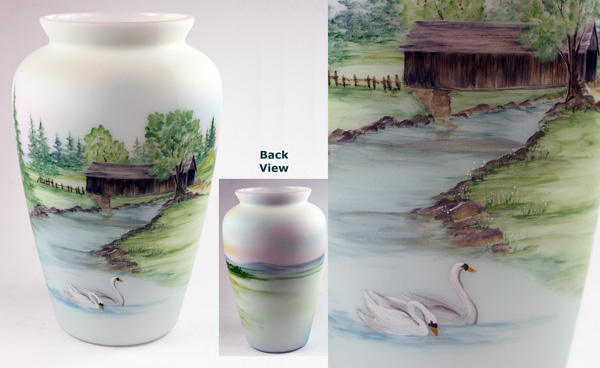 Frances Burton designed this wonderfully scene of a Swan pair gliding serenely along a waterway with a rustic covered bridge in the background. The handpainted details on this Opal Satin 9" Vase are beautiful and give one a peaceful feeling just looking at it. Each Swan Pair Vase is $210.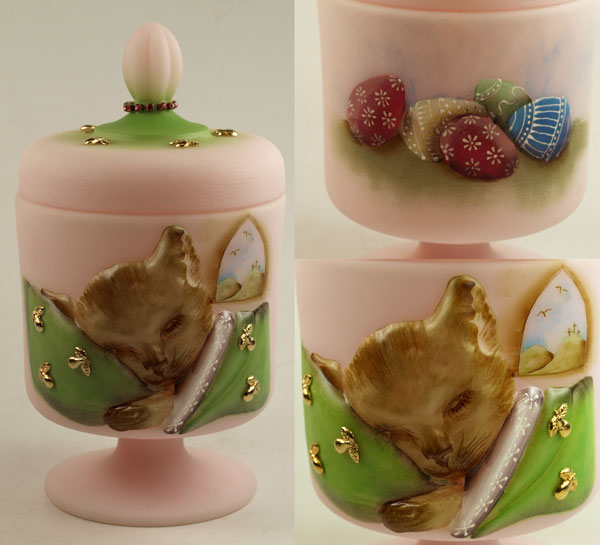 Easter is around the corner
and Robin Spindler's creative imagination and talents are obvious with an Easter-themed design for this Crown Tuscan Chessie Cat Covered Box.
Golden fruit accents adorn the front and lid of the vase with additional gem accent "bling" encircling the handle. Robin added a colorful cluster of hand painted Easter eggs on the back.

Note the hilltop scene in the window near the sleeping cat. . . do you see the three crosses on the hilltop?

Each Dreaming of Easter Chessie Cat Covered Box
is $200.
Pre-orders for the Swan Pair Vase and the Dreaming of Easter Chessie Cat Covered Box will be accepted until midnight (ET) on Monday, February 29th.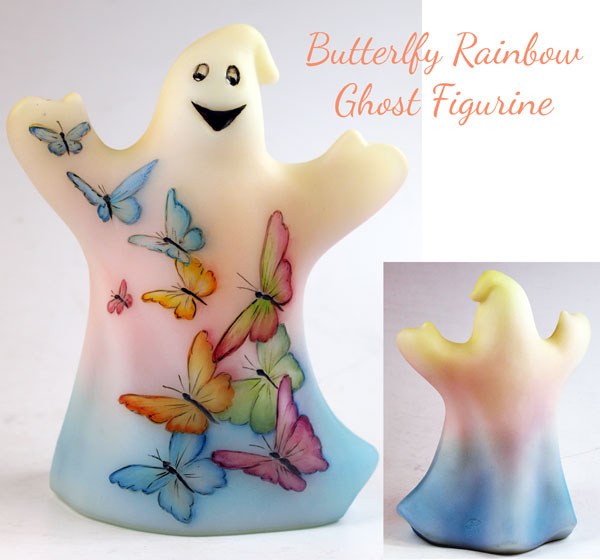 What better way to get in the mood for the coming Spring season than by displaying this "Butterfly Rainbow" Ghost figurine in your home! Designed by Frances Burton, this "Ghost" appears to be welcoming his beautiful winged friends with open arms.
Frances added a pastel background in shades of blue, pink and yellow before hand painting the different sizes of bright multi-colored butterflies on the front of this figurine. Each Butterfly Rainbow Ghost figurine is $95 and is limited to just ten figurines!
Shown below is our popular Sitting Cat figurine still on the fount! This popular collectible is sure to please the young as well as the young at heart!

Kim Barley continued the pink theme of the glass with her hand painted design of hearts, and flowers. Yellow and white flowers encircle the base with a bird, a birdhouse and a hand lettered "hello friend" message on the front. Each Hello Friend Cat on Fount figurine is $120 and is limited to just six pieces!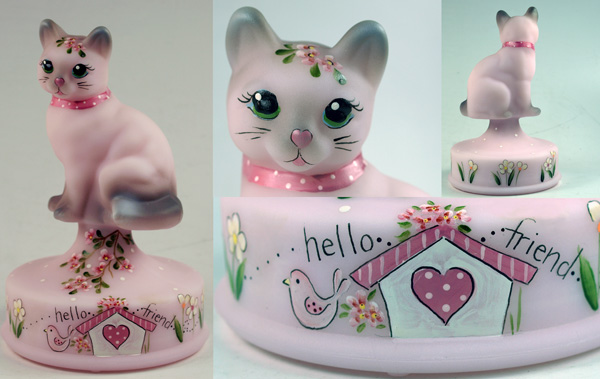 Imagine the oohs and aahs when visitors see this beautiful Square Vase on display in your home! Frances Burton chose two variations of a Wildflower Rose and composed a dramatic vignette using a scrollwork motif for each panel. Each Wildflower Rose Square Vase is $195 and limited to just ten vases.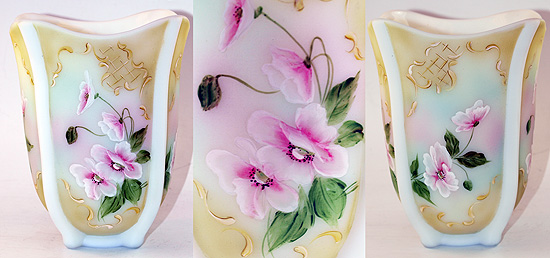 Special Note: This is the remaining Fenton Gift Shop inventory for the Square Vase and the Ghost figurine.
Pre-orders for the Butterfly Rainbow Ghost, Hello Friend Cat on Fount figurine and the Wildflower Rose Square Vase will be accepted until midnight (ET) on Wednesday, March 2nd.
To pre-order any of these Limited Editions, please call the Fenton Gift Shop: 1-800-319-7793, ext. 342 or email us, listing items you want to purchase: purchasing@fentongiftshop.com. You may also request that we add your email address to Fenton Gift Shop's mailing list so you may receive future limited edition notifications.

Visit Fenton Gift Shop
420 Caroline Ave., Williamstown, WV 26187.

Hours: Open Wednesday-Saturday 10 a.m. - 3 p.m. (ET).
The Gift Shop is closed Sunday-Tuesday.