There may be snow on the ground in certain parts of the country, but we're sure the new Fenton Glass Jewelry Spring Collection will definitely have you thinking about warmer weather and Spring fashions! Choose from a great selection of hand applied decorations and glass treatments from Jena Lane Blair and Truda "TJ" Mendenhall, all handcrafted in coordinating and timely colors and styles!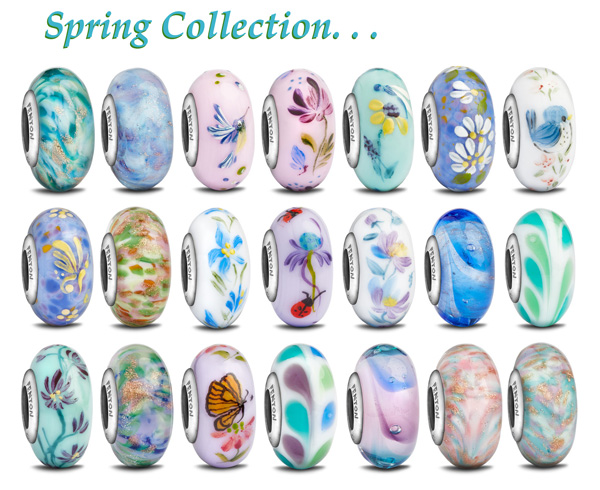 You'll love not only the bead, but the bead's name and its "story"... the inspiration for each art glass creation.

Shown l-r by rows:
Aruba, Blue Lilacs, Bubbles, Butterfly So Blue, Dainty Sipper, Daisy Tell Me True, and Freckled Bluebird;
Row 2: Flutterby, Garden Path, Helena, Miss Dotty, Misty Morning, Moonlit Skies, and Peek A Boo Spring;
Row 3: Purple Passion, Purple Waves, Queen of the Garden, Raindance, Reflections, Roses and Robin's Eggs, and Sweet Dreams.

Click on any image or visit Fentonglassjewelry.com and browse through this new collection from Fenton Glass Jewelry.
---
Get Your "Irish" On. . . Holiday-themed Be
ads
Dress in your own "Irish" style with our new handcrafted holiday-themed beads. . .
made in USA!

Our popular Emerald Isle Vasa Murrhina bead returns as a perfect complement to four new designs! Mix and match to create your unique look for St. Patrick's Day or any day you want to express or celebrate the "Irish" in you!

Shown (l-r): Don't Miss the Rainbow, Emerald Isle, Happy St. Pat's, The Irish, and Wee Shamrocks. Each bead has a sterling silver core embossed Fenton USA and is compatible with most brands of jewelry accessories, including our own line. Beads with a hand-applied decoration are initialed by the talented Fenton artist who completed it. Click on each image to order.
---
Find a Fenton Dealer. . .
Many authorized Fenton dealers around the country still have beautiful Fenton Art Glass selections AND many now carry the Fenton jewelry line! Click here to find a Fenton dealer near you!
---
NEW Fenton Gift Shop Limited Editions . . .
Fenton Gift Shop is pleased to offer these new Limited Edition selections. Each piece features a design by our award-winning Fenton artists, and will be hand painted, signed, numbered, and dated. Included in this grouping are a 9" Vase and a 12" Amphora, each handcrafted in Opal Satin glass by Davis-Lynch, as well as a 3" Opal Satin Bear figurine and an 11" Ruby Satin Alley Cat, handcrafted by Mosser Glass. Each of these Limited Edition pieces was made exclusively for the Fenton Gift Shop, using a Fenton mould.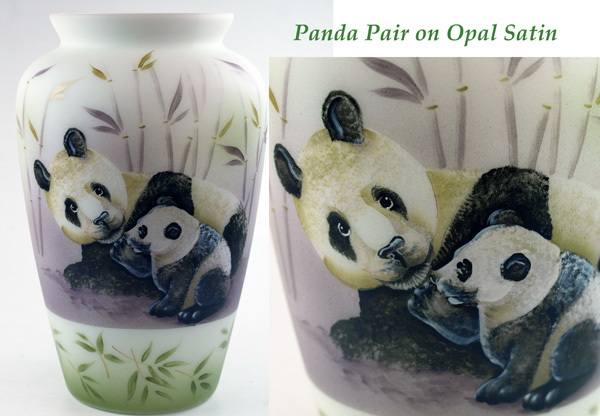 There's nothing like a mother's love... and it's no different with the latest addition at the National Zoo! Baby Panda Cub "Bei Bei" is the newest member of their Panda family. "Bei Bei", which means 'precious treasure', has captured the hearts of all who have either seen him or watched his antics on the zoo's web site. We've had several requests for a Panda hand painted on glass and has Robin Spindler ever delivered! Her design is a tender scene of a mother with her cub on this 9" Opal Satin Vase. Robin airbrushed the vase in soft pastels and added bamboo stalks and leaves as foliage for the background. Each Panda Love Vase is $215.
Kim Barley's hand painted design for this Opal Satin Bear figurine is reminiscent of a favorite children's nursery rhyme, "Pretty Little Dutch Girl", that was also used for clapping and jump rope games.

Kim airbrushed the figurine to more natural tones and added a smiling expression and bright eyes. She dressed this girl bear in bright blue with a white apron. Kim added delicate blue flowers, lace details and wooden shoes to complete the look!

Note the tulips blooming near the paws and the one on the hat. . . and don't miss that delightful little yellow duckling on the side! Each Dutch Girl Bear figurine is $75 and is limited to 16 figurines.

Pre-orders for the Panda Love Vase and the Dutch Girl Bear figurine will be accepted until midnight (ET) on Monday, February 22.

Robin Spindler chose to depict an impressive member of the avian world on this Opal Satin Amphora. . .
the Pileated Woodpecker.

This large, dashing bird with a flaming crest is the largest woodpecker in North America (except the Ivory-bill, which is considered mostly extinct).
These majestic birds excavate deep into rotten wood to get at their food source: carpenter ants. You can find their characteristic rectangular holes in dead trees. This species became rare in eastern North America with the clearing of forests, but has gradually increased in numbers again since about the beginning of the 20th century. Robin has done a wonderful job commemorating this majestic bird with bold colors and brushstrokes.
Each Pileated Woodpecker Amphora with stand is $250 and is limited to just seven pieces. Don't delay adding this special piece to your collection!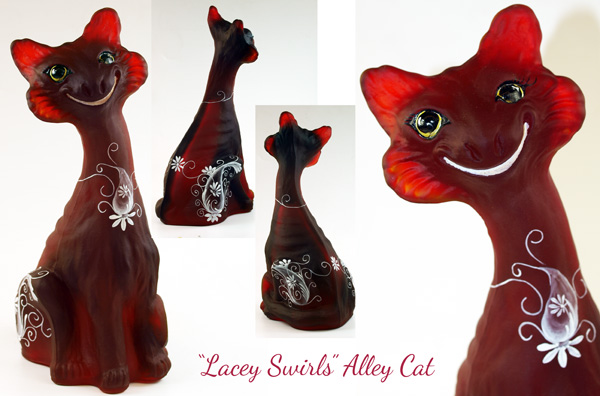 With Ruby Satin as her canvas, Frances Burton chose a beautiful swirling floral design. She added a bright white smile and expressive eyes. Each Lacey Swirls Alley Cat figurine is $225.

Pre-orders for
the Pilated Woodpecker Amphora with stand and the Lacey Swirls
Alley Cat figurine will be accepted until midnight (ET) on Wednesday, February 24th.
To pre-order any of these Limited Editions, please call the Fenton Gift Shop: 1-800-319-7793, ext. 342 or email us, listing items you want to purchase: purchasing@fentongiftshop.com. You may also request that we add your email address to Fenton Gift Shop's mailing list so you may receive future limited edition notifications.