---
Fenton "Memorabilia" Auction Scheduled for July 27th. . .


Don't miss this fantastic opportunity to acquire
Fenton Art Glass Company "memorabilia" at auction!
On Monday, July 27, auctioneer Randy Clark will sell
50 lots (numbers 100 to 149A) consigned by Fenton.
Shown here is a marvelous conversation piece for any collection! This carefully polished "lump" of Patriot Red glass from the mid-1970s is unique. Experimental trials produced Patriot Red glass in varying hues of opaque red, and yellow streaks were sometimes present as well. This blend of colors is a great reminder of the difficulties encountered when seeking to perfect the opaque Patriot Red glass.

This auction begins at 10 a.m. EDT on Monday, July 27, at Randy Clark's Auction Gallery in Dexter City, Ohio (just off I-77 about 20 miles north of Williamstown). Pictures and a descriptive listing of items
are available on Randy's website: http://www.randyclarkauctions.com

NOTE: If you can't attend this auction in
person, you can place an "absentee bid" or arrange to bid by telephone. Contact
auctioneer Randy Clark for specific information about these options.


There are also postcards
(one from 1907!), photos
(Dave Fetty in 1975!) and snapshots, original copper printing plates from 1909-1911, many glassworkers'
tools (including basket handler's marks) and some wonderful one-of-a-kind Fenton articles decorated
by Robin Spindler, Kim Barley and Frances Burton.

Shown in previous
newsletters, the items
pictured here are included
in the upcoming auction on July 27th and may be seen
on Randy's auction site.

The trio of offhand bird
figurines (left) made by
Fenton skilled glassworker Delmer Stowasser are being offered along with a photo (placed inside a protective sleeve) of Delmer at work.

This stunning handpainted vase by Robin Spindler features
a one-of-a-kind design named "New Day Dawning" . . . and you can see why with the sunlight appearing to shine through the trees to cast a ray of light around the majestic buck!
---
Fenton Gift Shop Presents. . . NEW Limited Edition Handcrafted Glass!
Fenton Gift Shop is pleased to offer four new Limited Edition pieces, designed and handpainted by our award-winning Fenton Art Glass designers. Each piece will be handpainted, signed and dated by the artist. The Opal Satin Vase and Amphora were made by Davis-Lynch, also using a Fenton mould. The Opal Satin Owl and Mouse figurines were handcrafted, using a Fenton mould, as exclusives for the Fenton Gift Shop by Mosser Glass.
| | |
| --- | --- |
| | The perfect addition to any figurine collection is this wonderful 6" Owl figurine! Designed by Kim Barley, you'll love the handpainted details on this Opal Satin figurine, from those entrancing eyes to the delicate and soft green and blue florals! Designed and handpainted by Kim Barley, each Owl figurine is $85. |
Robin Spindler has created another wonderful scene of jungle life for this Opal Satin 9" vase. Brightly colored stripes and foliage surround the vase. On the front of the vase Robin added an endearing scene of a mother Rhinoceros nuzzling her young calf. This "Rhino" Vase, handpainted by Robin Spindler, is $235.
Pre-orders for the Limited Edition "Rhino" Vase and Owl Figurine will be accepted until midnight (ET) on Monday, July 13th, 2015.

Aarrrgh! This adorable "Pirate" Mouse figurine (approx. 3") features wonderful handpainted details - from the expressive eyes and pirate hat to the swashbuckler outfit and don't forget that treasure chest on the back side! Designed and handpainted by Kim Barley, each Mouse figurine is $75.


Robin continues her animal theme with her handpainted design of a Bobcat on this 12.5" (w/out stand) Opal Satin Amphora! You'll want to reach out and touch it!
This Amphora is $225 each (stand included.)

Pre-orders for the "Bobcat" Amphora and "Pirate" Mouse figurine will be accepted until midnight (ET) on Wednesday, July 15, 2015.
Please contact the Fenton Gift Shop: 1-800-319-7793, ext. 342 or via email: purchasing@fentongiftshop.com. You may also request to have your email added to a mailing list in order to receive future notifications of limited editions as they become available. Fenton Gift Shop's regular hours are Wednesday, Thursday, Friday, and Saturday from 10 a.m.-3 p.m. ET. and closed Sunday, Monday and Tuesday.
---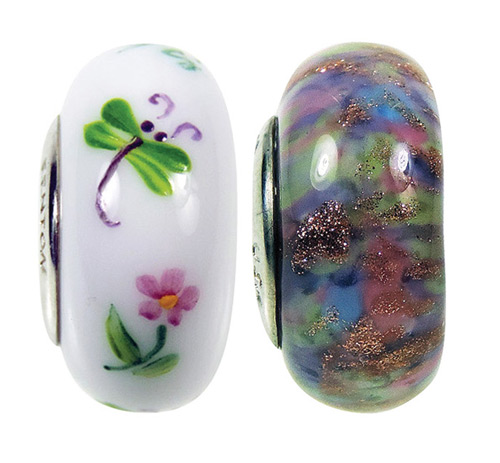 Frequent Buyer Program. . . Earn YOUR Free Limited Edition Bead!
Here's your opportunity to receive a beautiful limited edition bead absolutely FREE!
Simply purchase ten beads from any authorized Fenton jewelry dealer or from our website: www.fentonartglass.com and you'll qualify for a bonus bead! Click here for details! Our current offerings are the Gracie (decorated) and Mikayla (Vasa Murrhina) beads shown at right.
Click here to view our handcrafted art glass beads. NOTE: If you have purchased ten beads, let us know if we haven't notified you. . . please send us an email at askfenton@fentonartglass.com and put Frequent Buyer Qualifier in the subject line.
---
Fenton Custom Designs for Beads. . .
We've received many requests for specially designed beads. Most of these designs are exclusive to one retailer or organization, so we can not sell them on our website. If your group or store is interested in a custom designed bead, please call for details at 800-933-6766, ext. 209. Click here to view custom designed beads with contact info for the retailers or organization from whom you may purchase them. Be sure to check back as we will be updating this list regularly! Please contact the retailer or organization listed beside each Custom Design bead and be sure to say you saw it mentioned in the Fenton Newsletter!
---
Fenton eBay Auctions. . .
Here's your opportunity to own
a unique, rare, one-of-a-kind creation, through our weekly eBay Auctions!
Items featured this week. . .

Shown here are our latest offerings: an elegant handpainted one-of-a-kind Opal Satin Amphora vase with bejweled butterflies and flowers, designed by award-winning Fenton designer Robin Spindler. Also included is an original "handler's mark" of skilled glassworker Matt Stanley. The distinctive geometric design for each basket handler's mark was created and affied to a tool used by the handler. This one has been mounted on an attractive wooden base for display.
Last, but not least is an original "illustrated sheet", circa 1908-1910, from the Fenton Art Glass Company. This colorized sheet illustrates Fenton's No. 5 Novelty Asst. - otherwise known as Carnival Glass. Check out the details on each piece and place your bid! This Fenton eBay auction ends at noon (ET) on Wednesday, July 15th.