---
Fenton USA Handcrafted "RETIRED" Earrings Online Special. . .
Buy 1 Pair, Get 1 Pair Half Price!
As with our handcrafted beads, each year we must "retire" a certain number of earrings to make room for new styles. Shown below are the latest "retired" earrings available while supplies last with a special online offer!

For each "Retired" earring purchased from the selections shown below, you may choose another pair and receive those at 50% discount off retail! For example, choose one pair at $24.50 and you'll receive your second pair (of equal or lesser value) at a 50% discount off the stated retail price. Quantities are very limited and these earrings are available while supplies last. Simply click on each image to order. NOTE: The regular price will show when you place your order, but the invoice will be adjusted before your order is shipped. This offer is valid from 5 p.m. (ET) on Thursday, June 18 until 8 a.m. (ET) on Friday, June 26th for www.fentonartglass.com online orders only and does not apply to previous orders.
| | | | |
| --- | --- | --- | --- |
| 10486 Lavender Iridized | 10487 Black | 10490 Chocolate Satin | 10502 Bright Aqua |
| 10665 Holly Berry Wreath | 10679 Poppy Time | 10702 The Kiss of Spring | 10699 He Loves Me |
11081 Queen of Hearts

RECENTLY RETIRED!
Vasa Murrhina Earrings
with Swarovski crystal accents!

10663 Audrey

10703 Don't Eat the Daisies

10704 Party Girl
---
Fenton Gift Shop Presents. . . NEW Limited Edition Handcrafted Glass!
The Fenton Gift Shop is pleased to offer four new Limited Edition pieces, designed and handpainted by our award-winning Fenton Art Glass designers. Each piece will be handpainted, signed and dated by the artist. All of these items were handcrafted by Mosser Glass, using a Fenton mould, as exclusives for the Fenton Gift Shop. Pre-orders for the Limited Edition "Tiger" Alley Cat and "Stylized Peacock" Happiness Bird Figurine will be accepted until midnight (ET) on Monday, June 22, 2015.


Designed and handpainted as a "tiger" by Robin Spindler, this fearless feline will be perfect for any Alley Cat collection!
This Alley Cat is $250 each. Kim Barley's "Stylized Peacock" colorful design looks great on this Ocean glass figurine. The Happiness Bird is $75 each.
Robin Spindler created a wonderful handpainted western scene on this Cobalt Flip Vase. A cowboy sits by the fire strumming his guitar as his faithful horse appears to be listening to the tune. The back of the vase continues the scene with a mountaintop vista in the background.
This Cobalt "Cowboy" Flip Vase is $210 each.


You'll be ready for Halloween festivities with this
Opal Satin "Boo Kitty" Chessie Box designed and handpainted by Kim Barley. Add some treats for a great tabletop Halloween display. Kim added candy corn accents around the lid and on the box. Note the spooky green eyes peering from the lid and the black spider dangling from the tip of the cat's hat... no wonder those cat's eyes are so big! This "Boo Kitty" Chessie Box is $220 each.

Pre-orders on the "Cowboy" Flip Vase and the "Boo Kitty" Chessie Box will be accepted until midnight (ET) on Wednesday, June 24, 2015. Please contact the Fenton Gift Shop: 1-800-319-7793, ext. 342 or via email: purchasing@fentongiftshop.com. You may also request to have your email added to a mailing list in order to receive future notifications of limited editions as they become available.

Fenton Gift Shop is open Wednesday, Thursday, Friday, and Saturday 10 a.m.-3 p.m. ET. and closed Sunday, Monday and Tuesday.


SPECIAL NOTE FOR JULY 2015 HOURS:
Fenton Gift Shop will be open Tuesday, June 30 through Friday, July 3 and closed on Saturday,
July 4th. Regular hours (as listed above) will
resume the following week.
---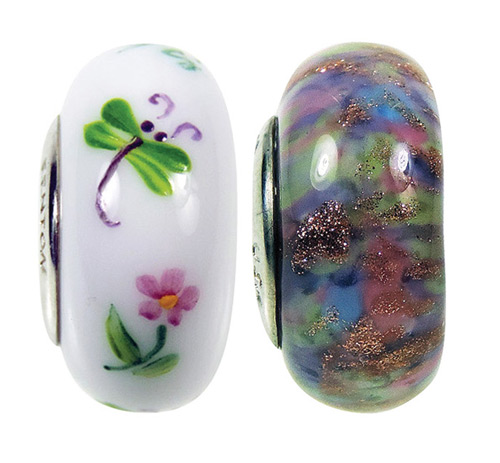 Frequent Buyer Program. . . Earn YOUR Free Limited Edition Bead!
Here's your opportunity to receive a beautiful limited edition bead absolutely FREE!
Simply purchase ten beads from any authorized Fenton jewelry dealer or from our website: www.fentonartglass.com and you'll qualify for a bonus bead! Click here for details! Our current offerings are the Gracie (decorated) and Mikayla (Vasa Murrhina) beads shown at right.
Click here to view our handcrafted art glass beads. NOTE: If you have purchased ten beads, let us know if we haven't notified you. . . please send us an email at askfenton@fentonartglass.com and put Frequent Buyer Qualifier in the subject line.
---
Fenton Custom Designs for Beads. . .
We've received many requests for specially designed beads. Most of these designs are exclusive to one retailer or organization, so we can not sell them on our website. If your group or store is interested in a custom designed bead, please call for details at 800-933-6766, ext. 209. Click here to view custom designed beads with contact info for the retailers or organization from whom you may purchase them. Be sure to check back as we will be updating this list regularly! Please contact the retailer or organization listed beside each Custom Design bead and be sure to say you saw it mentioned in the Fenton Newsletter!
---
Fenton eBay Auctions. . .
Here's your opportunity to own a unique, rare, one-of-a-kind creation, through our weekly eBay Auctions! Items featured this week. . . Shown above are our latest offerings! Rosalene glass, with pure gold in the formula, provides the canvas for Frances Burton's beautiful vining floral design on this one-of-a-kind Ginger Jar set. Kim Barley's third fledgling is ready to take flight to your Fenton figurine collection! Kim created a small flock of "peeps". . . using our songbird figurines and this one has been handpainted with florals on a soft pastel pink background as a one-of-a-kind! You'll be amazed at the handpainted animal faces and details on this "King of the Jungle" Cat figurine on fount. . . offered as a one-of-a-kind by Kim Barley. Last but not least, here's a great opportunity to own not 1, not 2, but 3 genuine basket handler's marks from the Fenton Art Glass Company. The marks were used by Edwin Junior Garber, Lloyd Lauderman and J. R. Phillips, all of whom were skilled glassworkers at our Williamstown, WV factory. Check out the details and place your bid! This Fenton eBay auction ends at noon (ET) on Wednesday, June 17th.