Fenton Gift Shop Presents. . . NEW Limited Edition Handcrafted Glass!
The Fenton Gift Shop is pleased to offer these new Limited Editions, designed and handpainted by our award-winning Fenton Art Glass designers. Each piece will be handpainted, signed and dated by the artist. The Opal Satin Amphora was made by Davis-Lynch and the Alley Cat was handcrafted by Mosser Glass exclusively for the Fenton Gift Shop (with Fenton moulds).
The "Butterfly Gems" Amphora was designed and handpainted by Robin Spindler and is $220 each (includes stand). Handcrafted in Opal Satin and sprayed with soft pastel colors, Robin's talent shines on her delicately handpainted butterflies and floral design. She added colorful gem accents for extra sparkle on this beautiful piece.
The "Baseball" Alley Cat is $250 each with a handpainted "Baseball" theme-design by Kim Barley. Handcrafted
in Opal Satin, Kim airbrushed this figurine, adding splendid handpainted details, including the Team Fenton script "F" and the word "Glassworkers" on the shirt front and a ball and bat on the side. Perfect addition for Alley Cat collectors!

Pre-orders for the Limited Edition "Butterfly Gems" Amphora and "Baseball" Alley Cat will be accepted until midnight (ET) on Monday, June 15th, 2015. At press time, we did not have images for the third and fourth offerings. Please check with the Fenton Gift Shop for details and images on these future offerings: 1-800-319-7793, ext. 342 or purchasing@fentongiftshop.com. You may also request to have your email added to a mailing list in order to receive future notifications of limited editions as they become available. Fenton Gift Shop is open Wednesday, Thursday, Friday, and Saturday 10 a.m.-3 p.m. ET. and closed Sunday, Monday and Tuesday.
---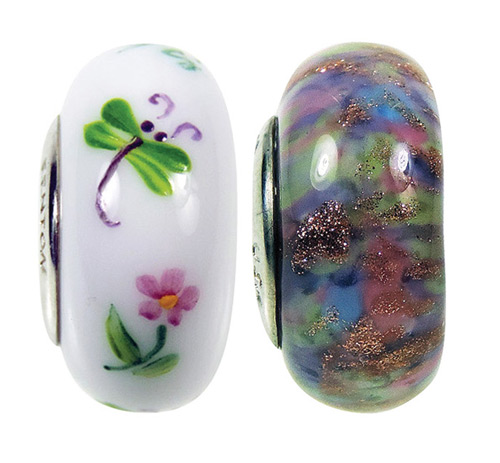 Frequent Buyer Program. . . Earn YOUR Free Limited Edition Bead!
Here's your opportunity to receive a beautiful limited edition bead absolutely FREE!
Simply purchase ten beads from any authorized Fenton jewelry dealer or from our website: www.fentonartglass.com and you'll qualify for a bonus bead! Click here for details! Our current offerings are the Gracie (decorated) and Mikayla (Vasa Murrhina) beads shown at right.
Click here to view our handcrafted art glass beads. NOTE: If you have purchased ten beads, let us know if we haven't notified you. . . please send an email: askfenton@fentonartglass.com and put Frequent Buyer Qualifier in the subject line.
---
Fenton Custom Designs for Beads. . .
We've received many requests for specially designed beads. Most of these designs are exclusive to one retailer or organization, so we can not sell them on our website. If your group or store is interested in a custom designed bead, please call for details at 800-933-6766, ext. 209.

Shown at left are four views of the Adirondack (ADK) Red Chair Bead, a custom design for Allen's Jewelry, located in Old Forge, NY. Please contact the store for details: (315) 369-6660.

Click here to view custom designed beads with contact info for the retailers or organization from whom you may purchase them. Be sure to check back as we will be updating this list regularly!
Please contact the retailer or organization listed beside each Custom Design bead and be
sure to say you saw it mentioned in the Fenton Newsletter!
---
Fenton eBay Auctions. . .
Here's your opportunity to own a unique, rare, one-of-a-kind creation, through our weekly eBay Auctions!
Items featured this week. . .

Shown here are our latest offerings! Ocean glass provides the glass canvas for Robin Spindler lovely Robin on Nest design on this magnificent Alley Cat figurine. Robin references Bible verse, Luke 6:27, along with her signature and the year, on this designer "sample" Alley Cat, which stands 11" tall.
Kim Barley's second fledgling is ready to take flight to your Fenton figurine collection! Kim created a small flock of "peeps" using a few of our remaining songbird figurines and she has handpainted this one with florals on a soft pastel blue background as a one-of-a-kind!
Last but not least, an original copper plate used in printing the Fenton Art Glass Company catalogs. This example showing a Coin Dot pitcher and dates from the late 1940s or early 1950s. Some collectors like to display these within their glass collections, and others prefer to hang them on a wall for decoration. This Fenton eBay auction ends at noon (ET) on Wednesday, June 17th.