---
Yahoo for the Red, White & Blue. . . Sparkle with Fenton USA Jewelry!
Show your patriotic spirit with our handcrafted sparkly Fireworks bead
and Yahoo for the Red, White & Blue

dangle earrings.


Our Vasa Murrhina Fireworks bead has
a sterling silver core embossed with Fenton USA. The bead and earrings were designed by Jena Lane Blair.
The earrings and are made with hypo-allergenic sterling silver earwires and include Swarovski gem accents. Each earring measures approx. 1" in height. The hand applied decoration, designed by Truda "TJ" Mendenhall, of an American Flag on one side and a spray of Fireworks on the other side adds a touch of fun to your fashions! Each earring is initialed by the artist who completed it. The front and back views of the earrings are shown in the photo!

In an age of mass production, Fenton remains committed to honoring the tradition of expressive, handmade creations. Each Fenton USA earring bears the signature of handcraftsmanship; those slight variations that convey distinction, character and charm.
---
Fenton Gift Shop Presents. . . NEW Limited Edition Handcrafted Glass!
The Fenton Gift Shop is pleased to offer new Limited Editions, designed and handpainted by our award-winning Fenton Art Glass designers. Each piece will be handpainted, signed and dated by the artist. The two Amphoras (by Davis-Lynch), the Alley Cat and the Flip Vase (by Mosser Glass) were handcrafted using Fenton moulds exclusively for the Fenton Gift Shop.
The "Victorian Lady" Amphora, limited to just five pieces, was designed and handpainted by Kim Barley and is $275 each, including the burnished brass stand. Handcrafted in Opal Satin, this Amphora provides the perfect canvas for Kim's lovely handpainted details of a stylish Victorian-era lady out for a stroll. The 11" Alley Cat, handcrafted in Opal Satin glass, may remind you of a cat sitting in a field curiously watching fluttering butterflies! The details on the wings and flowers are marvelous! Designed and Handpainted by Frances Burton, this "Butterflies" Alley Cat is $250 each.
Pre-orders for the Limited Edition Amphora and Alley Cat will be accepted until midnight (ET) on Monday, June 8th, 2015.
Shown above are a Cobalt "Chickadees" Flip Vase and an Opal Satin "Siamese Kittens" Amphora. The Cobalt Flip Vase has a wonderful realistic handpainted design by Frances Burton of two Chickadees on a branch. This Flip Vase is $195 each. Those who love cats will want to add this limited edition Amphora to their collections! Robin Spindler airbrushed a soft pastel background on this Opal Satin Amphora and then created a wonderful scene of playful Siamese kittens. This Amphora is $235 each (includes stand).
Pre-orders on the Flip Vase and Amphora will be accepted until midnight (ET) on Wednesday, June 10th, 2015. Please call Fenton Gift Shop: 1-800-319-7793, ext. 342 or email: purchasing@fentongiftshop.com. You may also request to have your email added to a mailing list in order to receive future notifications of limited editions as they become available. Fenton Gift Shop is open Wednesday, Thursday, Friday, and Saturday 10 a.m.-3 p.m. ET. and closed Sunday, Monday and Tuesday.
---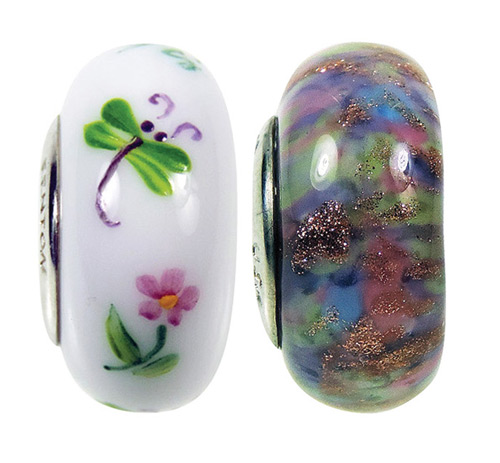 Frequent Buyer Program. . . Earn YOUR Free Limited Edition Bead!
Here's your opportunity to receive a beautiful limited edition bead absolutely FREE!
Simply purchase ten beads from any authorized Fenton jewelry dealer or from our website: www.fentonartglass.com and you'll qualify for a bonus bead! Click here for details! Our current offerings are the Gracie (decorated) and Mikayla (Vasa Murrhina) beads shown at right.
Click here to view our handcrafted art glass beads. NOTE: If you have purchased ten beads, let us know if we haven't notified you. . . please send us an email at askfenton@fentonartglass.com and put Frequent Buyer Qualifier in the subject line.
---
Fenton Custom Designs for Beads. . .
We've received many requests for specially designed beads. Most of these designs are exclusive to one retailer or organization, so we can not sell them on our website. If your group or store is interested in a custom designed bead, please call for details at 800-933-6766, ext. 209.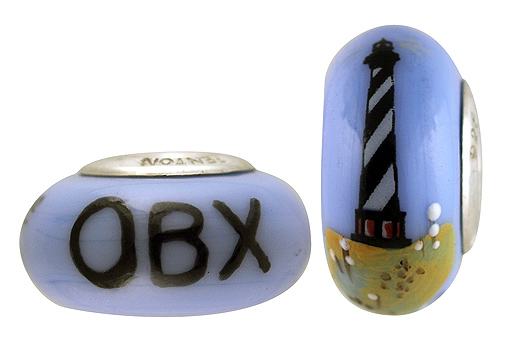 A treasured keepsake from the beach! Shown at left is our "OBX with Lighthouse" bead, a NEW custom design for Jewels By The Sea, located in Avon, NC. Please contact the store for details: (252) 995-3632.

Click here to view custom designed beads with contact info for the retailers or organization from whom you may purchase them. Be sure to check back as we will be updating this list regularly! Please contact the retailer or organization listed beside each Custom Design bead and be sure to say you saw it mentioned in the Fenton Newsletter!
---
Fenton eBay Auctions. . .
Here's your opportunity to own a unique, rare, one-of-a-kind creation, through our weekly eBay Auctions! Items featured this week. . .

Shown here are our latest offerings! Beautiful Burmese glass is the perfect canvas for Kim Barley's lovely floral design, which encircles this entire vase. Kim painted, signed and dated this one-of-a-kind 9" tall vase.
Kim has also created a small flock of "peeps". . . fledgling songbirds that will make a wonderful addition to any figurine collection! The first one is being offered this week, so be sure to place your bid to add this adorable figurine to your collection! This Fenton bowl features a wonderful orange/amberina look with the Orange Tree pattern on the exterior and the unusual Sailboats motif on the inside. This bowl dates from the late teens-early 20s. . . a must have for collectors of early Fenton Art Glass! Last but not least, we are offering a beautiful one-of-a-kind Lamp - it stands 12" tall and the 10" dia. Opal shade is handpainted in a lovely Iris floral design by Frances Burton. The base has an antique brass "Cherub" and, when illuminated, the lamp casts a soft glow. . . perfect for a bedside stand or entryway table. This Fenton eBay auction ends at noon (ET) on Wednesday, June 10th.