---
Fenton Gift Shop Presents. . . NEW Limited Edition Handcrafted Glass!




The Fenton Gift Shop is pleased to offer these latest Limited Editions, designed and handpainted by award-winning Fenton Art Glass designers, Kim Barley and Frances Burton.

Fans of the Fenton Bear Figurines will want to add this adorable Opal Satin pair to their collection! PLEASE NOTE: Just eight "bear pair" figurines will be available! Handpainted, signed and dated by
Kim Barley, each set is $130 and includes one fireman
bear and one policeman bear.

The "Daisies and Cat" Chessie Box is sure to please glass collectors and cat enthusiasts! Handpainted, signed and dated by Frances Burton, this Chessie Box was made exclusively for the Fenton Gift Shop by our friends at Mosser Glass in Buttercream glass, using a Fenton mould. Each Chessie Box is $225.00.

Pre-orders for the Limited Edition Bear Pair and Chessie Box will be accepted until midnight (ET)
on Monday, May 18th, 2015.

Shown below are two lovely pieces that will create an elegant tabletop display.

The Buttercream Rose Bowl with stand was handcrafted by Mosser Glass, using a Fenton mould. This Rose Bowl features a colorful handpainted vining floral design by Kim Barley that encircles the entire piece. Each Rose Bowl is $185 and will be signed and dated by Kim. The antique brass stand is included.

This elegant Amphora is $210 (includes antique brass stand) and has a lovely airbrushed and handpainted peach floral design by Frances Burton. Handcrafted in Opal Satin glass by our friends at Davis-Lynch Glass, each Amphora will be signed and dated by Frances.

Pre-orders for the Rose Bowl and Amphora Limited Editions will be accepted until midnight (ET) Wednesday, May 20th, 2015.

Please call Fenton Gift Shop: 1-800-319-7793, ext. 342 or email: purchasing@fentongiftshop.com. You may also request to have your email added to a mailing list in order to receive future notifications of limited editions as they become available. Fenton Gift Shop is open Wednesday, Thursday, Friday, and Saturday 10 a.m.-3 p.m. ET. and closed Sunday, Monday and Tuesday.
---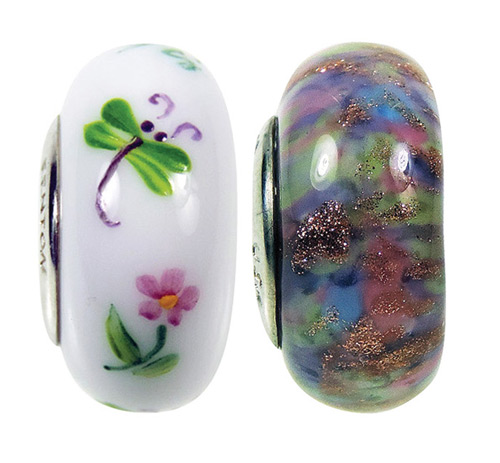 Frequent Buyer Program. . . Earn YOUR Free Limited Edition Bead!
Here's your opportunity to receive a beautiful limited edition bead absolutely FREE!
Simply purchase ten beads from any authorized Fenton jewelry dealer or from our website: www.fentonartglass.com and you'll qualify for a bonus bead! Click here for details! Our current offerings are the Gracie (decorated) and Mikayla (Vasa Murrhina) beads shown at right.
Click here to view our handcrafted art glass beads. NOTE: If you have purchased ten beads, let us know if we haven't notified you. . . please send us an email at askfenton@fentonartglass.com and put Frequent Buyer Qualifier in the subject line.
---
Fenton Custom Designs for Beads. . .
We've received many requests for specially designed beads. Most of these designs are exclusive to one retailer or organization, so we can not sell them on our website. If your group or store is interested in a custom designed bead,
please call for details at 800-933-6766, ext. 209.

Shown at left are two views of the Dresden Basket Bead, a custom design for Charm of Dresden, located in Zanesville, Ohio. Please contact the store for details: (866) 283-7605.
Click here to view custom designed beads with contact info for the retailers or organization from whom you may purchase them. Be sure to check back as we will be updating this list regularly! Please contact the retailer or organization listed beside each Custom Design bead and be sure to say you saw it mentioned in the Fenton Newsletter!
---
Fenton eBay Auctions. . .
Here's your opportunity to own a unique, rare, one-of-a-kind creation, through our weekly eBay Auctions! Items featured this week. . .

Shown at left are three unique items sure to please collectors! The Lotus Mist Burmese Tumble-Up is handpainted by Frances Burton with a one-of-a-kind roses and butterflies decoration. This Tumble-Up was made with historic moulds from the 1920s. A real treasure for Burmese glass collectors!
Also offered is a rare comport in the pattern known to Carnival glass collectors as the "Peacock Tail Variant" dating from 1910-11.
Last but not least, here's a rare opportunity to acquire a tool actually used by a skilled glassworker to produce handmade glass here at the factory in Williamstown, WV. These "Presser's Shears" were used to cut the gob of molten glass so that the right amount could be allowed to drop into the mould. This tool has an "F" written on it to identify it as a tool from Fenton. This Fenton eBay auction ends at noon (ET) on Wednesday, May 20th.