---
Fenton Gift Shop Presents. . . NEW Limited Edition Handcrafted Glass!
| | |
| --- | --- |
| | Pre-orders for these four Limited Edition pieces will be accepted until midnight (ET) on Monday, May 11, 2015. |
Fenton Gift Shop has a wonderful new selection of limited edition art glass creations from which to choose!
Shown above is a Tangerine vase with a remarkable handpainted rendition of the Statue of Liberty on the front and the New York skyline in silhouette encircling the vase. Each "Lady Liberty" vase is $275 and handpainted, dated and signed by Robin Spindler. We're sure you'll agree that this vase will make a beautiful tabletop display!

Our magnificent Alley Cat, (above, bottom left) handcrafted in Ocean glass, features a design by Robin Spindler. A mother Robin watches over her nest of tiny blue eggs. The handpainted details are lovely. . . from the bird's feathers to the delicate flowering blooms of the Apple tree on which it is perched. Robin's design encircles the entire Alley Cat, and you'll love with that expressive face! Each Alley Cat is $275 with Robin's signature and date.
Shown above (top right), our popular Happiness Bird figurine is handcrafted in Ocean glass, which provides the perfect canvas for Kim Barley's vibrant Morning Glory and Butterfly design. Each Happiness Bird figurine is $75, and will be signed and dated by Kim.

Handcrafted in rich Cobalt Blue, the Flip vase shown above (bottom right) provides the perfect canvas for Robin's handpainted scene of a mother zebra with her young. Each "Zebra" vase is $210 with Robin's signature and date.
Shown below is a Buttercream rose bowl with stand featuring a handpainted design by Robin Spindler. Each Buttercream set (bowl/stand) is $210 each and will be signed and dated by Robin.

Kim Barley used her creative touch to change our Ocean glass Happiness Bird into a "stylized bluebird" with brightly colored spring florals and hovering butterflies. This "stylized bluebird" figurine is $75 each and will be signed and dated by Kim. Pre-orders for these two Limited Edition pieces will be accepted until midnight (ET) on Wednesday, May 13, 2015.
Please call Fenton Gift Shop: 1-800-319-7793, ext. 342 or email: purchasing@fentongiftshop.com. You may also request to have your email added to a mailing list in order to receive future notifications of limited editions as they become available. Fenton Gift Shop is open Wednesday, Thursday, Friday, and Saturday 10 a.m.-3 p.m. ET. and closed Sunday, Monday and Tuesday.
---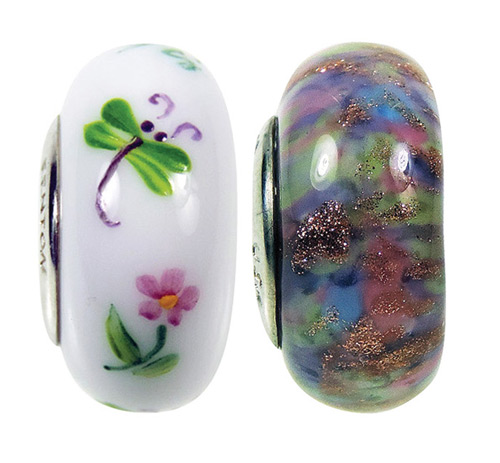 Frequent Buyer Program. . . Earn YOUR Free Limited Edition Bead!
Here's your opportunity to receive a beautiful limited edition bead absolutely FREE!
Simply purchase ten beads from any authorized Fenton jewelry dealer or from our website: www.fentonartglass.com and you'll qualify for a bonus bead! Click here for details! Our current offerings are the Gracie (decorated) and Mikayla (Vasa Murrhina) beads shown at right.
Click here to view our handcrafted art glass beads. NOTE: If you have purchased ten beads, let us know if we haven't notified you. . . please send us an email at askfenton@fentonartglass.com and put Frequent Buyer Qualifier in the subject line.
---
Fenton Custom Designs for Beads. . .

We've received many requests for specially designed beads.
Most of these designs are exclusive to one retailer or organization, so we can not sell them on our website. If your group or store is interested in a custom designed bead, please call for details at 800-933-6766, ext. 209.

Shown at left is the Nantucket Bracelet, a NEW custom design for The Blue Beetle, located in Nantucket, MA. Please contact the store: (508) 228-3227 for details.
Click here to view custom designed beads with contact info for the retailers or organization from whom you may purchase them. Be sure to check back as we will be updating this list regularly! Please contact the retailer or organization listed beside each Custom Design bead and be sure to say you saw it mentioned in the Fenton Newsletter!

---
Fenton eBay Auctions. . .
Here's your opportunity to own a unique, rare, one-of-a-kind creation, through our weekly eBay Auctions!
Items featured this week. . .

Shown at left is a one-of-a-kind cased vase with black inside and satin finished Milk Glass outside. Fenton designer Frances Burton's scene is named "Summer" and you can see why with her meticulous handpainted details. . . from the winding fence along the path to a rustic barn to the trees in the background and the birch tree near the fence.

Kim Barley's handpainted design on this iridized opaque Ocean glass Happiness Bird figurine shines with patriotism! The 5197 Happiness Bird is one of the most popular and collectible Fenton items. This figurine was made by our friends at Mosser Glass using the Fenton mould. Kim's design has "God Bless America" lettering on one side and red, white and blue stars on the other. Note the red, white and blue kerchief around the neck! A colorful figurine, perfect for upcoming Memorial Day, Flag Day and July 4th tabletop displays!

Last, but not least, is a crystal iceberg paperweight with a feeling of depth created by Robin Spindler's design. A stylized floral motif in front, the handpainted scene of a stately home and the red background create a unique look for this one-of-a-kind piece. This auction ends at noon (ET) on Wednesday, May 13th.