---
Fenton Gift Shop Presents. . . Designer Samples and May Day Specials!
For every piece of decorated Fenton offered, our team of talented designers must first create a "designer sample" for production approval. Sometimes slight changes may be made in the design, and if not, that first completed piece is designated as a "Sample" and so marked on the base of the item, along with the artist's signature and the year it was completed. Shown above are ten "Sample" selections offered to glass collectors during the last several months. For further information or to place your order, please email: purchasing@fentongfitshop.com or call 1-800-319-7793, ext. 342 and provide the number shown beside each piece. These selections are available on a first come, first served basis, and prices vary, so don't delay adding one of these beautiful pieces to your collection!
Designed and handpainted by award-winning Fenton designer Frances Burton, this elegant Amphora in Opal Satin features handpainted pink roses that cascade around the vase. Frances added soft blue lines and florals at the top to complete this piece. . . simply beautiful! This Amphora is $225 each (stand included) and each one will be signed, dated and numbered by Frances Burton. Amphora "Pre-orders" will be accepted until midnight (ET) on Monday, May 4th.


MAY DAY SPECIAL - 25% DISCOUNT - While Supplies Last!

These lovely handcrafted glass Hens on Nest are a collector favorite! Our talented artists are creating new designs for remaining inventory. Shown above are a few of the selections currently available. . . while supplies last at 25% off Retail! The Orange Slice and the Ruby Carnival Hen with white floral base (and cute ladybug accent) are $37.50 each at the sale price and the Indigo Blue Hen is $24.00. Quantities are limited! Order yours today!

At press time for this newsletter we were unable to showcase more of "what's coming" from our talented design team. However, if you wish to inquire about future offerings or place an order on any of the pieces shown above, please call Fenton Gift Shop: 1-800-319-7793, ext. 342 or email: purchasing@fentongiftshop.com. You may also request to have your email added to a mailing list in order to receive future notifications of limited editions as they become available. During May, Fenton Gift Shop is open on Wednesday, Thursday, Friday, and Saturday from 10 a.m. to 3 p.m. (ET). Fenton Gift Shop is closed on Sunday, Monday and Tuesday.
---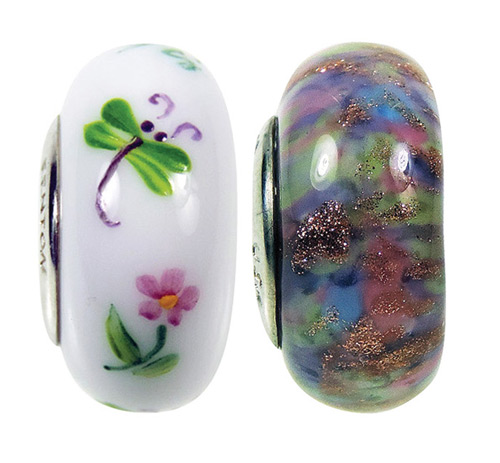 Frequent Buyer Program. . . Earn YOUR Free Limited Edition Bead!
Here's your opportunity to receive a beautiful limited edition bead absolutely FREE! Simply purchase ten beads from any authorized Fenton jewelry dealer or from our website: www.fentonartglass.com and you'll qualify for a bonus bead! Click here for details! We are now offering the limited edition Gracie (decorated) and Mikayla (Vasa Murrhina) beads shown at right. Click here to view our handcrafted art glass beads. NOTE: If you have purchased ten beads, let us know if we haven't notified you. . . please send us an email at askfenton@fentonartglass.com and put Frequent Buyer Qualifier in the subject line.
---
Fenton Custom Designs for Beads. . .
We've received many requests for specially designed beads. Most of these designs are exclusive to one retailer or organization, so we can not sell them on our website. If your group or store is interested in a custom designed bead, please call for details at 1-800-933-6766, ext. 209. Click here to the custom designed beads with contact info for the retailers or organization from whom you may purchase them. Be sure to check back as we will be updating this list regularly! Please contact the retailer or organization listed beside each Custom Design bead and be sure to say you saw it mentioned in the Fenton Newsletter!
---
Fenton eBay Auctions. . .
Here's your opportunity to own a unique, rare, one-of-a-kind creation, through our weekly eBay Auctions!
Items featured this week. . .

Shown at left is a "Designer Sample" Tangerine Vase with a wonderful handpainted scene of a Zebra with her young by Robin Spindler. Signed and dated and designated "Sample".
The middle photo is of an original copper plate used in printing Fenton Art Glass Company catalogs. This example shows a Coin Dot vase and dates from the late 1940s or early 1950s. Through the years, the copper takes on a distinct patina, and we've cleaned it gently with a special copper cleaner. This original printing block is in remarkable condition for its age.
Last, but not least, is an example of one of the earliest Fenton glass colors, Amethyst Opalescent, that dates from mid-1907. This sauce dish is our pattern No. 8, now known as Cattail and Waterlily (see close-ups of the pattern) among collectors. The Fenton Museum acquisition number is on the underside. Don't delay placing your bid! This auction ends at noon (ET) on Wednesday, May 6th.