---
Spring Bling Pendant Special. . . While Supplies Last!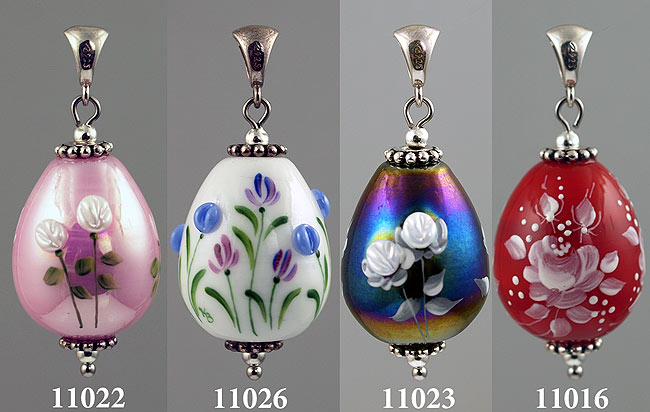 Add a burst of colorful bling to your Spring fashions with handcrafted pendants from Fenton USA Jewelry! Designed by Jena Lane Blair and Truda "TJ" Mendenhall, each pendant features a hand applied decoration (initialed by the artist) combined with three-dimensional glass accents on the first three pendants. Each pendant measures 1-5/8" in length, including the sterling silver fittings, and the glass bead is approximately 1" long.

Shown left to right: White Roses on Pink Carnival, Crocus in the Snow on Milk Glass, White Roses on Teal Carnival, and White Roses on Red. Click on each image to order. Regularly $99.00, for a limited time we are offering these pendants for just $59.50 each, while supplies last! Quantities are very limited!
---
Fenton Gift Shop Presents. . . NEW Limited Edition Offerings

Designed and handpainted by award-winning Fenton designer Frances Burton, this beautiful Cobalt Flip Vase features a Mary Gregory-style design of a mother and daughter playing with their feline companions and on the back of the vase is a depiction of a girl on a tree swing. This Cobalt Flip Vase is $210 each. Pre-orders for the Limited Edition Cobalt Mary Gregory Style Flip Vase and the Opal Satin Mystical Bird Amphora will be accepted until midnight (ET) Monday, April 13, 2015. Perfect gifts for Mother's Day!
Designed by Kim Barley, this "Iris" Amphora is handcrafted in Opal Satin and features delicate Iris blooms and a hovering Dragonfly. This smaller Amphora, with stand, is $210 each.


Designed and handpainted by award-winning Fenton designer Robin Spindler, this stately Amphora in Opal Satin features a "Mystical Bird" and gem accents! The Amphora is $310 each (includes stand).


Designed and handpainted by Kim Barley, this adorable cat figurine, handcrafted in Buttercream glass, is all decked out in a Spring outfit, from the red rosebud that adorns the top of the cat's head to the colorful dress and the fancy red shoes on its paws! Each figurine is $70.


Pre-orders for the Opal Satin "Iris" Amphora with stand and the Buttercream Cat figurine will be accepted until midnight (ET) on Wednesday, April 15, 2015. See below for details on placing your "pre-order" for these selections.
NOTE: All Fenton Gift Shop Limited Edition selections are signed and dated by the artist who completed it. The Amphoras were handcrafted by Davis-Lynch Glass; the Flip Vase and Cat figurine were handcrafted by Mosser Glass ─ using Fenton moulds. To pre-order any of the pieces shown above, please call Fenton Gift Shop: 1-800-319-7793, ext. 342 or email: purchasing@fentongiftshop.com. You may also request that we add your email address to Fenton Gift Shop's mailing list in order to receive future notifications of limited editions as they become available.

During April, Fenton Gift Shop is open on Wednesday, Thursday, Friday, and Saturday from 10 a.m. to 3 p.m. (ET). Fenton Gift Shop is closed on Sunday, Monday and Tuesday. We suggest you call to confirm these hours before planning your visit.
---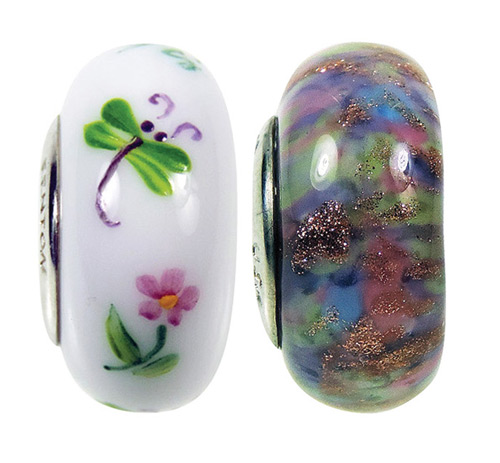 Frequent Buyer Program. . . Earn YOUR Free Limited Edition Bead!
Here's your opportunity to receive a beautiful limited edition bead absolutely FREE! Simply purchase ten beads from any authorized Fenton jewelry dealer or from our website: www.fentonartglass.com and you'll qualify for a bonus bead! Click here for details! We are now offering the limited edition Gracie (decorated) and Mikayla (Vasa Murrhina) beads shown at right. Click here to view our handcrafted art glass beads. NOTE: If you have purchased ten beads, let us know if we haven't notified you. . . please send us an email at askfenton@fentonartglass.com and put Frequent Buyer Qualifier in the subject line.
---
Fenton Custom Designs for Beads. . .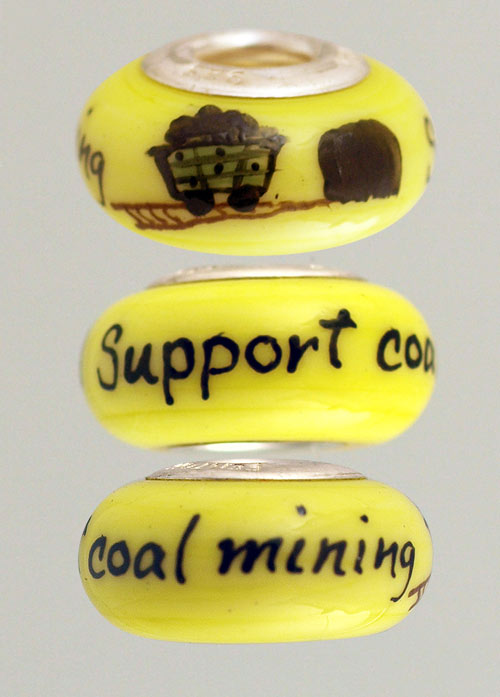 We've received many requests for specially designed beads. Most of these designs are exclusive to one retailer or organization, so we can not sell them on our website. If your group or store is interested in a custom designed bead, please call for details at 1-800-933-6766, ext. 209.

Shown at left is a custom designed bead with a "Support coal mining" theme offered by The Bronze Look, Princeton, WV (304-425-5005 or www.bronzelook.com) and also at Only One Look, Bluefield, WV (304-324-2933). Please contact these stores for details on the "Support coal mining" bead.

Click here to view more custom designed beads with contact info for the retailers or organization from whom you may purchase them. Be sure to check back as we will be updating this list regularly! Please contact the retailer or organization listed beside each Custom Design bead and be sure to say you saw it mentioned in the Fenton Newsletter!
---
Fenton eBay Auctions. . .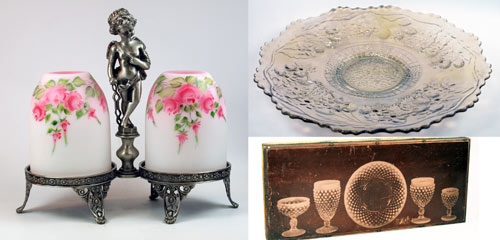 Here's your opportunity to own a unique, rare, one-of-a-kind creation, through our weekly eBay Auctions! Items featured this week. . .

Shown at left are the items featured for this week's eBay Auction: a beautiful one-of-a-kind Rosalene Fairy Light set with Cherub Metal Stand; an early example (circa 1908-09) of Fenton Carnival glass plate in Orange Tree and Bearded Berry patterns; and an original copper block printing plate used in the 1953-54 Fenton catalog. This auction ends at noon (ET) on Wednesday, April 15th.