Attention Grabbing Dangles and Drops. . . Perfect Jewelry Accents!
Add a touch of bling to your fashions with handcrafted art glass dangles and drops! These unique jewelry fashion accessories require special skills from our team of talented beadmakers. . . from creating the beautiful iridescence and sparkling goldstone to the wonderful dimensional glass combinations. Dangles are 1-1/16" long and are $19.50 each, and the Drops measure 1/2" long and are $10.50 each. Our assorted colors and styles of Dangles and Drops are easy to use. . . just clip on and go! Create a fun and different look for everyday casual or really sparkle for a special occasion. Click on each image to order, or browse the pages of our 2015 catalog to view all of our handcrafted jewelry selections.
---
NEW! "Pirouette Silhouette" Collection
A unique gift for a special ballerina or dance instructor in your life! The "story" card that comes with each handcrafted Pirouette Silhouette bead conveys the inspiration for this beautiful grouping: Grace on tiptoe,
a whirl of dreams come true!

The art glass bead, bracelet bead and earrings are handcrafted in a lovely pink hue and feature a hand applied decoration of ballet slippers and a ballerina.
The bracelet also has a musical note. Each bead has a solid sterling core engraved with Fenton USA for your assurance of quality and craftsmanship and is initialed by the Fenton artist who completed it.

The earrings have sterling silver earwires and the pre-assembled black leather cord bracelet includes an extender chain with silver clasp which will accommodate most wrist sizes.
Click on each image to order, or browse the pages of our 2015 catalog to view all of our handcrafted jewelry selections.
---
Fenton Gift Shop Presents. . . NEW Limited Edition Offerings
Shown above are new designs offered as Fenton Gift Shop Limited Editions. The Fenton Gift Shop is taking pre-orders on the Buttercream Chessie Box and Bowl on Stand shown above. Pre-orders will be accepted until midnight on Monday, March 30, 2015. Both of these pieces were designed and handpainted by award-winning Fenton designer Robin Spindler, and each piece will have her signature and date. This Chessie Box, priced at $225.00, has the adorable Chessie Cat (with an engineer's cap and a golden teddy bead) snuggled in its bed. Robin added a handpainted Chessie engine and a golden sleeping cat and teddy bear accent pieces to complete the look. The Buttercream Bowl on Stand has a lovely roses and rosebud design surrounding the entire bowl and is $195.00.
Fenton Gift Shop Presents. . . Limited Edition Cat and Mouse Figurines!
The Fenton Gift Shop has a limited quantity of these adorable Cat and Mouse figurines available for pre-orders. These figurines are handcrafted in Buttercream glass by our friends at Mosser Glass (using a Fenton mould).
Robin Spindler's creativity shines in the three different designs to create "matching" figurine sets of a cat and a mouse. Each figurine is $75 and will be signed, dated and numbered by Robin. Pre-orders will be accepted until midnight on Wednesday, April 1- No Foolin'!
You can have a special Easter "treat" on its way! NOTE: Quantities are very limited on the mouse figurine so don't delay placing your order!
Each matching set features a lovely floral design and Robin added gemstone accents to complete the look! The designs on the figurines shown in the bottom photo are lush pink/rose colored Dogwood blooms, vibrant Orange flowers with hovering Bumblebees and the colorful Easter basket full of eggs. You'll want to collect them all for your figurine or Fenton collection!
To place your pre-order for these figurines and the two pieces shown above, please call Fenton Gift Shop: 1-800-319-7793, ext. 342 or email: purchasing@fentongiftshop.com. You may also request to have your email added to a mailing list in order to receive future notifications of limited editions as they become available.
During March, Fenton Gift Shop is open on Wednesday, Thursday, Friday, and Saturday from 10 a.m. to 3 p.m. (ET). Fenton Gift Shop is closed on Sunday, Monday and Tuesday. Hours listed are "weather permitting" and we suggest you call to confirm these hours before planning your visit.
---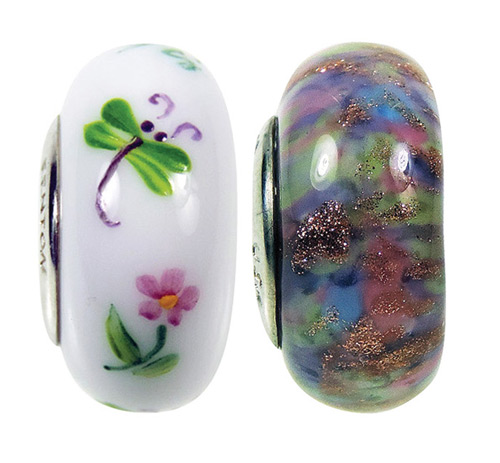 Frequent Buyer Program. . . Earn YOUR Free Limited Edition Bead!
Here's your opportunity to receive a beautiful limited edition bead absolutely FREE! Simply purchase ten beads from any authorized Fenton jewelry dealer or from our website: www.fentonartglass.com and you'll qualify for a bonus bead! Click here for details! We are now offering the limited edition Gracie (decorated) and Mikayla (Vasa Murrhina) beads shown at right. Click here to view our handcrafted art glass beads. NOTE: If you have purchased ten beads, let us know if we haven't notified you. . . please send us an email at askfenton@fentonartglass.com and put Frequent Buyer Qualifier in the subject line.
---
Fenton Custom Designs for Beads. . .
We've received many requests for specially designed beads. Most of these designs are exclusive to one retailer or organization, so we can not sell them on our website. If your group or store is interested in a custom designed bead, please call us for details at 1-800-933-6766, ext. 209. Click here to view a list of custom designed beads with contact info for the retailers or organization from whom you may purchase them. Be sure to check back as we will be updating this list regularly! Please contact the retailer or organization listed beside each Custom Design bead and be sure to say you saw it mentioned in the Fenton Newsletter!
---
Fenton eBay Auctions. . .
Here's your opportunity to own a unique, rare, one-of-a-kind art glass creation, through our weekly eBay Auctions!
Items featured this week. . .

Shown at left are the three items featured this week. Included in this auction: a whimsical one-of-a-kind Mouse figurine on fount in Ocean color glass handpainted and signed by the talented Kim Barley.
The one-of-a-kind majestic Opal Satin Vase was handpainted by Robin Spindler and is a sure sign of Spring! Note the watchful cat eyeing the Robins guarding their nest!
Last, but not least is a perfect addition to any Fenton collection: an original wood/copper printing plate featuring Hobnail baskets used in a Fenton Art Glass catalog, circa 1953-54. This auction ends on Wednesday, March 25th at Noon (ET).