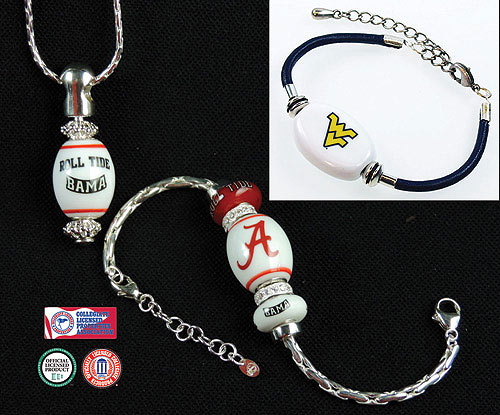 Fenton USA Jewelry Presents. . . Celebrate March Madness
with NEW
Collegiate Jewelry!
Show your team spirit during March Madness and throughout the year with the Fenton USA Collegiate Jewelry collection!
This line of handcrafted jewelry includes colorful art glass beads in two sizes as well as bracelets with a coordinating leather cord. More than 40 colleges and universities across the United States are now represented in Fentonís Collegiate Jewelry Collection.
Each art glass bead displays the school's officially licensed logo artwork. Color coordinated Vasa Murrhina glass beads with sparkling Goldstone are also available for each college or university. Fenton offers a wide selection of sterling silver accessories, including chains, bracelets and pendants to complete a fashion ensemble.
Shown above are a few selections from our Collegiate collection paired with our line of jewelry accessories. To view the complete Collegiate Jewelry collection, click here, and be sure to check back for new additions! Click on each image to order. The Fenton USA Jewelry Collegiate collection is available from the Fenton Art Glass website or from your favorite Fenton dealer. To locate a Fenton dealer near you, click here.
---
Basketball Blasts from the Fenton Family's Past. . .
As we root for our favorite team during "March Madness", we thought we'd share a few "Basketball Blasts from the Fenton Family's Past." Fenton family members from the second and third generations have always enjoyed participating in basketball. Shown below, far left: Frank M. Fenton stood 6' 7" tall when he played basketball for Marietta College in 1933-34. He was fond of saying that he was actually "5 foot 19 inches".
Frank's son Tom recalls the basketball backboard on the edge of their paved driveway with bushes beyond. "We played a lot," he said. "One on one or 2-on-2. Dinner waited while we tried to get to 11 baskets, or 15, or whatever was 'game.'" Robust competition often landed a Fenton among the evergreens, amidst laughter and references to the "bush dragons" claiming yet another victim.
| | |
| --- | --- |
| Frank M. Fenton, 1933-34 | The "Fenton Five" (back row and first on bottom left) pose with some of their teammates after winning an Industrial League Championship game in the Marietta Recreation Department League in the 1970s. Other team members included Fenton employees. |
Imagine this starting lineup in the 1970s: Mike Fenton, 6 foot 6; Tom Fenton, 6 foot 4; George Fenton, 6 foot 4; Don Fenton, 6 foot 1; and Randy Fenton, 6 foot even. Yes, the five third-generation Fenton men were together on the court when they played basketball in the Marietta City League on a team sponsored by . . . who else? . . . the Fenton Art Glass Company! Can you name and place the "Fenton Five" in the photo?
---
Fenton Gift Shop Taking Orders for NEW Limited Editions. . .
Shown above are two new designs being offered as Fenton Gift Shop Limited Editions. For a limited time, Fenton Gift Shop is now taking orders on each of these selections. Orders will be accepted on these two pieces until midnight (ET) on Monday, March 23rd, 2015. These pieces were handcrafted in Buttercream glass, a color wonderfully reminiscent of the Chinese Yellow color first popularized by Fenton in the 1920s. Both of these pieces were designed and handpainted by award-winning Fenton designer Frances Burton. She will sign and date each piece. The wonderful Bowl on Stand has a lovely vining floral design surrounding the entire bowl and is $175.00 each and includes the antique brass stand. The Chessie Box, priced at $225.00 each, has the adorable Chessie Cat snuggled in its bed. The back of this box has a barn in the country scene.
Shown above is a stately and elegant Amphora with burnished brass stand. The Amphora is handcrafted in Opal Satin glass by our friends at Davis Lynch using a Fenton mould and features a beautiful handpainted design by Kim Barley. This Amphora provides the perfect canvas for Kim's hydrangea blooms, gold accents and hovering butterfly. This Fenton Gift Shop limited edition Amphora, with stand, is $295. This Limited Edition Cobalt Flip Vase, made by our friends at Mosser Glass using a Fenton mould, features a wonderful winter handpainted scene of a deer and a cardinal by Robin Spindler. The Flip Vase is priced at $250 each. Orders for these two pieces will be accepted until midnight (ET) on Wednesday, March 25th.
To place your order for the limited edition selections shown here, please call Fenton Gift Shop: 1-800-319-7793, ext. 342 or email: purchasing@fentongiftshop.com. You may also request to have your email added to a mailing list in order to receive future notifications of limited editions as they become available. During March, Fenton Gift Shop is open on Wednesday, Thursday, Friday, and Saturday from 10 a.m. to 3 p.m. (ET). Fenton Gift Shop is closed on Sunday, Monday and Tuesday. Hours listed are "weather permitting" and we suggest you call to confirm these hours before planning your visit.
---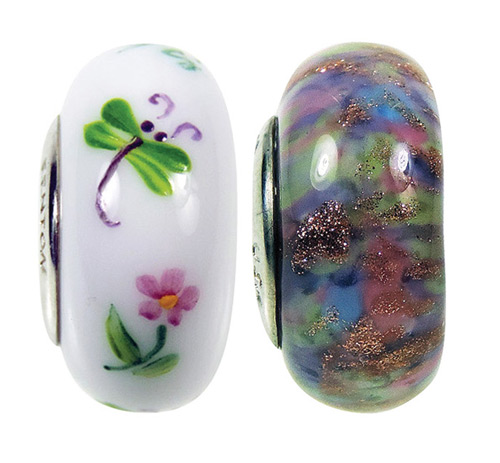 Frequent Buyer Program. . . Earn YOUR Free Limited Edition Bead!
Here's your opportunity to receive a beautiful limited edition bead absolutely FREE! Simply purchase ten beads from any authorized Fenton jewelry dealer or from our website: www.fentonartglass.com and you'll qualify for a bonus bead! Click here for details! We are now offering the limited edition Gracie (decorated) and Mikayla (Vasa Murrhina) beads shown at right. Click here to view our handcrafted art glass beads. NOTE: If you have purchased ten beads, let us know if we haven't notified you. . . please send us an email at askfenton@fentonartglass.com and put Frequent Buyer Qualifier in the subject line.
---
Fenton Custom Designs for Beads. . .
We've received many requests for specially designed beads. Most of these designs are exclusive to one retailer or organization, so we can not sell them on our website. If your group or store is interested in a custom designed
bead, please call us for details at 1-800-933-6766, ext. 209. Click here to view a list of custom designed beads with contact info for the retailers or organization from whom you may purchase them. Be sure to check back as we will be updating this list regularly! Please contact the retailer or organization listed beside each Custom Design bead . . . and be sure to say you saw it mentioned in the Fenton Newsletter!
Shown here is the Sunflower bead for Ferguson Gallery, featuring raised red glass centers on a blue bead with hand applied sunflowers decoration. To purchase this bead, please contact Ferguson Gallery, located in Marblehead, Ohio, at 419-734-0600 or email: info@fergusongallery.com
---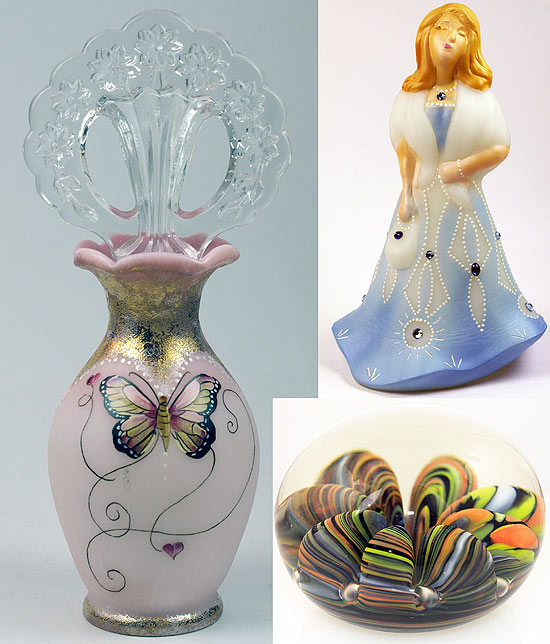 Fenton eBay Auctions. . .
Here's your opportunity to own a unique, rare, one-of-a-kind art glass creation, through our weekly eBay Auctions! Items featured this week. . .

Shown at left are the three very unique items featured this week. Included are a one-of-a-kind Rosalene glass Perfume Bottle with crystal stopper handpainted and signed by Kim Barley. Fenton's classic Rosalene glass contains pure gold in the formula which creates the soft pink blush color on this perfume bottle. Kim used 22k gold to accent her beautiful handpainted butterfly.
The one-of-a-kind Opal Satin Doll figurine was handpainted by Robin Spindler. Note the gemstone accents!
This unique crystal paperweight was made by Bob St. Clair (circa 1970s) It has his personal stamp on the bottom and includes the original sticker. This Fenton eBay Auction ends on Wednesday, March 25th at Noon (ET).
---
HOT LINKS. . . Find beautiful Fenton glass jewelry via our website with these categories:
For questions or comments, please do not reply to this email. Instead, email: askfenton@fentonartglass.com.

This email has been sent to you because you have agreed to receive offers and information from the Fenton Art Glass Company. We respect your privacy and do not sell your personal information. For details, please review our privacy policy.

How to unsubscribe: If you prefer not to receive offers or information from Fenton Art Glass, please use this page to unsubscribe.

If you use a Challenge-Response system for email, please make certain that you can receive our email by adding askfentononline@fentonartglass.com to your Allow List.

For specific instructions for major ISPs, click here.

The sender of this email is the Fenton Art Glass Co., 700 Elizabeth St., Williamstown, WV, 26187