---
Fenton Gift Shop Taking "Pre-Orders" on New Limited Editions. . .
Shown above are new designs offered as Fenton Gift Shop Limited Editions. These pieces were manufactured by our friends at Blenko Glass or Mosser Glass for the Fenton Gift Shop using original Fenton Art Glass moulds and then handpainted by our award-winning designers. For a limited time, the Fenton Gift Shop is taking "pre-orders" on each of the four pieces.

The Cobalt Blue Vase, handpainted by Robin Spindler, features a dragonfly hovering amongst clusters of grapes and is limited to just five vases at $265 each. Priced at $75 each, our Happiness Bird features Kim Barley's colorful and patriotic handpainted design and "GOD Bless America" lettering. This figurine is handcrafted in iridized Ocean color glass. Pre-orders for these two pieces will be accepted through Monday, March 16th.
| | |
| --- | --- |
| | |
Shown above are Chessie Box and Rose Bowl, made with Fenton moulds in the soft Buttercream glass color by our friends at Mosser Glass. Kim Barley's whimsical side shines through with her handpainted designs (inset photos show details on the design). The adorable kitten, "Snuggles", is nestled in its blankie with a "thought cloud" above its head... seems this kitten can't quite believe it is wearing a "mouse" nightcap! This satin finished Chessie Box is $225.00. The wonderful Bowl on Stand features a rabbit going merrily on his way carrying a basket with a carrot in it. This Bowl Set is $195.00. Pre-orders for these two Buttercream pieces will be accepted through Wednesday, March 18th. Each limited edition piece is signed, dated and numbered by the artist. Don't delay if you want to add one of these unique art glass creations to your collection!
For details or to place your order for any of the items shown here, please call Fenton Gift Shop: 1-800-319-7793, ext. 342 or email: purchasing@fentongiftshop.com. You may also request to have your email added to a mailing list in order to receive future notifications of limited editions as they become available. During March, Fenton Gift Shop will be open on Wednesday, Thursday, Friday, and Saturday from 10 a.m. to 3 p.m. (ET). Fenton Gift Shop will be closed on Sunday, Monday and Tuesday. Hours listed are "weather permitting" and we suggest you call to confirm these hours before planning your visit.
---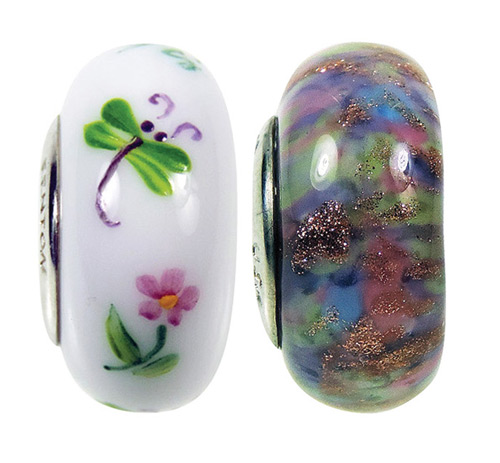 Frequent Buyer Program. . . Earn YOUR Free Limited Edition Bead!
Here's your opportunity to receive a beautiful limited edition bead absolutely FREE! Simply purchase ten beads from any authorized Fenton jewelry dealer or from our website: www.fentonartglass.com and you'll qualify for a bonus bead! Click here for details! We are now offering the limited edition Gracie (decorated) and Mikayla (Vasa Murrhina) beads shown at right. Click here to view our handcrafted art glass beads. NOTE: If you have purchased ten beads, let us know if we haven't notified you. . . please send us an email at askfenton@fentonartglass.com and put Frequent Buyer Qualifier in the subject line.
---
Fenton Art Glass Reference Books. . .
For all those who love Fenton Art Glass, we have an excellent selection of reference books with information on the glass company dating back to the beginning through Fenton Art Glass being presented on QVC. Fenton Glass Especially for QVC (shown at left) catalogs the history of glass produced exclusively for QVC from the first show in 1988 through Bill Fenton's retirement show and the August 2002 shows. More than 1350 items shown.
Originally $36.95, our special price is just $17.50 with FREE Shipping via the USPS. . . While Supplies Last!

The 100th Anniversary Coffee Table book shown at right is a must have item! Our 176-page hardback book (11'' x 11'') contains exquisite color photos of the 100 very best Fenton products from our earliest days to the present. Members of the Fenton family chose the pieces to be included in the book. The signatures of nine Fenton family members are in each book. Among the pieces included in the book are the Banded Drape Pitcher and Tumbler from 1910; sandcarved Rose Quartz Lady; a Chocolate Butterdish; Rubina Verde Covered Box with
Martha Reynolds' design of a dragonfly with floral. . . and much more!
Dustjacket Price on this book is $100.00,
Special REDUCED PRICE $45.00 with $5 shipping!

But wait, there's more. . . Here's your opportunity to acquire the Best Deal Ever on reference books about Fenton Glass! We have complete sets of six paperback books that cover the history of the Fenton Art Glass Company from 1905 to 1999/2002 and illustrate our products in great color photos.

00395AS is just $79.00 - six-book reference set
Ships FREE via U.S. Postal Service Priority Mail


This set includes Fenton Glass: The First Twenty-Five Years; Fenton Glass: Second Twenty-Five Years;
Fenton Glass: Third Twenty-Five Years; Fenton Glass: 1980s Decade; Fenton Glass: The 1990s Decade;
and Fenton Glass Especially for QVC.


00396AS is just $109.00 - seven-book reference set
Ships FREE via the U.S. Postal Service


This set includes all of the books
from the first set, PLUS the 100th Anniversary Coffee Table book shown above with NINE Fenton family member signatures. This book will be shipped separately from the six books as it is packaged in a separately box.
---
Fenton eBay Auctions. . .
Here's your opportunity to own a unique, rare, one-of-a-kind art glass creation, through our weekly eBay Auctions! Items featured this week. . .

Shown at left are the three very unique one-of-a-kind items featured this week: an Alley Cat, handcrafted by our friends at Mosser Glass in iridized "Ocean" color (using our mould) and handpainted by Robin Spindler as a one-of-a-kind figurine with a delightful "fairy" scene! Fairies surround this entire figurine and one is even perched on the cat's nose! You'll be amazed at the meticulous details on this piece!

The splendid Rosalene glass Egg on Stand figurine was handpainted by Kim Barley as a one-of-a-kind and features lush, colorful Spring florals with 22k gold accents.
The adorable "Country Mouse" figurine on its fount was also handpainted as a one-of-a-kind by Kim Barley. You'll love turning this figurine around and around to see all the whimsical details and farm animals depicted around the base of this piece.
Any or all of these wonderful art glass creations can be yours! Bidding ends at noon (ET) on March 18!