Fenton USA Presents. . . Handcrafted Beads
Now Available: Retired. . . While Sup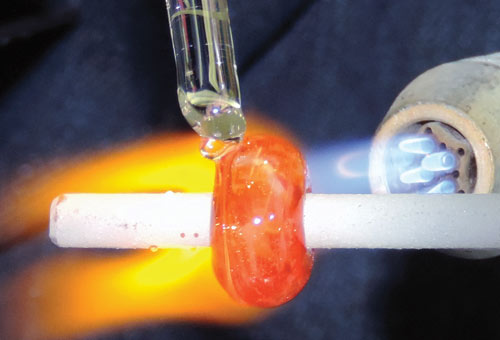 plies Last!
From their hands to your heart, our talented glass artists delight in creating new designs and colors for our art glass jewelry. Therefore, each year we must "retire" a certain number of our handcrafted beads to allow room for new styles. Bead selections shown here were designed by Jena Lane Blair (see profile below).
Included in her bead designs are "Vasa Murrhina", a term which means "vessel of gems." Each unique Fenton bead captures a glittering layer of Goldstone. Our beadmakers use extreme care to maintain its sparkle in the hot flame. Tiny bits of colored glass add a variety of hues in each different design, and no two are identical! This difficult process is one of the secrets of Fenton quality and the brilliance of our beads.

Other designs by Jena include "Aurora" and "Encased" beads. Aurora beads have swirls of color and gold which create a shimmering aura. Jena's eye-catching Encased beads feature a thick layer of clear glass floating over a design made of multiple colors of glass.

Click on each image for details on each of these "Retired. . .While Supplies Last" Fenton Beads
All Fenton USA Jewelry is handcrafted with quality and tested for durability. Each bead has a sterling silver core embossed Fenton USA. Because of the handmade process, bead size may vary slightly and will fit most accessories.
To view the complete "Retired . . .While Supplies Last" Beads listing, click here. Please keep in mind that these beads may be very limited in quantity and are available "while supplies last." Quantities are subject to change daily! You may order beads from our website or from your favorite Fenton dealer. To locate a Fenton dealer near you, click here.
---
Fenton USA Jewelry Artist Profile. . . Jena Lane Blair
Jena Lane Blair designs our handcrafted glass jewelry using remarkable, creative techniques. A beadmaking class several years ago led to Jena creating her own jewelry. Her "can do" attitude inspired us to form Fenton USA Jewelry. From Aurora and Encased to Three Dimensional and Vasa Murrhina, Jena's creativity sparkles!


Jena creates the lovely designs for the glass beads and pendants used in our bracelets, earrings and necklaces. She is always striving to create new, innovating designs and styles of wearable art glass jewelry. Jena began sewing and doing embroidery at the age of four. She designed and made doll clothes and built dollhouses from cardboard boxes and used gift wrap as wallpaper. Jena discovered theater in elementary school and that led to a 40-year involvement in the performing arts. She still loves beautiful fabrics and music and says that they influence her jewelry design.

Jena says she "loves being rewarded for doing something she truly loves, artwork!"
---
Introducing "Albuquerque". . .
From Fenton USA Jewelry's Creative Spirit Collection
Use YOUR creative spirit, and make your personal fashion statement with the Creative Spirit Collection from Fenton USA Jewelry!

You'll definitely make a beautiful fashion statement when you wear this beautiful 17'' Albuquerque Necklace (11370), designed by Jena Lane Blair! This necklace is handcrafted using beautiful blue-green Amazonite, rich natural browns of Picture Jasper and elegantly carved Red Jasper gemstones which
accent our glass Albuquerque focal bead. Note: Please use a soft jewelry cleaning cloth, not liquid jewelry cleaners, on these gemstones.

To complete your look, add some ear candy with our Albuquerque earrings (11388). These earrings feature an art glass bead in soft browns and turquoise, handcrafted sterling silver earwires and Swarovski gem accents.

Click on each image to order, or browse the pages of our 2015 catalog to view all of our handcrafted jewelry selections.
Create it. . . Wear it. . . Love it!