Fenton USA Jewelry 2015 Collection NOW Available!

Please click here to browse the pages of our 2015 Jewelry Collection catalog. This collection is now available from authorized Fenton dealers around the country and via the Fenton Art Glass website. Check with your local Fenton dealer, favorite online Fenton dealer, or our website for the latest in handcrafted jewelry from Fenton USA Jewelry!
Click here to locate a Fenton dealer near you!
If you are interested in an item, simply click on the individual product image for details or click to add the item to your shopping cart via our web site. . . OR contact your Fenton jewelry dealer to place your order.
Create it. . . Wear it. . . Love it!
We are sure you, too, will be captured by our Creative Spirit and the Fenton USA Jewelry Collection.

What's New? It's all about versatility!
Creative Spirit necklaces and beads can be worn a multitude of ways. A necklace becomes a wrap bracelet with the click of a clasp. Use Fenton handcrafted beads to change your style, color theme or mood! Go from Bohemian Glam or Southwest Casual to spiritual inspirations with two clicks of
a clasp. Check out our "how to" video of current styles.
Open this link in your web browser: https://www.youtube.com/watch?v=iDpknK8I2wI
or, if the link doesn't work, please search for the ''Fenton Art Glass Creative Spirit I'' video on youtube.com.
Fenton has 109 years of glassmaking excellence embedded in every Creative Spirit bead. No other glassmaker has developed more colors and award-winning handpainted designs than Fenton. Our glass artists take pride in the intricacy and high quality of their work. The versatility of their designs allow you to mix and match and be inspired by your own ''creative spirit.'' Show YOUR creative spirit with Fenton USA Jewelry!
Creative Spirit Jewelry. . . Create it. . . Wear it. . . Love it!
---
New Collegiate Collection from Fenton USA Jewelry!
Now Available. . . show your team spirit with handcrafted art glass jewelry from Fenton! Click here for the available selections, but please check back as we are adding more designs weekly! This collection includes a Cornerstone bead, two regular size beads and a leather cord bracelet for each school. Fenton handcrafted jewelry is a great gift idea for the college student or team fan in your life. . .
or treat yourself!
Shown at right is a sample of our Collegiate Leather Cord Bracelet
for West Virginia University. Each bracelet retails for just $45 and features a Milk Glass bead with the school's officially licensed logo or artwork and includes two accent beads, a coordinating leather cord
with a two inch extender chain. Bracelets will fit most wrist sizes from
5-3/4'' to 8-14''.
Fenton USA Jewelry. . . handcrafted in the USA!
---
Valentine's Day is just around
the corner...
. . . so here are some great gift ideas for that someone special in your life! Shown (l-r) are My Heart's Desire, Two Hearts are One Cornerstone) and Love You More Fenton Handcrafted in USA art glass beads. Click on each image for details.



New Clasp and Go Bracelets. . .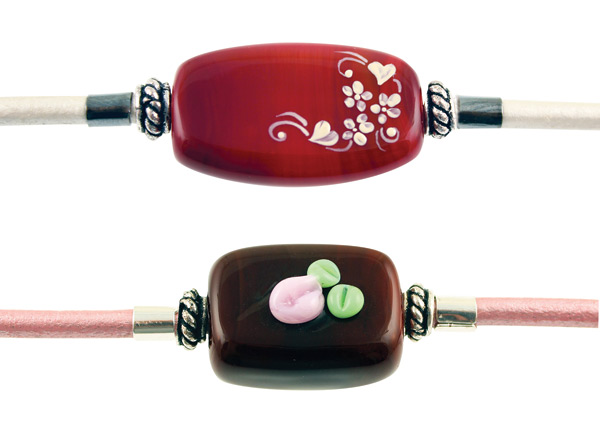 If you want to give a bracelet, then we have a variety of designs that are sure to win someone's heart! Shown at left are our new "Clasp and Go"
Love and Sweet for My Sweet leather cord bracelets.

These bracelets feature our most popular colors and designs and each bracelet has a color coordinating leather band. Wear these with your own bangles or bracelets for a stacked look, or wear them alone. . . these glass beads and colored bands make a unique style statement!

This collection includes inspirational selections with words embossed on the reverse side and hand applied decorations on the other side of each bead as well as Vasa Murrhina and other styles. To view the complete line, please click here.