Fenton Art Glass Presents. . . Score A Glass Football Paperweight!
These attractive glass football-shaped paperweights were recently located in our remaining factory glass inventory and will make a perfect gift for the football fan in your life. . . or treat yourself! Also a great ''Thank you'' gift for a coach or players.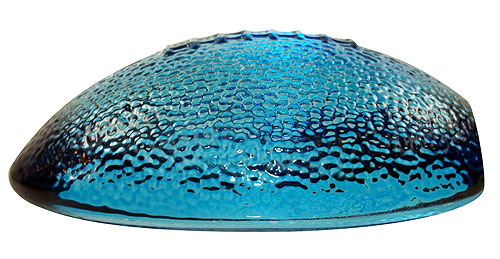 Choose from five assorted paperweight colors: Marine Blue (shown above), Hunter Green, Black Transparent, Crystal, and Blue. The Fenton Gift Shop also has a few other colors available in limited quantities and you may contact them directly for details and to place an order.
Each paperweight is 4.5'' long. We offer these remaining paperweights at just $12.50 each with FREE shipping via the U.S. Postal Service. . .while supplies last! Click on each color to order or email us if you want four or more and receive special pricing (askfenton@fentonartglass.com)!
4.5'' Football Paperweight, $12.50 each with FREE USPS Shipping! Colors: Marine Blue, Hunter Green, Black Transparent, Crystal, and Blue
---
NEW Fenton Gift Shop Exclusives
and One-of-a-Kind Glass!
Here's your opportunity to own a Fenton Gift Shop Limited Edition Exclusive and one-of-a-kind glass creations!

Fenton's talented designers Kim Barley and Frances Burton created beautiful handpainted scenes on handcrafted glass, and each piece is signed, dated and/or numbered by the artist who completed the piece. Choose from this selection of handpainted designs. Remember, these selections are very limited quantity, so first come, first served! Don't delay if you want to add one of these handcrafted Fenton Art Glass creations to your collection.
Shown at left is our t-shirt paperweight, handcrafted in black glass. Talented Fenton designer Kim Barley added her whimsical touch to create a unique Halloween decoration for your tabletop display! Just five now remain of the original six handpainted paperweights and each one is signed by Kim! Pumpkin Face T-shirt Paperweight, $95.00 each
What's Halloween without an Alley Cat all decked out for Trick or Treating?
This smiling Alley Cat was handcrafted by Mosser Glass as an exclusive for the Fenton Gift Shop, using the Fenton Art Glass mould.
The "Ocean'' color works well for Kim Barley's handpainted design with the Alley Cat wearing a ''BOO'' necklace, striped stockings and buckle shoes. Kim also added a witch with her bubbling cauldron, a black cat with glowing eyes perched on a pumpkin, floating stars and don't forget that adorable face and expression!

Just TWO of the original ten cats now remain, $325.00 each.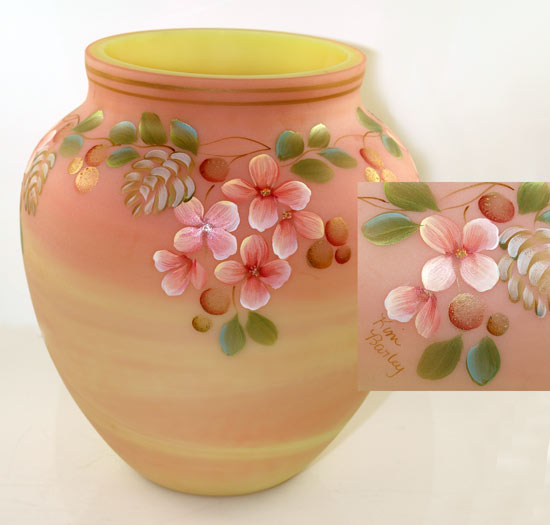 But WAIT, there's more! We also have limited quantities available of our traditional glass with unique handpainted designs.

Shown here is a Burmese Vase with a lovely floral design and golden bands encircling the vase, designed and handpainted by Kim Barley (see inset photo for her signature). The six remaining vases are now being offered at a 50% discount!
Limited Edition Burmese Florals Vase by Kim Barley
Originally$159, just six now remain for $79.50 each!

If you are interested in receiving more special limited edition offers from Fenton Gift Shop, please send an email request to join the "Fenton Gift Shop Exclusives" mailing list program to purchasing@fentongfitshop.com.

To place your order, or for details, please contact the Fenton Gift Shop, either by email: purchasing@fentongiftshop.com or by calling (800) 319-7793, ext. 342. Reminder: Fenton Gift Shop September hours are Monday and Tuesday from 10 a.m.-3 p.m. and Friday and Saturday from 10 a.m. - 4 p.m. (ET). October hours will be Monday, Tuesday, Friday, and Saturday from 10 a.m. - 3 p.m. If you plan to visit, we suggest you call to confirm these hours.

Limited Edition (Just 4 available!)
Pink ''Leaves'' Vase
by Kim Barley, $145.00


Limited Edition One-of-a-Kind
Favrene Cameo Carved Amphora
by Frances Burton, $245.00


Far right: Limited Edition Ruby Vase
Gold Accents/Purple Flowers
by Frances Burton, $225.00 each
NEW! Leather Bracelets from Fenton's Creative Spirit Collection. . .
Create different fashionable looks with our new Leather Bracelet using traditional Fenton handcrafted beads and/or pendants! Shown above are two of our bracelets, Black with Antique Brass and Brown with Antique Brass. These bracelets are also available with Antique Silver fittings. The leather Bead Caddy is 3-3/8'' long, with grommets, and helps keep traditional Fenton beads in place on the bracelet. This bead caddy also works well with Creative Spirit Collection necklaces. Use fewer grommets with a larger bead/pendant or with your own stopper beads.
In the above photo, the black leather bracelet on the top features the Fenton USA Jewelry beads: Nighttime Garden, Glistening Shores, Whipperwill, and Nocturne. The brown leather bracelet on the bottom features our new Indian Summer Focal bead. Choose from a variety of necklace and bracelet styles, using YOUR creative spirit, and make your personal fashion statement with Fenton USA Jewelry! Click here to view this full collection or click on each image to order! Create it. . . Wear it. . . Love it!
Fenton USA Jewelry Pres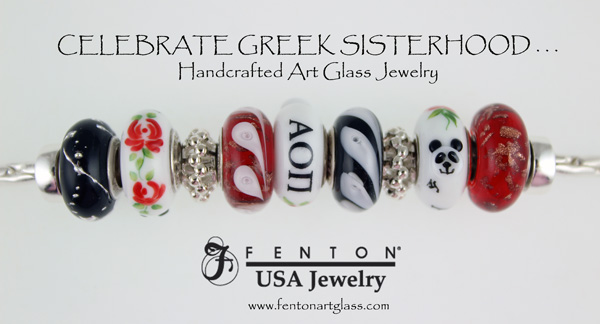 ents. . . Sorority Art Glass Beads!
Now available at authorized Fenton dealers and via the Fenton Art Glass web site, our Sorority Collection features glass beads for 25 sororities.
Our talented jewelry designers Jena Lane Blair and Truda ''TJ'' Mendenhall created a unique three-dimensional bead with the symbols for each sorority.
Shown at right is our Hammered Cable bracelet with three Alpha Omicron Pi Sorority beads so you may see all three views. We've color-coordinated this bead with the following regular line beads: Broadway, Miss Scarlet, Perfect Harmony, and Queen of Hearts. We've added our Stopper Beads on each end and used the Crown Spacer beads to create a beautiful bracelet sure to bring oohs and aahs! Click on each bead, stopper or spacer to order.
To view the complete line of Sorority beads, click here or click here to browse through this latest collection of handcrafted art glass beads. Let us know what you like and what you would like to see for future designs! Our artists love the excitement of creating new beads and pendants to capture your heart.