NEW Fenton Gift Shop Limited Editions. . .Available While Supplies Last!

Limited Edition
"Wild Rose and Butterflies'' Vase
by Kim Barley, $275
Limited to 5, just 3 now remain!
The Fenton Gift Shop has a limited quantity of
NEW Exclusives. . . available While Supplies Last! Talented Fenton designers Kim Barley and Frances Burton created beautiful handpainted scenes on handcrafted glass vases and each vase is signed, dated and numbered by either Kim or Frances.
Choose from this selection of Chickadee, Dragonfly, Iris, Wild Rose, and Seascape designs. Remember, these selections are very limited quantity (fewer than 10 of each vase)! First come, first served! So don't delay if you want to add one of these handcrafted Fenton Art Glass vases to your collection.

If you are interested in receiving more special limited edition offers from Fenton Gift Shop, please send an email request to join the
"Fenton Gift Shop Exclusives" mailing list program to purchasing@fentongfitshop.com.

To place your order, or for details on each vase, please contact the Fenton Gift Shop, either by email: purchasing@fentongiftshop.com or by calling (800) 319-7793, ext. 342.
Reminder: Fenton Gift Shop September hours are Monday and Tuesday from 10 a.m. - 3 p.m. and Friday and Saturday from 10 a.m. - 4 p.m. (ET). If you plan to visit, we suggest you call to confirm these hours.

Limited Edition "Chickadees'' Vase by Frances Burton, $195
Limited to 10, just 2 remain!
Signed G.S.E. (Gift Shop Exclusive), dated and numbered by Frances!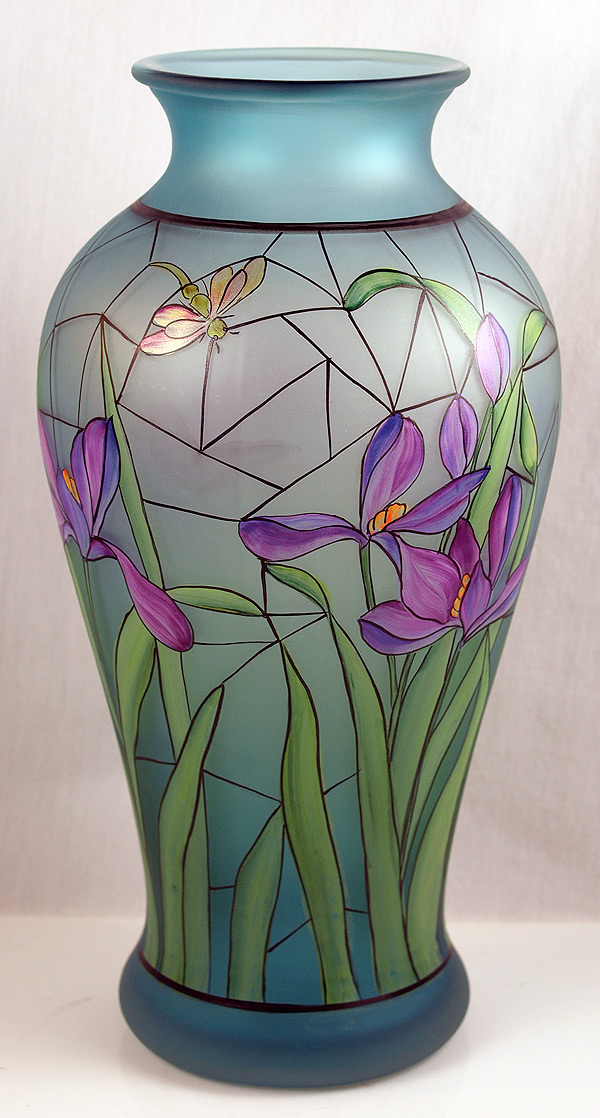 Limited Edition "Stained Glass Dragonfly'' Vase by Frances Burton, $325
Limited to 7, just six remain!
Signed, dated and numbered by Frances!
SPECIAL: 20% Discount on this item! Now $260!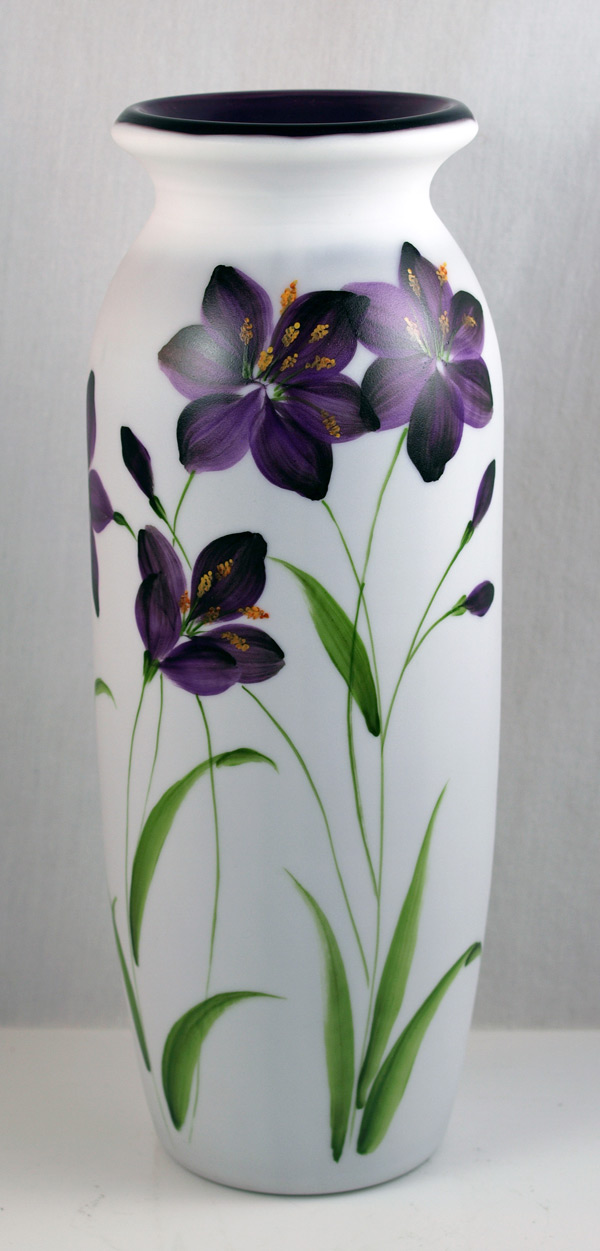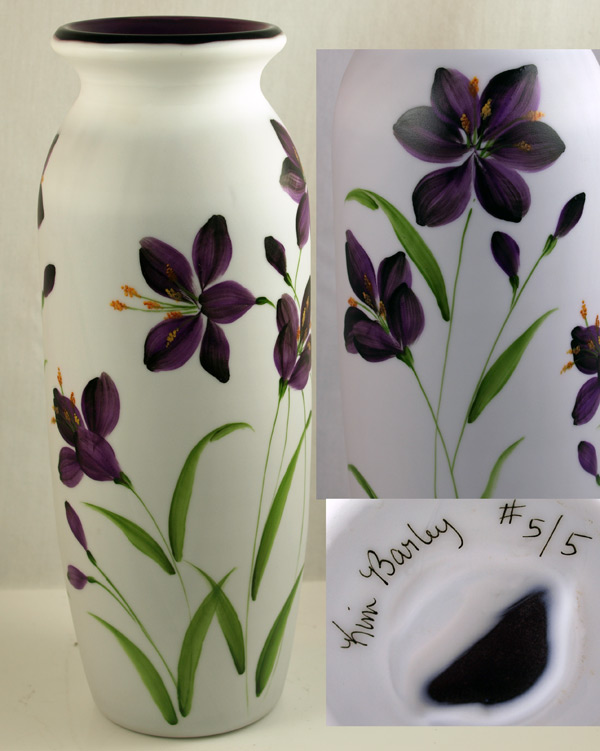 Limited Edition "Iris'' Vase
by Kim Barley
$250.00
Limited to 5, just 3 now remain!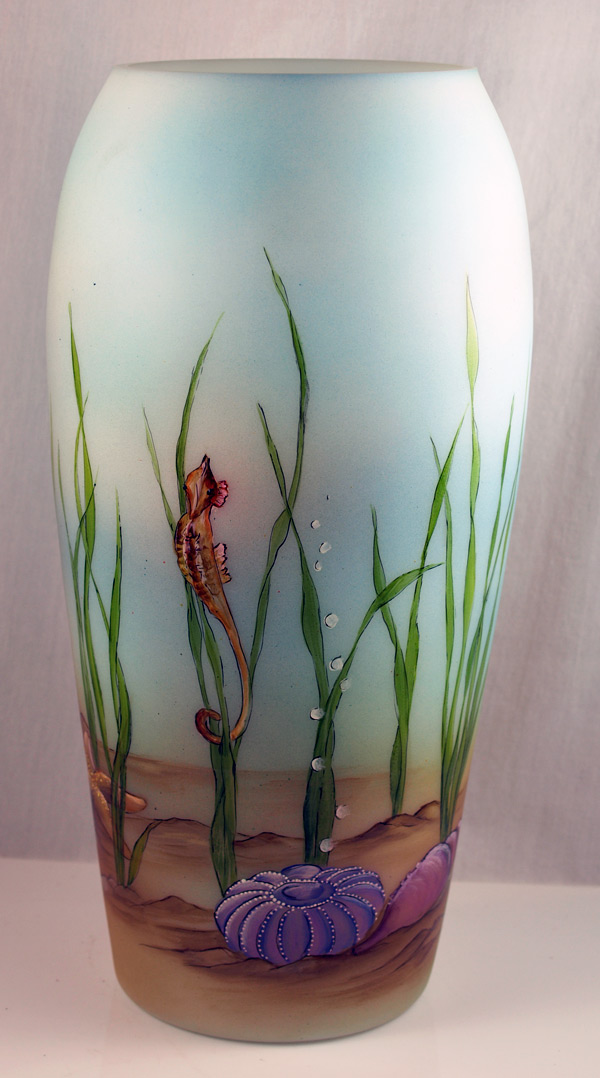 Limited Edition "Seascape'' Vase
by Frances Burton
$400
Limited to 5,
just 4 now remain!
SPECIAL:
20% Discount on this item! Now $320!
But wait. . . There's more!
Fenton Gift Shop also has a limited quantity remaining of our majestic 14.5''
Peacock and Ferns Vase, handcrafted in Emerald Green Carnival glass.

Your cost is $195 and includes the signature of Randy Fenton.

Fenton Art Glass Company entered the marketplace with an exciting new line of glassware called ''iridescent ware'' in October, 1907. This line featured vivid, changing metallic hues on highly-patterned pressed glassware. Stories told about how this glassware was used as midway game prizes and the phrase ''Carnival glass'' was coined. When Fenton resumed production of their iridescent glass in 1970, we called it "Carnival glass'' and have done so ever since. The secret, both in 1907 and now, of Fenton Carnival glass is the special spray of metallic salts on the glass while it is very hot.

To purchase, Please contact Fenton Gift Shop either by email: purchasing@fentongiftshop.com or by calling (800) 319-7793, ext. 342.
Fewer than eight now remain!
---
An ''Itsy Bitsy'' Dangle for your Halloween Fashions!
Recently, our Fenton jewelry designer, Jena Lane Blair, wanted to create something cute to wear for Halloween. So she made a pair of orange earrings with a black raised dot on one side and then asked our decorating designer, Truda ''TJ'' Mendenhall, if she would turn the black dot into a spider. Not only did Truda put her whimsical touch to the spider, but she added a pumpkin face with a toothy grin on the other side!
These earrings are so perfect for the Halloween season that we immediately decided to offer them so everybody would have the opportunity to enjoy this unique bit of artistic fun. We call them ''Itsy Bitsy Spiders" . . . and they can be dangling from your ears during the Halloween season! These Fenton USA Jewelry earrings are made with hypo-allergenic sterling silver earwires and Swarovski gem accents.
11259 Itsy Bitsy Spiders Earrings, $45/pair. Buy Now!
Fenton USA Presents. . . Jewelry Collection III!
Show your fashion style with the latest offerings from our talented team of jewelry designers and artists! Now available at authorized Fenton dealers and via the Fenton Art Glass web site, our 2014 Jewelry Collection III includes the Autumn Leaves necklace shown at right, as well as other beautiful selections of handcrafted art glass jewelry.

Click here to browse through this latest offering. Our artists love the excitement of creating new beads and pendants to capture your heart. Ideas flow from mind into flame and new creations are born. This collection grew from a passion to have a Lady Cardinal in the mix to giggles about witches and snowmen. Creativity drives new design, but our quality expectations remain the same for Fenton USA Jewelry: rich color, dimension and durability in finely executed glass.

11059 $75.00
Beach Horizons Pendant


11064 $85.00
Lady Cardinal Pendant


11074 $75.00
Christmas Eve Pendant
Shown here are our new handcrafted art glass pendants with sterling silver fittings. Each pendant features a lovely design with hand-applied ceramic decoration and is initialed by the artist who completed it. Beach Horizons, designed by Jena Lane Blair and Truda ''TJ'' Mendenhall, reminds one of being at the seashore and ...''As far as the eye can see.'' Truda designed the lovely Lady Cardinal to join our feathered friends grouping. Our popular Christmas Eve bead is now available as a Pendant and features a three-dimensional design by Jena and Truda. These Pendants will fit most jewelry accessories, as well as the Fenton line. Click here to view our complete line of sterling silver accessories.