Fenton USA Presents. . . 2014 Jewelry Collection II!
Fenton USA Jewelry. . . handcrafted in the USA with excellent quality and tested for durability. Make your personal fashion ''statement'' with jewelry that has special meaning to you. Choose from special colors or decorations such as those shown here. Our talented glass artists delight in creating new designs and unique colors for our art glass jewelry. . . perfect for any occasion! Fenton USA Jewelry is made using a wide array of hand applied ceramic decorations and molten glass treatments.
Click here to browse through our latest brochure, Fenton USA Jewelry Collection II. Our sterling silver accessories, such as the hammered cable extender bracelet, stoppers and floral spacers (shown above) are perfect for displaying
Tea Time, Perfect Harmony, Pirouette Silhouette (NEW!), and Princess beads. Click on each image for details.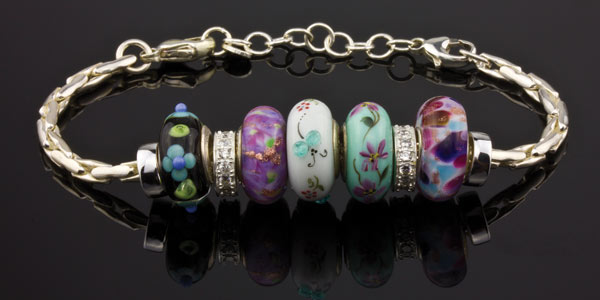 Shimmer this summer with a bracelet created using Fenton's vivid hues of blues, pinks, and rich turquoise! Shown above is our hammered cable bracelet, stoppers and CZ's spacers paired with Nighttime Garden (NEW!), Lavender 'n Lilacs, Delightful Dragonfly (NEW!), Overture to Spring, and Blossoms of the Blue Ridge (NEW!). Click on each image for details or click here to view our sterling silver accessories.
---
Iridescent Hummingbird Necklace . . .
A wonderful addition to our Fenton USA Jewelry Collection II is this beautiful Iridescent Hummingbird Necklace, featuring a handcrafted Milk Glass pendant on a 24'' sterling silver chain with Swarovski gem accents. The pendant measures approximately 1'' in height. Because of the handmade process, size may vary slightly.

Iridescent Hummingbird, designed by Truda ''TJ'' Mendenhall, depicts a brilliantly colored hummingbird feasting on flowers. Truda said the scene reminds her of a summer favorite, the hummingbird... ''sipping sweet nectar in the morning dew.'' Each pendant has a hand applied decoration (using ceramic glazes) and is initialed by the talented Fenton artist who completed it. Check out our handcrafted earrings. . . perfect accessories for this lovely pendant!

11006 Iridescent Hummingbird Pendant Necklace $115.00 Buy Now!

Fenton USA Jewelry is available from our website, as well as from authorized Fenton dealers around the country. In addition to jewelry, many Fenton dealers still have a nice selection of Fenton Art Glass. We will list a few of our jewelry and/or traditional glass dealers in each newsletter or click here to find a dealer located near you!

OH: Pugh's Designer Jewelers, 44 S. Second St., Newark, OH 43055 (740) 344-9259
IL: Wilmot Heritage Antiques and Gifts, 400 Lake St., Antioch, IL 60002 (847) 838-6788
---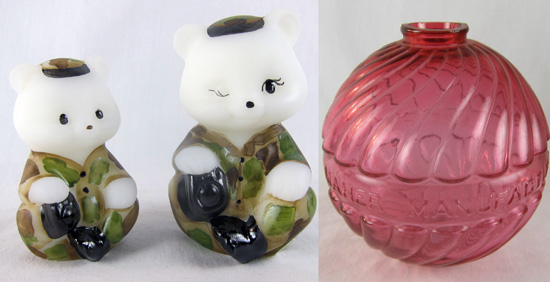 Fenton eBay Auctions. . .
Items featured this week. . . include this handpainted Bear figurine set in Opal Satin. Made as a ''special order'' for a Fenton dealer, each figurine is signed by the artist who completed it and has the business name of the Fenton dealer on the bottom of each piece.
Another special order item featured this week is the Lightning Rod Ball, handcrafted in rich Cranberry glass, shown here. Made for Maher Manufacturing Co., located in Preston, IA, this piece will make a unique addition to any Fenton collection!
Fans of Robin Spindler will want to check out these two magnificent one-of-a-kind Vases. Robin's creativity shines brilliantly with her depiction of a Lynx on this 13.5'' Burmese vase. You'll want to reach out and touch that wild cat with the piercing blue eyes! Robin's ''Ugly Ducklings'' design on a Black Satin Vase is remarkable in its detail. The design encircles the vase and includes a swan in flight over the water.

This auction ends at Noon (ET) on Thursday, May 29. When this auction ends, however, another will begin! Featured for the auction starting at noon on Thursday, May 29 will be four new unique pieces
. . . so be sure to check them out!
Visit us on Facebook and Pinterest!