Fenton USA Presents. . . Handcrafted Artistry in Jewelry!
Our handcrafted art glass jewelry is unique in the marketplace, with beads like no other. We will be introducing our next collection soon. However, before we launch that collection, we want to highlight a few of our current line beads... in case you missed these lovely selections the first time around!
Shown at right are our Precious Metals beads Abyss and Broadway. Precious Metals add a new dimension to art glass beads. Our glass artisans use them in two forms, either melted into the glass formula or added as pure metals to the bead during the forming process. As you can see, the results are beautiful to behold!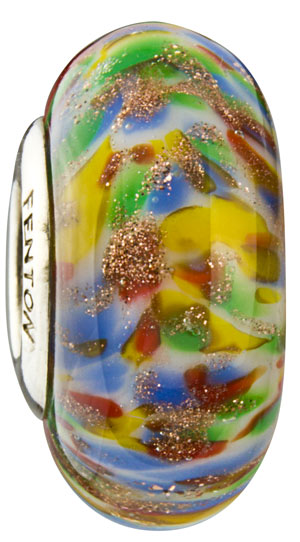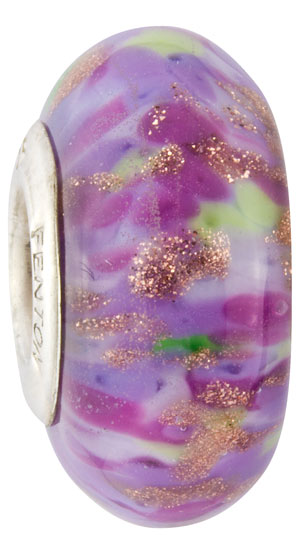 Vasa Murrhina is a Fenton Art Glass treatment from the 1960s. . . now reborn in our jewelry. Shown here are the festive Confetti and lovely Lavender 'n' Lilacs beads.
Vasa Murrhina is a term which means ''vessel of gems'' and each unique Fenton bead captures a glittering layer of Goldstone. Our beadmakers use extreme care to maintain its sparkle in the hot flame. Tiny bits of colored glass add a variety of hues in each different design, and no two are identical! This difficult process is one of the secrets of Fenton quality and brilliance of its beads. Please click on each bead image for to order.
You'll also want to check out the matching earrings for Confetti, as well as the latest styles of handcrafted jewelry from Fenton USA. Click here for the current collection and click here to view our ''Retired'' beads, available While Supplies Last!

Fenton USA Jewelry. . . Perfect Mother's Day Gift for Someone Special!

Wings of Love
0B915NM - $90.00

Spring Special Price
$69.50 Buy Now!

Three Dimensional
and Handpainted. . .
Initialed by the artist!
Necklace sold separately.

Perfect gifts for Mother's Day! Our 2014 Spring Specials. . . lovely, decorative art glass pendants handcrafted in the USA using two of our popular and classic Fenton Art Glass colors! Fenton's talented jewelry designers Jena Lane Blair and Truda ''TJ'' Mendenhall combined their creative talents on these two pendants. The results, as someone recently described, ''are stunning!" Perfect gifts for any occasion, including Mother's Day, Mother(s)-of-the-Bride, someone special, or treat yourself! Sterling silver necklace sold separately. Sterling silver earrings, necklaces, bracelets, and/or pendants are perfect "add-ons" for any Fenton bead...
click here to view our line of sterling silver accessories. These Pendants are available through our website and also from authorized Fenton dealers! Click here to locate a Fenton dealer!

Wings of Love, handcrafted in Milk Glass, features a three-dimensional pink rose with handpainted butterfly and floral details. The story card included with this bead: Strong and gentle... always there.

Everlasting Love, handcrafted in Teal Carnival, has a beautiful handpainted flower with a three-dimensional dragonfly. Our Teal Carnival glass is iridescent and really sparkles as a result of the mix of metallic salts used to create Carnival glass. The story with this pendant is I love you to the moon and back.

Everlasting Love
0B916NN - $75.00

Spring Special Price
$58.50 Buy Now!

Three Dimensional
and Handpainted. . .
Initialed by the artist!
Necklace sold separately.
Fenton eBay Auctions. . .
You can add a touch of Fenton to your Spring decorating with unique Fenton creations, including rare pieces, one-of-a-kinds and designer samples, through our weekly eBay Auctions! Items featured this week... include the two beautiful handpainted selections shown above. This auction will end at Noon (ET) on Thursday, May 1st. The lovely Regal Peacock on Burmese Vase is from the 2004 Connoisseur Collection. Designed by Robin Spindler, this beautiful Vase is #491/1950 and includes the signatures of 10 Fenton family members and the signature of the talented Fenton artist who completed it - Michelle Kibbe.
Welcome spring with this wonderful one-of-a-kind handpainted Light Blue Satin Bell (slightly more than 5-1/2" tall)
created by the talented Kim Barley. The colorful Bluebird, berries and foliage really stand out on the satin finished
light blue glass. This bell is dated and signed inside: "Kim Barley OOAK 2014".
Also included in this week's auction is a Mandarin Red Cornucopia Candleholder from the 1930s and a Fenton Art Glass "Historic America" Crystal Wine Glass made for Macy's Dept. Store, Circa 1937-38. As they say, but wait, there's more! When this auction ends, another will begin! Featured for May 1-8 will be four different glass pieces, each as unique as those featured here. So be sure to check out our auctions each week to see what's new! The piece you have been searching for may be waiting for you to find on the Fenton eBay auction!

Visit us on Facebook and Pinterest!