Don't forget about our Frequent Buyer Program for Beads. . .

Here's your chance to receive a beautiful limited edition bead absolutely FREE! Simply purchase ten beads from an authorized Fenton jewelry dealer or online from our website: www.fentonartlgass.com and you'll qualify for a bonus bead! Click here for details!

Click here to view our Fenton USA Jewelry collection. Sterling silver earrings, necklaces, bracelets, and/or pendants are perfect "add-ons" for any Fenton bead... click here to view our line of sterling silver accessories.
Fenton Custom Designs for Beads. . .
We've received many requests for specially designed beads. Most of these designs are exclusive to one retailer or organization, so we can not sell them on our website. If your group or store is interested in a custom designed bead, please call us for details at 1-800-933-6766, ext. 209. Click here to view the complete list of custom designed beads with contact info for the retailers or organization from whom you may purchase them. Be sure to check back as we will be updating this list regularly! Please contact the retailer or organization listed beside each Custom Design bead. . . and be sure to say you saw it mentioned in the Fenton Newsletter!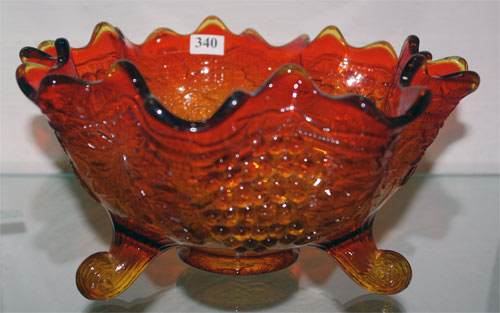 Fenton Museum Auction Scheduled for April 26. . .
From the Fenton Museum, a great selection of 550 lots of glass that has been on display! Please click here for a link to Randy Clark's Dexter City Auction Gallery and click on the link for current auctions. Auction begins at 10 a.m. (Eastern Time).
Fenton Art Glass from all eras of the Fenton factory history: early opalescent; early Carnival glass and lots of Carnival examples from the 1970s; rare offhand pieces from the mid-1920s (Antique Green, Mosaic Inlaid, Karnak Red, and Turquoise); stretch glass (Celeste Blue, Florentine Green, Persian Pearl, Tangerine, Topaz, Wisteria, etc.) and popular iridescent (Grecian Gold), opalescent, opaque (Chinese Yellow, Mandarin Red, Mongolian Green, Periwinkle Blue, etc.) and transparent colors and patterns from the 1920s-30s as well as acid etched pieces; Cranberry, Cranberry Opalescent, and crested pieces from the 1940s-50s-60s (Aqua Crest, Black Crest, Gold Crest, Emerald Crest, Ivory Crest, Peach Crest, etc.); rare Robert Barber items; Vasa Murrhina samples; and many hand painted pieces (including samples, lamps, plates, and other one-of-a-kind pieces) by Louise Piper, Michael Dickinson, Susan Bryan, Diane Johnson, Robin Spindler, Linda Everson, Kim Barley, and Michelle Kibbe. Limited editions and samples in Burmese, Favrene, Rosalene, Royal Purple, and Lotus Mist Burmese, including Connoisseur Collection and Glass Messenger Exclusives. Items made for QVC in the 1980s-1990s. Pieces made by Dave Fetty and Frank Workman. Artist proof vase by cameo artists Kelsey Murphy and Robert Bomkamp.

Founded in 1905, the Fenton Art Glass Co. began making glass in Williamstown on January 2, 1907. Traditional glass production ceased in July 2011. The company continues today handcrafting art glass glass jewelry using many of the techniques, colors and treatments associated with Fenton Art Glass. There are currently 20 employees working to create and sell the jewelry collection (visit www.fentonartglass.com to see the 2014 collection!). The Fenton Gift Shop remains open, and its hours of operation for April 2014 are listed above.