Fenton USA Presents. . .
Spring Cleaning Glass Specials!
As we continue to wind down our remaining factory inventory, we are pleased to offer these limited quantity pieces at a Spring Cleaning Special Price of 50% discount!
These two vases. . . the majestic Bands of Glory, an offhand creation by Frank Workman and the beautiful Climbing, a cameo carved vase designed by Kelsey Murphy and Robert Bomkamp. . . will make a dramatic decorating statement in any room of your home!
Using an innovative glassmaking technique, glass artisan Frank Workman blended rich Ruby glass with lustrous black glass and then applied a multi-colored band of glass frit to create this 11-1/2'' Bands of Glory. This vase was limited to 500 pieces as part of the regular line in 2008. The remaining 14 original edition vases are offered at 50% discount while supplies last!
Originally included in our 2009 Cameo Gallery Collection and limited to 75 pieces, the beautiful 9" Climbing vase is made of Aubergine cased in Milk Glass and features a lush floral design. On the bottom of each vase is the word Climbing, the Fenton Script F USA logo, the signatures of Kelsey Murphy and Robert Bomkamp, and the number of the piece. These remaining vases are part of our remaining factory inventory and will be sold on a first come, first serve basis. No two will be alike, and the bottoms vary as a result of the production process.

Artists Kelsey Murphy and Robert Bomkamp specialize in glass cameo carving, an exacting art that demands both skill in design and great dexterity in execution. They teamed with Fenton Art Glass to design and produce these remarkable limited edition pieces for the Cameo Gallery Collection. Cameo carving is a a painstaking process. After the glass has been annealed, a special mask is taped to the surface of the glass. Using an advanced vignetting technique, each piece is carefully sandcarved, by hand, using aluminum oxide crystal under pressure to take away some of the surface. Great individual skill and experience are needed to control this operation, as many distinct stages of successive cameo carving are required to create the remarkable depth and the intricate details. Please click on each image or name link to order and remember, they are available While Supplies Last at 50% discount!
Robin Spindler Handpainted Black Satin Butterfly Paperweights. . . Limited Quantity!

I7599BKHP3 (3-1/4'' Flat Paperweight)
$65.00 Buy Now!


I8749BKHP3 (3-1/2'' Standup Paperweight)
$65.00 Buy Now!
Add a touch of Butterfly brightness to your desk or windowsill with a handpainted paperweight by J.K. ''Robin'' Spindler! She handpainted two different butterfly designs on these paperweights and added gem accents to the wings for added sparkle. The blue Butterfly is a standup paperweight and the orange Butterfly paperweight lies flat. Robin signed, dated and numbered each figurine! Perfect gift or treat yourself!
Fenton Gift Shop Revised Hours for April 2014. . .
Fenton Gift Shop hours (ET) for April 2014: Monday, Tuesday, Friday, and Saturday 10 a.m.-4 p.m. During this month, the Fenton Gift Shop will be closed on Sunday, Wednesday and Thursday. They still have a great selection of glass as well as non-Fenton items available. . . while supplies last! The Fenton Gift Shop will also continue offering a wide variety of items via eBay auctions and eNewsletters. Click here to view Fenton Gift Shop Exclusives. Phone orders are welcome: (304) 375-7772. Limited tours of the beadmaking department are available upon request.
Perfect Pairings from Fenton USA Jewelry. . .

Midas Touch
Purse Charm or Zipper Pull
0S715Z
Buy Now!



Midas Touch
Bead (Retired)
0B715A
Buy Now!


My Country Girl
Purse Charm
or Zipper Pull
0S795Z
Buy Now!



My Country Girl
Cornerstone Bead
0B795S
Buy Now!
Last week we featured the Kalico Kitty bead re-designed as a new fashion accessory- a Purse Charm or Zipper Pull. We paired it with our new matching Kalico Kitty Earrings. Don't forget we also have the popular Kalico Kitty available in two sizes of beads: Cornerstone and Regular 9/16" diameter.

Shown here are other new Purse Charms or Zipper Pulls: Midas Touch and My Country Girl, each with our signature Goldstone sparkle! They are shown with coordinating beads of the same name. Please click on the images or Buy Now to order.

---
Retired Beads. . . Animal/Insect Theme Available While Supplies Last!
Here's your opportunity to obtain retired Fenton USA handcrafted art glass beads before they are going, going, gone! These selections have been ''retired'' from the regular line to make room for our new designs and quantities may be very limited. Please click on each image to order!
---
Don't forget about our Frequent Buyer Program for Beads. . .

Here's your chance to receive a beautiful limited edition bead absolutely FREE! Simply purchase ten beads from an authorized Fenton jewelry dealer or from our website: www.fentonartlgass.com and you'll qualify for a bonus bead for every ten beads you order! Click here for details! If you've already received a Frequent Buyer Program bead, check your orders again . . . you may be eligible for another free bead!

Click here to view our Fenton USA Jewelry collection. Sterling silver earrings, necklaces, bracelets, and/or pendants are perfect "add-ons" for any Fenton bead... click here to view our line of sterling silver accessories.
Fenton Custom Designs for Beads. . .
We've received many requests for specially designed beads. Most of these designs are exclusive to one retailer or organization, so we can not sell them on our website. If your group or store is interested in a custom designed bead, please call us for details at 1-800-933-6766, ext. 209. Click here to view the complete list of custom designed beads with contact info for the retailers or organization from whom you may purchase them. Please contact the retailer or organization listed beside each Custom Design bead. . . and be sure to say you saw it mentioned in the Fenton Newsletter!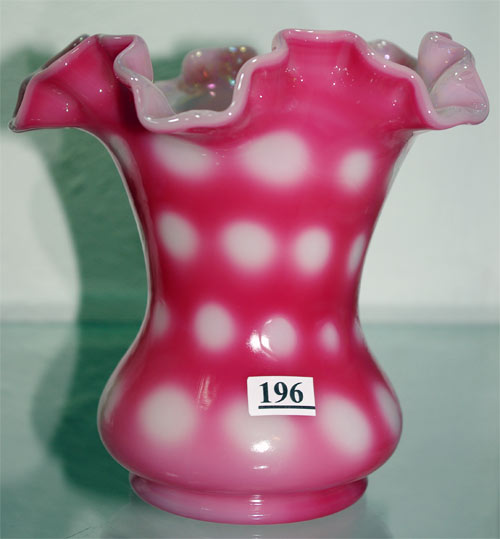 Fenton Glass Auctions Scheduled for 2014 . . .
Fenton Art Glass and the Fenton Gift Shop have scheduled three auctions during 2014 to sell more than 1,500 items of Fenton glass. Auction dates are: April 26, June 14 and July 26 at auctioneer Randy Clark's Dexter City Auction Gallery in Dexter City, Ohio. The June 14 auction will feature rare Fenton Carnival glass, while the April 26 and July 26 auctions will feature other Fenton glass from throughout the factory's 106 years of glassmaking history. There are a total of 555 pieces in the April 26 auction. Shown at left: SAMPLE Rosalene No. 1456 RE Coin Dot vase, c. 1977.

Please click here for a link to Randy Clark's Dexter City Auction Gallery and click on the link for current auctions. Watch future eNewsletters for additional information and photos as they become available. Founded in 1905, the Fenton Art Glass Co. began making glass in Williamstown on January 2, 1907. Traditional glass production ceased in July 2011. The company continues today handcrafting art glass glass jewelry using many of the techniques, colors and treatments associated with Fenton Art Glass. There are currently 20 employees working to create and sell the jewelry collection (www.fentonartglass.com). The Fenton Gift Shop remains open, and its hours of operation for February, 2014 are listed above.
Find a Fenton Dealer. . . Though we continue to wind down the factory inventory, many authorized Fenton dealers around the country still have beautiful Fenton Art Glass selections AND many now carry the Fenton jewelry line! Click here to find a dealer near you!
Fenton eBay Auctions. . .
Here's your opportunity to own a unique Fenton creation, including rare pieces, one-of-a-kinds and designer samples, through our weekly eBay Auctions!
Items featured this week... included in this week's auction is the beautiful one-of-a-kind Teal Carnival Egg on Stand handpainted by Kim Barley, shown at left. Teal Carnival provides the perfect canvas for Kim's lush flower design.

As they say, but wait, there's more! The creative talents of Robin Spindler shine brilliantly on two special one-of-a-kind selections: an iridized Milk Glass Vase with an undersea scene encircling it and a spectacular handpainted Rosalene Pitcher! Last but not least is the DESIGNER SAMPLE of a 5197 Happiness Bird in Custard glass handpainted by Louise Piper!

You'll want to see all of these special featured selections on this week's Fenton Art Glass eBay Auction! This auction will end at noon on Thursday, April 3! We also have stoppers for perfume bottles and decanters as well as musical movements available at Buy It Now prices!

Visit us on Facebook and Pinterest!
HOT LINKS. . . Find beautiful Fenton glass selections via our website with these categories:
For questions or comments, please do not reply to this email. Instead, email: askfenton@fentonartglass.com.

This email has been sent to you because you have agreed to receive offers and information from the Fenton Art Glass Company. We respect your privacy and do not sell your personal information. For details, please review our privacy policy.

How to unsubscribe: If you prefer not to receive offers or information from Fenton Art Glass, please use this page to unsubscribe.

If you use a Challenge-Response system for email, please make certain that you can receive our email by adding askfentononline@fentonartglass.com to your Allow List.

For specific instructions for major ISPs, click here.

The sender of this email is the Fenton Art Glass Co., 700 Elizabeth St., Williamstown, WV, 26187