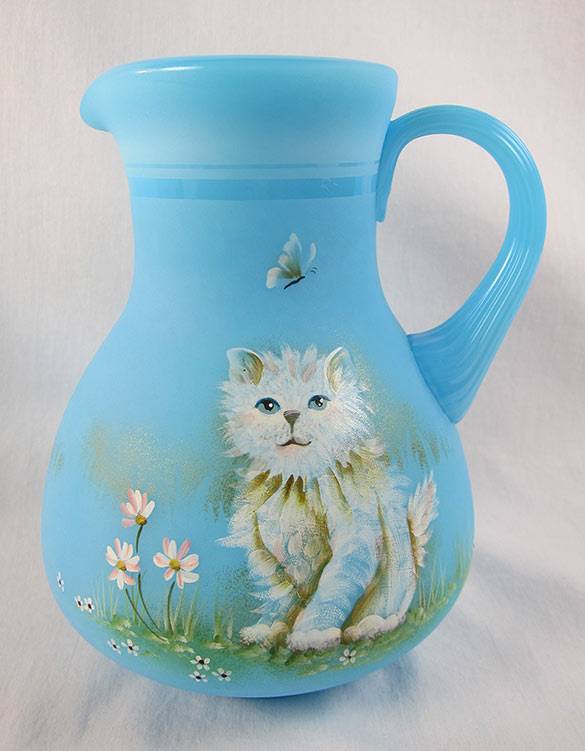 Fenton Gift Shop Exclusive. . .
Handpainted Sky Blue Pitcher
As we continue to wind down the remaining inventory in the factory, the Fenton Gift Shop will be offering handpainted exclusives through our weekly eNewletters and in the shop. Quantities are very limited, so they will be sold on a first come, first served basis. No additional discounts apply to this item.
This week's feature is the lovely Sky Blue 7'' Pitcher shown at left. Award-winning Fenton designer J. K. ''Robin'' Spindler handpainted this wonderfully detailed cat. Her rendition makes you want to reach out and pet it!

Robin completed just 17 of these Pitchers. Each piece is signed, numbered and dated with ''Fenton 2014''.
Just eight of these pitchers are available to order online!
The number "one" Pitcher is also Robin's ''Designer Sample'' and will be offered in a future Fenton eBay auction, so be on the watch for this special piece!

X8143B8 7'' Sky Blue Pitcher,
$195.00 Buy Now!
Fenton Gift Shop Revised Hours for January and February, 2014. . .
Fenton Gift Shop hours (ET) for January and February, 2014:
Monday and Tuesday 10 a.m.- 3 p.m. and 10 a.m.- 4 p.m. on Friday and Saturday. During these two months, the Fenton Gift Shop will be closed on Sunday, Wednesday and Thursday. The Fenton Gift Shop will continue offering a wide variety of items via eBay auctions and eNewsletters. Phone orders are also welcome by calling (304) 375-7772. Limited tours of the beadmaking department are available upon request.

Fenton Glass Auctions Scheduled for 2014 . . .
Fenton Art Glass and the Fenton Gift Shop have scheduled three auctions during 2014 to sell more than 1,500 items of Fenton glass. Auction dates are: April 26, June 14 and July 26 at auctioneer Randy Clark's Dexter City Auction Gallery in Dexter City, Ohio. The June 14 auction will feature rare Fenton Carnival glass, while the April 26 and July 26 auctions will feature other Fenton glass from throughout the factory's 106 years of glassmaking history. There are a total of 555 pieces in the April 26 auction.
Watch future eNewsletters for additional information and photos as they become available. Founded in 1905, the Fenton Art Glass Co. began making glass in Williamstown on January 2, 1907. Traditional glass production ceased in July 2011. The company continues today handcrafting art glass glass jewelry using many of the techniques, colors and treatments associated with Fenton Art Glass. There are currently 20 employees working to create and sell the new jewelry collection (visit www.fentonartglass.com to see the 2014 collection!). The Fenton Gift Shop remains open, and its hours of operation for January and February, 2014 are listed above.