Fenton USA Jewelry. . . American Artistry and Impressive Style!
During our 108 years of glassmaking, we have developed amazing glass colors and treatments that are now translated into sparkling, artistic jewelry. Company President George W. Fenton states:
''From day one we have delighted in creating beautiful colors to brighten each day. Our glass artists love trying new designs and colors to you give that special piece that puts a gleam in your eye. They take great pride in the high quality and durability of each glass bead. From their hands to your heart. . . enjoy!"
We are finalizing production of our 2014 jewelry introductions. This exciting collection will ship soon to authorized Fenton USA Jewelry dealers and will also be available on our website: www.fentonartglass.com.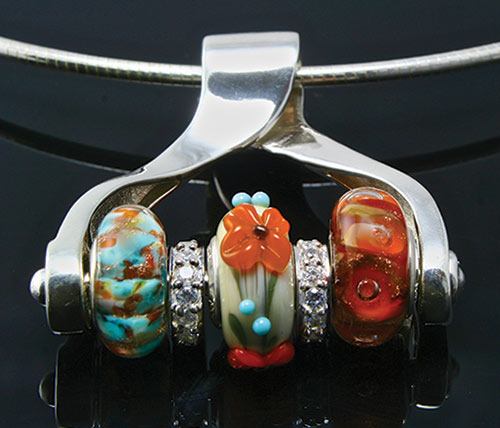 Sneak peeks have been posted on our Facebook and Pinterest sites. This new bead collection will be available by the end of January. New introductions
for our handcrafted Teardrop Earrings will soon follow. Watch this newsletter for more about our new Earring designs!
What's new for Fenton USA Jewelry in 2014? It's modular! We are pleased to launch our Modular Jewelry line. . . impressive style with a few simple pieces of Fenton jewelry! Modular jewelry. . . less clutter with more style! Our versatile sterling silver Ribbon Pendant (60493) will showcase an Impression or Cornerstone bead or you can create a different fashion statement by using three Fenton beads with stoppers or spacers.
The image at right shows our Ribbon Pendant with our Cherokee Maiden, Clarkia, and Canyon Sunrise glass beads, complimented by two of our sterling silver Spacer beads with CZs. These beads are approximately 9/16'' in diameter, but will vary. Each handpainted bead is initialed by the artist and all beads include a "story" card.
Shown at left are examples of different looks you can create using this Ribbon Pendant on our sterling silver Omega Chain (60498) with Fenton USA Impression beads. Pink Beauty is a new bead for 2014. Designed by Truda Mendenhall, this bead includes a story card that reads: Delicate, but vibrant. . . seashell cosmos. The bead on the right is Tranquil Pond, an Impression bead designed by Jena Lane Blair. This bead's story card reads: Tranquil Pond. . . still pools of blues and greens. Because of the handmade process, bead size may vary slightly. Impression beads will range in size from 1'' to 1-3/16'' maximum length.
Click on the links or on each image for details. The Pink Beauty Impression bead will be available soon. The other items are currently available to order online via our website and also through our Fenton jewelry dealers.