---
Fenton USA Jewelry's "Retired" Beads. . . While Supplies Last!
Each year we must "retire" a certain number of handcrafted beads to allow room for new styles. Shown below are a few of our "retired" beads featuring hand applied decorations and three-dimensional glass designs.
These beads have FIVE or fewer remaining in stock and are available "while supplies last." Click on each image to order or, to view the complete "Retired . . .While Supplies Last" Beads listing, click here. Please keep in mind that quantities are subject to change daily!
| | | | | | |
| --- | --- | --- | --- | --- | --- |
| Crocus in the Snow | | | | | |
---
Fenton Gift Shop Presents. . . NEW Limited Edition Handcrafted Glass!
Pre-orders for the Limited Edition Dragonfly Amphora and Three Magi
Cobalt Flip Vase will be accepted
until midnight (ET) on Monday,
June 1st, 2015.

The Fenton Gift Shop is pleased to offer new Limited Editions, designed and handpainted by our award-winning Fenton Art Glass designers. Each piece will be handpainted, signed and dated by the artist. The Opal Satin Amphora was made by Davis-Lynch, the Sea Breeze Vase by Blenko and the Cobalt Flip Vase and Buttercream Chessie Box were handcrafted by Mosser Glass exclusively for the Fenton Gift Shop (all used Fenton moulds).
The Amphora with Dragonfly
was designed and handpainted by Kim Barley and is $195 each. Handcrafted in Opal Satin and sprayed with soft pastel colors,
this Amphora provides the perfect canvas for Kim's delicately handpainted dragonflies and
vining florals.
The Cobalt Blue Flip Vase is $210 each and features a handpainted design by Kim of the three Magi. We've added a votive candle and a wooden display base to make this piece even more special!
Shown at left are a Buttercream Chessie Box and a Sea Breeze Vase, each featuring a lovely handpainted design by Frances Burton. The Chessie Box is limited to ten pieces and is $210 each. The Vase is limited to just five pieces and is $195 each.
Pre-orders on the Chessie Box and Vase will be accepted until midnight (ET) on Wednesday, June 3rd, 2015. Please call Fenton Gift Shop: 1-800-319-7793, ext. 342 or email: purchasing@fentongiftshop.com. You may also request to have your email added to a mailing list in order to receive future notifications of limited editions as they become available. Fenton Gift Shop is open Wednesday, Thursday, Friday, and Saturday 10 a.m.-3 p.m. ET. and closed Sunday, Monday and Tuesday.
---
Fenton Gift Shop Presents. . . . "Design Sample" Special!
Shown below are eight glass creations, designated as a "design sample," meaning it was the production prototype. Each piece is signed and dated by the artist who completed it. These eight pieces are now available at a 20% discount! For details and to place your order, please call Fenton Gift Shop: 1-800-319-7793, ext. 342 or email: purchasing@fentongiftshop.com and refer to the number under the item when you place your order. Just one "design sample" is available, so don't delay adding a unique work of glass art to your collection!

---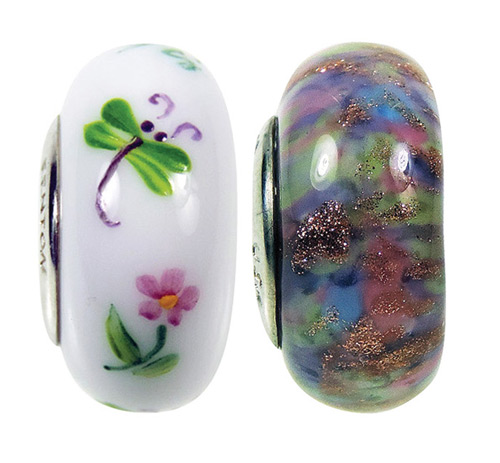 Frequent Buyer Program. . . Earn YOUR Free Limited Edition Bead!
Here's your opportunity to receive a beautiful limited edition bead absolutely FREE!
Simply purchase ten beads from any authorized Fenton jewelry dealer or from our website: www.fentonartglass.com and you'll qualify for a bonus bead! Click here for details! Our current offerings are the Gracie (decorated) and Mikayla (Vasa Murrhina) beads shown at right.
Click here to view our handcrafted art glass beads. NOTE: If you have purchased ten beads, let us know if we haven't notified you. . . please send us an email at askfenton@fentonartglass.com and put Frequent Buyer Qualifier in the subject line.
---
Fenton Custom Designs for Beads. . .
We've received many requests for specially designed beads. Most of these designs are exclusive to one retailer or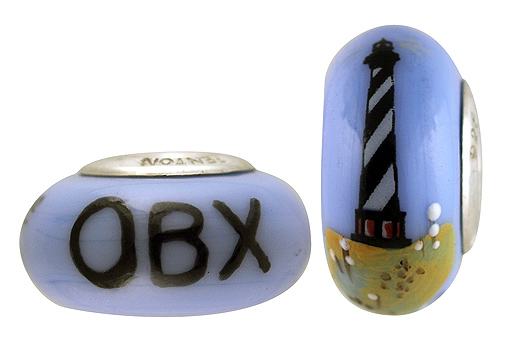 organization, so we can not sell them on our website. If your group or store is interested in a custom designed bead, please call for details at 800-933-6766, ext. 209.

A treasured keepsake from the beach! Shown at left is our "OBX with Lighthouse" bead, a NEW custom design for Jewels By The Sea, located in Avon, NC. Please contact the store for details: (252) 995-3632.

Click here to view custom designed beads with contact info for the retailers or organization from whom you may purchase them. Be sure to check back as we will be updating this list regularly! Please contact the retailer or organization listed beside each Custom Design bead and be sure to say you saw it mentioned in the Fenton Newsletter!
---
Fenton eBay Auctions. . .
Here's your opportunity to own
a unique, rare, one-of-a-kind creation, through our weekly
eBay Auctions!
Items featured this week. . .

Shown here are our latest offerings! Rosalene glass is the perfect canvas for Frances Burton's lovely floral design, which encircles this entire Ginger Jar. The lid is handcrafted in Violet glass. Frances signed and dated this one-of-a-kind Ginger Jar set.
Our one-of-a-kind Doll figurine is signed and dated by Kim Barley. She used vivid color tones on this black glass figurine and you can see how the dress shimmers! Kim added wonderful details so this figurine resembles an Indian princess.
Last but not least, our popular Mouse figurine, handcrafted in Buttercream glass, is handpainted as a one-of-a-kind by Robin Spindler. You'll love the remarkably expressive eyes and details on this figurine, including a gem accent! This Fenton eBay auction ends at noon (ET) on Wednesday, May 27th.