Frank M. Fenton Through The Years
A look back at Frank M. Fenton...
Photo Gallery:
1917
With his dad, Frank L. Fenton in Williamstown, WV
Date unknown
Little "Bud" Fenton, the nickname given to Frank as a child.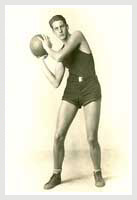 1932
Marietta High School
6'7" Basketball Player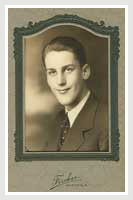 1932
Marietta High School
Senior Picture
1935
Frank was inducted into the
Marietta College Athletic Hall of Fame February 11, 1989 for basketball and crew. In 1934, Frank's college crew team finished first in the first ever Dad Vail Regatta.
1940
Frank M. Fenton (left), with
his father Frank L. Fenton (middle) and Jake Rosenthal at the factory.
1966
A Fenton family vacation
at a dude ranch in Colorado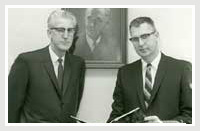 1967
At Fenton Art Glass
with his brother Bill Fenton
Together, Bill and Frank Fenton led Fenton Art Glass for nearly four decades.
2000
"A thing of beauty is a joy forever."
-- Frank Fenton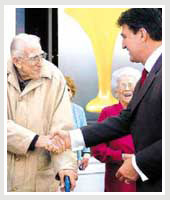 Frank was last seen publicly
at a May appearance with
West Virginia Governor
Joe Manchin for Fenton's
100th anniversary.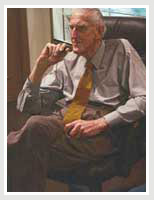 Most recently, Frank has served as the Fenton Art Glass Historian, giving talks to collector clubs.
Additional Links: