Fenton USA Presents. . . Essence of Spring Jewelry Special!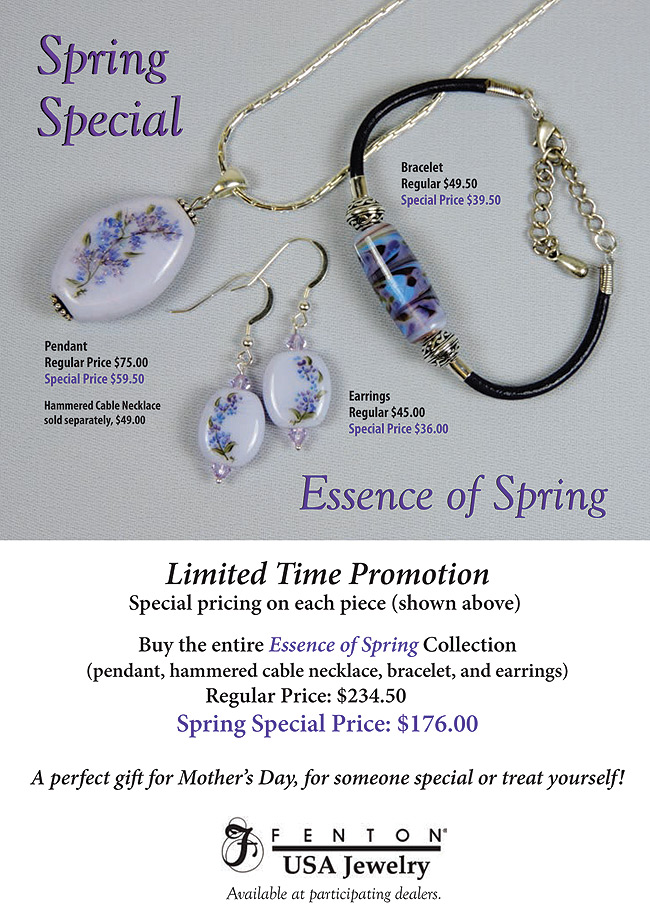 Welcome the coming of Spring by treating yourself or someone special to our new Essence of Spring Collection. . .
a keepsake gift perfect for Mother's Day or any special occasion! This matching collection includes a handcrafted lavender art glass pendant and earrings, a hammered cable necklace, and a coordinating art glass cylinder bead on a leather cord bracelet.

The pendant and earrings have a hand applied decoration of delicate Wisteria blossoms designed by Truda ''TJ'' Mendenhall. Each decorated piece is initialed by the artist who completed it. Wisteria. . . a beautiful, aromatic plant with strength and longevity. . . symbolizes the endurance of love over time.
The leather cord bracelet features an art glass cylinder bead designed by Jena Lane Blair and will fit most wrist sizes. Fenton USA Jewelry is handcrafted with quality and tested for durability.
For a limited time, this Essence of Spring collection, regularly priced at $234.50, is available at a Spring Special price of $176.00. This offer expires on May 1, 2015. Each piece is also sold separately. You may order this beautiful Spring Special from your local Fenton dealer, favorite online Fenton dealer, or from our website. To locate a Fenton dealer near you, click here.
---
The "Gatsby" Collection. . . from Fenton USA Jewelry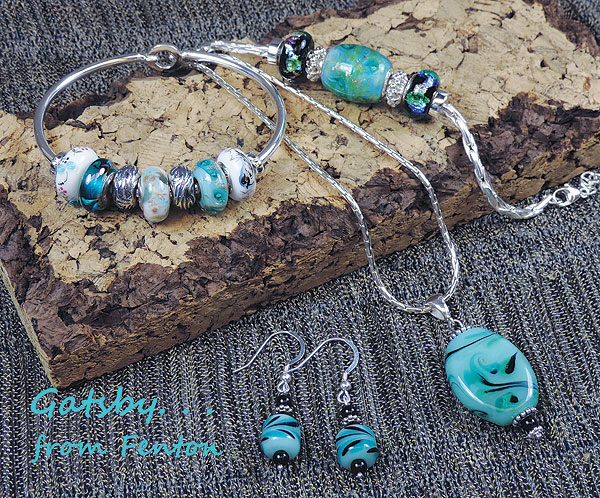 Fenton USA Jewelry's pre-assembled modular jewelry gives you less clutter and more style! Starting with a basic piece of fine sterling, our design team created multiple styles of bracelets, earrings and necklaces by just varying the size and color of the glass beads. Browse the pages of our 2015 catalog to view all of our lovely handcrafted jewelry selections.

Shown above is Gatsby, which joins the Fenton USA Jewelry Collection for 2015. The Pendant Necklace (11500) features an art glass pendant designed by Jena Lane Blair. Her design was inspired by ''Ragtime, Art Deco, and all that jazz." The Pendant is paired with our sterling silver Hammered Cable Necklace (18''). Matching earrings (11394) and the color coordinating Aqua Bangle (11499) and Sea Spray Bracelet (11496) make for a very jazzy look!
---