Special Announcement - Teleflora's Fenton Art Glass Bouquet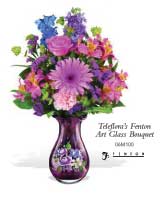 You may soon be seeing references to Fenton in magazine or television advertising for Teleflora, a worldwide organization. The Teleflora ad may feature a decorated vase with floral bouquet. The vase shape and decoration were designed by Fenton but the manufacturing was sourced by Teleflora. The vase will have a sticker on the bottom: "Designed by Fenton. Made in China."
One of our goals for the future is to see Fenton glass in more flower shops, and this licensing relationship with Teleflora will support that goal. Over the past several years, Teleflora has worked with other well-known companies, such as Waterford, Crayola and Spode. We feel that this association with Teleflora will bring the Fenton name to a marketplace in which we have had little previous activity. More than 27,000 flower shops are associated with Teleflora.
Some of them already carry Fenton glass, and we hope that many more will choose to do so in the future. In December, Fenton launched a special program targeted at florists including 40 special shapes from Fenton's regular line presented in a separate sales brochure. The message of this brochure is "After the flowers…Fenton, an heirloom keepsake." All of these items, as well as the balance of the Fenton regular line, are made in our factory in Williamstown, WV.
To purchase the Teleflora Fenton Art Glass Bouquet, www.teleflora.com or contact your local Teleflora florist.