Fenton Art Glass Company Sculptor Suzi Whitaker Creates New Products for Spring 2006 Line!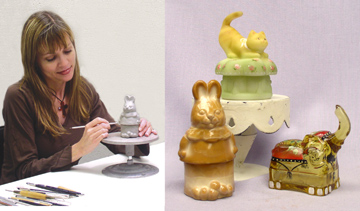 (Williamstown, WV). Fenton Art Glass and Sculptor Suzi Whitaker welcome our second century with an all-new line of inventive works. Suzi has created a new collectible, the whimsical Elephant "Memory Box," perfect for storing life's precious memories and small treasures. For Spring 2006, Suzi has expanded the Memory Box menagerie to include two new critters, a Standing Bunny Box and the Cat Ringholder Box.

Special keepsakes celebrate the bond between mother and child, a love like no other. Remembering such shared treasures, Suzi designed a Memory Box in the form of a playful cat perched upon an ottoman, ready to pounce. Designer Stacy Williams continued the fun as she decorated the ottoman in handpainted calico and beribboned the orange tiger cat. Cute yet functional, the cat's tail serves as a ringholder while one may store tiny treasures in the ottoman. The Standing Bunny Box is handcrafted in rich Chocolate glass and recalls those yummy bunnies found in Easter baskets.

A native of Wellsburg, West Virginia, Suzi studied fine arts at West Virginia University in Morgantown and went on to the Art Institute of Pittsburgh, graduating in 1982. Her sculpting talents emerged while working at Carson Industries, and as Suzi designs new pieces for Fenton, her clay sculptures become the basis for new moulds. Suzi and her husband Bill reside in Glendale, WV, with a menagerie of four cats and two dogs, all "rescued," and all an inspiration!

Each Fenton Memory Box is handcrafted and handpainted with pride in West Virginia and delightful to give or to own.

Item 5361 VG 4-1/2" Cat Ringholder Box in Opal glass retails for $43.50 U.S.
Item 4930 ZY 5" Standing Bunny Box in Chocolate glass retails for $49.50 U.S.
Item 5033 L2 4" "Wheatberry" on Autumn Gold Elephant Box retails for $47.50 U.S.

Creating spectacular art glass for a century, Fenton Art Glass Company represents American handcrafted glass artistry. Located in Williamstown, WV, Fenton is known for its wide range of colors, handpainting and handcrafting. Two generations of Fenton family members remain active in the business and are proud to continue an American glassmaking tradition begun in 1905. For more information, call 800-933-6766 or visit www.fentonartglass.com.