Fenton to sign art glass in Aledo, Illinois
Wednesday, September 14, 2005
BY ROBERT ANDERSON
Daily Review Atlas, Monmouth, Illinois

The public is invited to a Fenton Glass Art Signing Event from 1 to 4 p.m. Saturday, Oct. 1, in Aledo, Illinois.

Mike Fenton, purchasing manager and safety director of Fenton Art Glass, and grandson of the founder, will be present to meet with collectors of Fenton's fine, handmade glassware, and answer any questions about the product and the factory.

Mary Louck, owner of Main Street Antiques, 114 E. Main St., where the event will be conducted, said she is honored to have Fenton visiting her store.

"It's really an honor to get Mike here," she said. "Two years ago, we had Tom Fenton here for our first signing event. They're called Family Signing Events. Not only will Mike be here for people to meet and visit with, he will personally sign every Fenton piece people buy that day."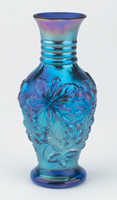 Fenton's exclusive Signing Event item, a Favrene Vase [pictured left], is available prior to and during the signing event. Guests may also register for a door prize, and take the Fenton Glass Factory tour on video. This short video features the factory in West Virginia, and explains the Fenton method of producing handmade glassware.

A Fenton Silver Showcase Dealer for the past eight years, Louck said the art glass is known for its wide range of colors, hand painting and handcrafting.

"Fenton has the largest array of colors you can imagine," she said. "They do a wonderful Halloween line. They do animal figurines, and we have a wonderful line of snowmen, Christmas trees, and fairy lights for holding candles. They make things as small as a ring holder, up to the most beautiful display of lamps you've ever seen. I always say if it's not a Fenton lamp it doesn't belong in my house. It's just gorgeous."

Being a Silver Showcase Dealer entitles Louck to receive Fenton pieces that are exclusive to showcase stores, and allows her to receive earlier shipments, as well as other considerations from the factory. The three large rooms at Main Street Antiques are stocked with antique furniture, Fiesta, and Depression glass, as well as collectibles such as Fenton Art Glass, Boyd's Bears, dolls by Lee Middleton and Ginny, and several lines of candles.

Store hours at Main Street Antiques are 8 a.m. to 5 p.m. Monday through Saturday. They can be reached at 309-582-2299.
To see if an event is coming to a city near you, click here.