Fenton Art Glass Company Celebrates... A Mother's Love...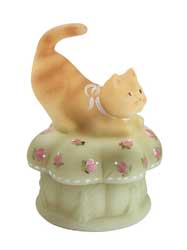 (Williamstown, WV). How to tell Mom she's truly priceless? Keepsakes and memories celebrate the love between mother and child, a bond like no other. Recalling such moments, sculptor Suzi Whitaker designed a new Treasure Box in the form of a playful cat perched upon an ottoman. Designer Stacy Williams decorated the ottoman in a rosy calico and added a ribbon to the orange tiger cat - what fun! Cute yet functional, the cat's tail serves as a ringholder while the ottoman stores tiny treasures.

This Fenton keepsake Treasure Box is perfect for storing life's special treasures, and it celebrates the love between mother and child. Celebrate your special someone with handcrafted, handpainted Fenton glass - a Mother's Day gift destined to become an heirloom.

Item 5361 VG 4-1/2" Cat Ringholder retails for $43.50 U.S.

Creating spectacular colored art glass for a century, Fenton Art Glass Company represents American handcrafted glass artistry. Located in Williamstown, WV, Fenton is known for its wide range of colors, handpainting and handcrafting. Two generations of Fenton family members remain active in the business and are proud to continue an American glassmaking tradition begun in 1905. For more information, call 800/933-6766 or visit www.fentonartglass.com.