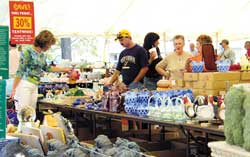 Fenton Art Glass fan base worldwide
August 1, 2005
By DAVID PAYNE Sr.
Parkersburg News, Parkersburg, WV


WILLIAMSTOWN - People from virtually every corner of the country and across the world gathered in Williamstown Sunday to help Fenton Art Glass mark a century of red-blooded, American-made glass.

The Fenton parking lot had as many vehicles with out-of-state plates as ones from West Virginia and Ohio. People drove from Nebraska, Arkansas, Nevada, Iowa, Connecticut, Tennessee, Wisconsin, Massachusetts, Kansas, Maryland, Arizona, Georgia, Alabama, Indian, Virginia, South Carolina, North Carolina, Illinois, New Jersey, Kentucky, Minnesota and Florida.
The event began Friday and ends Tuesday.

Norma Fennel drove all the way from Vina, Ala., an area known for the Sunshine brand dog food produced there.

Fennel has been collecting Fenton pieces for almost 40 years and has about 100 pieces.

"I like it because it's American made. You don't see much of that anymore. I collect Fenton, really, because I'm too old to do anything else," she said.

She had pieces signed by members of the Fenton family and had her picture taken with Tom and Scott Fenton, two men Fennel considers - and treated like - celebrities.

Fenton Art Glass is the largest manufacturer of handmade colored art glass in the United States and has 450 employees. Its products are available for sale in more than 4,500 retail shops across the nation.

Fenton has crafted a special collectible for the event. The Centennial Celebration Exclusive is a Mandarin Red Sherbet glass. The mould was designed by company founder Frank L. Fenton during the 1930s. The piece is only available on the grounds at Fenton during the Centennial Celebration.

One Sunday highlight was the Centennial Collector Auction held at Marietta College. Shelly Fenton Ash also signed pieces. Just Us Friends and the Mid-Ohio Valley Players provided musical entertainment Sunday.

Dozens of vendors sold their wares in an arts and crafts area. Among them was Belmont resident Eddie Seese, a former employee of Ritchie County marble-maker Mid-Atlantic of West Virginia Inc. and Fenton Art Glass.

"I love working with glass. You create a vision of your own art and then try to pull that off in glass," he said.

The event also attracted area residents who had never seen the facility before. Sunday was the first time Ritchie County resident Steve Minardi had visited.

"I've never been here before. I think it's a great place," he said.

Minardi couldn't help but notice that many people traveled thousands of miles for the event.

"I saw on the sign-in sheet where someone from India had signed. Some people we took a factory tour with were from California," he said.

Tuesday's schedule of activities include:

8 to 11:30 a.m. - Glassmaking School.

9 to 11 a.m. - Glassmaking Workshop (Master Craftsman Seminar).

10 a.m. to 1 p.m. - QVC Broadcast "live" from Fenton.

1 to 3 p.m. - Glassmaking Workshop (Master Craftsman Seminar).

1:30 to 3 p.m. - Signing with QVC Host and George Fenton.

2:30 to 4 p.m. - Fenton Family Tours.
[PHOTO CAPTION ABOVE]
People browse through items at the Fenton Art Glass Centennial Celebration event Sunday in Williamstown. (Photo by Dave Payne Sr.)