Fenton Art Glass Company Celebrates A Mother's Love...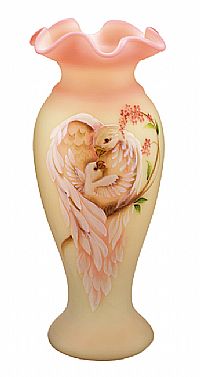 (Williamstown, WV). Show Mom she's special with a Fenton Art Glass keepsake for Mother's Day. Burmese glass, made with pure gold, is the perfect canvas for Fenton designer Robin Spindler to illustrate the love between mother and child, a bond like no other. Robin's design features a mother bird with her baby gently wrapped in wings of heartfelt love.
Three proud Fenton moms−Lynn Fenton, Nancy Fenton, and Shelley Fenton−are pleased to have their signatures on this vase. As a Mother's Day gift, this piece will be cherished and handed down to future generations.
Item 6548 ES 11" Burmese Vase retails for $189.00 U.S.
Inscribed with the signatures of Lynn Fenton, Nancy Fenton, and Shelley Fenton
Creating spectacular colored art glass for a century, Fenton Art Glass Company represents American handcrafted glass artistry. Located in Williamstown, WV, Fenton is known for its wide range of colors, handpainting and handcrafting. For four generations, Fenton family members have remained active in the business and are proud to continue an American glassmaking tradition begun in 1905. Call 800-933-6766 for more information or visit www.fentonartglass.com