A Fenton Art Glass Innovation ... Mary Gregory on Aubergine!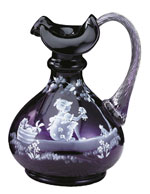 (Williamstown, WV). Fashion designers and home decorators alike love the vivid, rich color of the eggplant (Catalan alberginia). Dubbed "Aubergine" by Fenton Art Glass, this luxurious glass color became the perfect choice for special, handpainted Mary Gregory items for spring 2007.
The highly-detailed Mary Gregory decorating style demands great skill, since the enamel paints used in handpainting are the consistency of marshmallow cream. Fenton designer Stacy Williams extends her fondness for the Mary Gregory style with her "Little Mommy" motif on an Aubergine pitcher.
Item 8966 D7 6-3/4" Pitcher is limited to 1,850 pieces and retails for $135.00 U.S.
Creating spectacular colored art glass for a century, Fenton Art Glass Company represents American handcrafted glass artistry. Located in Williamstown, WV, Fenton is known for its wide range of colors, handpainting and handcrafting. For four generations, Fenton family members have remained active in the business and are proud to continue an American glassmaking tradition begun in 1905. Call 800-933-6766 for more information or visit www.fentonartglass.com