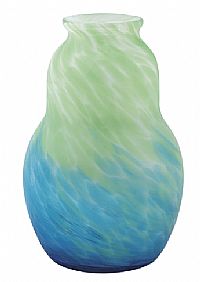 Fenton Art Glass Company Captures the Wonder of the Caribbean!
Williamstown, WV - Fenton glass artisan Dave Fetty captures the essence of the Caribbean sea and sky in the "Caribbean Day" vase, part of the 2006 Fenton Connoisseur Collection. Since 1983, the Fenton Connoisseur Collection has been the "best of the best" showcasing the skills of our glass artisans and decorators. Each piece in the Collection is strictly limited by number.

Dave Fetty developed a special process to create this spectacular vase. Multiple layers of crystal combine with powdered glass in white, blue and green to produce a dramatic result. No two Caribbean Day vases will be exactly alike.

Item 8199 B6 "Caribbean Day" 7-1/2" Vase, limited to 750 pieces, retails for $295 U.S.

Creating spectacular colored art glass for a century, Fenton Art Glass Company represents American handcrafted glass artistry. Located in Williamstown, WV, Fenton is known for its wide range of colors, handpainting and handcrafting. For four generations, Fenton family members have remained active in the business and are proud to continue an American glassmaking tradition begun in 1905. Call 800-933-6766 for more information or visit www.fentonartglass.com.