Fenton Art Glass Forges Ahead With "Feathers" Vase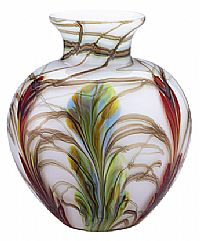 (Williamstown, WV). Master glass artisan Dave Fetty unveils his latest innovation for Fenton Art Glass's Spring 2007 collection. His "Feathers" vase has a graceful look that befits its name.
Using pure white Milk Glass, Fetty has developed an entirely new technique to "feather" rich glass color combinations into the surface. No two Feather vases will be exactly alike, and that's the essence of handmade glass created by artisan Dave Fetty. Those of us at Fenton art Glass call it "Feathers," and we think it will really tickle Dave's many fans!

Item 9964 C1 "Feathers" 7" Vase, limited to 850 numbered pieces, embossed with Dave Fetty's personal stamp, retails for $325 U.S.
Creating spectacular colored art glass for a century, Fenton Art Glass Company represents American handcrafted glass artistry. Located in Williamstown, WV, Fenton is known for its wide range of colors, handpainting and handcrafting. For four generations, Fenton family members have remained active in the business and are proud to continue an American glassmaking tradition begun in 1905. Call 800-933-6766 for more information or visit www.fentonartglass.com