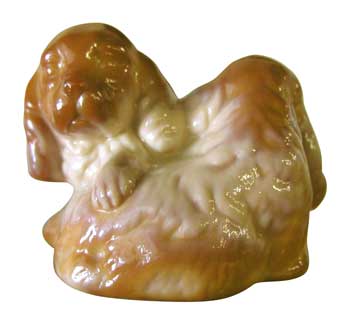 Check out what's new on eBay! Fenton's Frolicking, Rollicking Chocolate Spaniels!
Designed by Fenton's Tony Rosena in 1983, our "Spaniels" figurine captures a great moment. Everyone smiles at the sight of two frolicking, rollicking Spaniels having a roll-around!

Historic Chocolate glass, perfected by Jacob Rosenthal and first made by Fenton 99 years ago, is the perfect color for these two playful dogs! They're buddies for life!

Fenton's Frolicking, Rollicking Chocolate Spaniels figurine is limited to just 300 pieces, created especially for eBay, and each piece is individually numbered. Each piece is 2 1/2" high and 3 1/4" wide.

Fenton partnered with eBay to provide both auction and "Buy It Now" opportunities for the eBay community.

Beginning Tuesday, February 14, collectors have the opportunity to bid on pieces numbered 1 through 5.

Then on Thursday, February 23, the eBay community will have the opportunity to purchase pieces numbered 6 through 300 with the eBay "Buy It Now" option.

To bid now, click here.