Fenton Art Glass offers tenth eBay Exclusive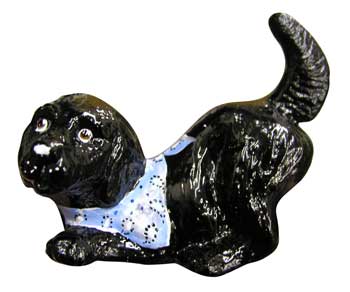 Fenton Black Lab Puppy will be available for both bid and "Buy it Now"

Puppies leave paw prints on your heart! Everyone loves a playful puppy, and who can resist a Black Lab? Fenton is pleased to present a new litter, limited to just 300 Puppies, all bright-eyed, bushy-tailed and ready to pounce on your heart! Fetch!

The 3 1/2" tall playful Black Puppy is 4" long, handcrafted and handpainted, with bright brown eyes and wearing a blue and white bandanna created by Fenton designer Stacy Williams. Each Puppy is carefully handpainted and signed with pride by the artist who completes it. The Fenton Puppy in Black glass is limited to just 300 pieces, created especially for eBay, and each piece is individually numbered.

Fenton partnered with eBay to provide both auction and "Buy It Now" opportunities for the eBay community.

Beginning Friday October 14th, collectors have the opportunity to bid on pieces numbered 1 through 5.

Then, the eBay community will have the opportunity to purchase pieces numbered 6 through 300 with the eBay "Buy It Now" option.

For all of your Fenton needs shop online with an authorized Fenton dealer today, or click here to find a dealer near you.