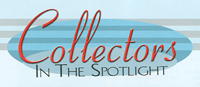 Fall 2005
By SUSAN ELLIOT
Collector Editions Magazine
---
"We need a Fenton Anonymous"
---
For one Midwest family, collecting Fenton Art Glass began with simple family outings to flea markets and occasional holiday gifts. Now, the collection inspired by Steve Duncan's mother has grown into a consuming passion that takes him, his wife Connie and their 20-year-old son Nick on a daily quest for rare and beautiful pieces.
Nick remembers getting his first piece of Fenton from his grandparents ("probably a Birthstone bear") at age seven or eight. "Every Christmas, they would buy animals, bears or dogs for me."
"Steve's mother got into collecting first," says Connie. "We found a panda bear and were going to give it to her for a gift. Then we found out it was Fenton. We decided to keep it and went on collecting from there.
Then, one fall about 12 years ago, even before they became collectors, the Duncans took Steve's parents to West Virginia to see the Fenton factory and the area. "Seeing the glass being made enhanced it for us," says Connie.
A few years later, they attended their first national convention, and eventually joined two national Fenton groups (Fenton Art Glass Collectors of America and The National Fenton Glass Society), and a local group, Fenton Finders of Greater Kansas City.
With more knowledge, each family member has developed a Fenton collecting specialty. Steve's focuses strictly on rare 1930s patterns such as Dancing Ladies and Mosaic (combinations of red, blue and orange glass). "Those pieces are very rare and were difficult to do," says Steve. He also collects Karnack Red, "the most difficult pattern to find. It's deep red, with intertwined blue glass in it that forms random patterns. They would shape it into hanging hearts. They're worth several thousand dollars apiece."
As Steve emphasizes, "The name of the company is Fenton Art Glass and the old stuff is really art glass. That's why I got to like those old pieces." The familiar, milk white Hobnail pattern "has probably sold more than everything else combined, but it's probably not art glass in the true sense of the word," he says.
"Fenton is the only remaining Ohio Valley glass company that's still family owned. You can still go back and watch it being made," he says.
For Steve, the real fun is the thrill of the chase, "always coming across the piece that you didn't know was made, or was made in that color. These may have been samples. Back then Fenton didn't keep real good records so they can't tell you about a lot of the pieces."
Connie looks for pastel blue Leaf pattern plates from the 1930s, made in leaf shapes with leaf detailing in two sizes (8.5 and 11 to 12 inches). "I have at least 20 displayed in my kitchen above the cabinets," she says.
"I like that you can decorate with Fenton, but you don't have to," says Connie. "It can be functional. People are actually using their creamers, punch bowls, and other pieces. ...I just like the beauty of it," she says.
Nick's collection has grown from mallards and various animals as he looks for early art glass designs.
"I have about 500 pieces now, from $20 animals to a $500 basket, from the 1920s or 1930s. I have a couple of cabinets to display my glass, but don't have room to put out all of it. Some of it is still at my parents house," says Nick.
"One of my favorite pieces is a 6.5-inch flared vase in Moonstone, that was made in the 1930s. The painter Otto Gertler, put a scene with an Oriental pagoda on it, and flowers below. I saw one in the Fenton factory museum and one on eBay in blue about a year ago, but I didn't get it then and was sorry." He was finally able to buy one recently. "I have only seen three of this piece," says Nick.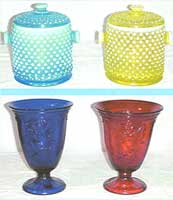 His parents think they have 3,000 to 4,000 pieces of Fenton, but an accurate inventory eludes them. As Steve explains, "I've tried to create an inventory so many times, for insurance purposes, but it gets a little discouraging."
Steve served on the board of directors for the national club, FAGCA, and was president of his local club for 5 years. "We have a mini convention locally, with Fenton family members in attendance and an auction. We have sales out of rooms, seminars, and have set up an educational website to try to promote Fenton as best we can," he says. Steve has also written about rare pieces for national glass newsletters.
"What we get out of collecting has been a two-way street," says Steve. "We wouldn't change a thing."
For the Duncans, collecting Fenton continues to mean family togetherness, family trips, friendships, and the thrill of the chase.
[PHOTO CAPTION ABOVE]
Fenton Art Glass fills the home of collectors Steve, Connie, and Nick Duncan. Examples are too numerous to accurately inventory.