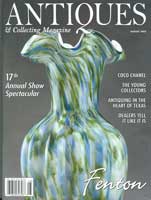 FENTON ART GLASS - A Century of Success
August 2005
by Dr. James S. Measell
Antiques and Collecting Magazine


"Every long journey," it has been said, "begins with a single step." At 17, Frank Leslie Fenton took the first steps toward what would become a century-long journey for the Fenton Art Glass Company. Upon graduation as valedictorian of his high school class in 1897, he pondered his future prospects.

Something drew him to the Northwood glass factory in his hometown. Perhaps his artistic senses were intrigued by remarks he had heard about Harry Northwood, the plant's namesake and general manager. Northwood had emigrated from England in 1881, and--after a few years at Hobbs-Brockunier in Wheeling and LaBelle Glass in nearby Bridgeport--he was successful with glass enterprises in Martins Ferry, Ohio, and Ellwood City, Pa. Northwood's arrival in Indiana during February 1896, was greeted by the enthusiastic backing of investors and much local publicity.

From its inception, the Northwood factory marketed decorated glassware. Frank L. Fenton joined the decorating department in the summer of 1897. He was an eager employee, and family stories recount that he had ideas for decoration designs. As he painted apple blossoms on opal glass or geometric motifs on pitchers, his mind was ablaze, and the young man submitted some designs directly to the Northwood men. Unfortunately, his foreman was not receptive to such efforts coming from someone who had been employed just a few weeks.

Frank was late in reporting for work one day, and he was told by his foreman to leave the factory. On the way out, he was seen by a manager, perhaps Carl Northwood or Harry Northwood himself. The man spoke with Frank for a few moments and sent him back to work. Within a year, Frank L.
Fenton became the foreman of the decorating department at the Northwood plant!

After the Northwoods went to England in late 1899, Frank L. Fenton and several of his brothers went to the new Jefferson Glass Co. in Steubenville, Ohio. They left there in 1903 to go to the Bastow Glass Company in Coudersport, Pa., where Frank L. Fenton became manager of the decorating department. The Bastow plant was destroyed by fire in May 1904, but Frank L. Fenton and his brother John found jobs at Harry Northwood's glass plant in Wheeling, West Va. Less than a year later, they decided to start their own business.

One family story says that John had told Frank to come to him if he wanted financial help in starting a business. When Frank did so in early 1905, John asked, "How much money do you have?" When Frank replied that he had about $280, John responded with enthusiasm: "Good. Between us, we have $284.86. Let's get started!" They rented space in the Haskins Glass Company at Martins Ferry and bought glass blanks (plain items) from nearby manufacturers. The Fentons handpainted decorations on pitchers and tumblers to create distinctive lemonade sets.

Old ledgers record the names of Fenton's very first employees--Carrie Howell, Lizzie Moore, Bertie Rhumbach and Carrie Wood. The new company was successful, and orders rolled in from cities in the East, South, and Midwest. Imagine the excitement when Webb Queensware placed an order for 60 dozen lemonade sets, a shipment that would require 50 barrels!

Sometime in early 1906, the fledgling Fenton Art Glass Company found it difficult to obtain blanks from its suppliers. The brothers needed glass for their growing business, and they either had to buy it from a dependable source or undertake to make it for themselves. They chose Williamstown, West Va., as a glass factory site, and ground was broken on October 7, 1906. On January 2, 1907, the first item, a pressed creamer in crystal, was made.

Within a few months, the company letterhead listed these colors: "blue, green, amethyst, ruby, Chocolate [and] Onyx." The man responsible was Jacob Rosenthal. Born in 1855, Rosenthal was an experienced factory manager and color chemist, and he helped recruit seasoned glassworkers from
the Ohio Valley to start the Fenton plant.

In late 1907, Fenton Art Glass began to market an exciting new line of glass. Called "iridescent ware," it was made by spraying hot glass with a solution of metallic salts. Rosenthal was surely involved, but Fenton lore recounts the arrival of a mysterious wandering glassworker who came in a railway boxcar and announced, "I'm going to show you how to make a new kind of glass!"

As iridescent glass captured the public fancy in early 1908, Fenton's competitors--such as Imperial Glass in Bellaire, OH, and the Northwood firm in Wheeling, WV--created their versions. John Fenton left Williamstown to start the Millersburg Glass Co. In 1910-11, his firm made iridescent ware called Radium. All of these iridescent products are now prized as "Carnival glass," and there are many collectors for it today.

After World War I, Fenton's vivid, highly-patterned pressed items gave way to plain articles in iridized pastel colors such as Celeste Blue, Florentine Green, Persian Pearl, Tangerine, Topaz, and Wisteria. Collectors of "Stretch glass" value these pieces today. In the late 1920s and early 1930s, Fenton produced innovative opaque colors with splendid names: Chinese Yellow, Jade Green, Lilac, Mandarin Red, Mongolian Green, Moonstone, Pekin Blue, Periwinkle Blue, and Venetian Red.

The Great Depression forced some glass plants to close, and others, including Fenton, faced difficulties. The company introduced new patterns (Georgian, Lincoln Inn, and Plymouth), and its Jade Green and ruby glass were selling, but the decorating department was shut down. Orders from
Dormeyer for mixing bowls were welcome, and Fenton made Hobnail barber bottles for the L. G. Wright Glass Co. A perfume company executive happened to see one, and the Chicago-based Allen B. Wrisley Co. soon contracted with Fenton for thousands of Hobnail perfume bottles. The Depression was over, and Fenton's Hobnail pattern began its four-decade run!

World War II brought some prosperity to Fenton, for importers unable to get glassware from Europe turned to domestic products. By 1947, Fenton's opalescent Hobnail was doing well, but the post-war economic boom did not benefit plants making handmade glass.

Unforeseen events thrust other Fenton family members into leadership positions. Sales manager Robert C. Fenton, Jr., died in 1946. After a sudden illness, company founder Frank L. Fenton, 68, passed away on May 18, 1948, and salesman Robert C. Fenton, Sr., died in November. The first generation was gone. Frank M. Fenton, 32, and Wilmer C. "Bill" Fenton, 24, became President and Vice-President, respectively. Frank M. had been at the company since college graduation in 1936, and he was familiar with union work rules and other company procedures. Bill had worked in sales
since being discharged from the Army in mid-1946. Together, Frank and Bill were to lead the company for nearly four decades.

Fortunately, the company had several lines, such as Coin Dot and Hobnail in various opalescent colors, which were strong performers in the late 1940s. Milk glass began to climb in popularity during the 1950s, and Fenton's Milk Glass Hobnail line was soon an industry leader.

Competition in the glass industry was stiff in the mid-1960s, but Fenton responded by developing the kinds of glass products people wanted. Designer Tony Rosena was hired in 1967, and he helped Fenton secure the services of decorator Louise Piper, who restarted the decorating department in 1968 and created a handpainted floral motif called Violets in the Snow. Research chemist Charles Goe developed two beautiful art glass colors, Burmese and Rosalene.

Adding to the success of Burmese and Rosalene and decorated ware was Fenton's revival of the early twentieth-century iridescent ware that collectors had dubbed "Carnival glass." Because of concerns about re-issues of old glass treatments, Fenton began to mark all its products with "Fenton" in script within an oval.

By the mid-1980s, a third generation of Fentons held key positions in the company or the Fenton Gift Shop. Included were three of Frank's four sons--George (President), Tom (Vice-President--Manufacturing) and Mike (Purchasing Manager and Safety Director) as well as Bill's children--Don (Vice-President--Sales), Shelley (Graphics Manager), Randy (Gift Shop Treasurer), and Christine (Gift Shop Data Processor). Nancy Gollinger Fenton, who is married to George, was named Director of New Product Development.

This new generation faced stiff challenges, including a generally poor economy and competitive pressures from imported giftware. Several of Fenton's longtime competitors (Fostoria, Imperial, Viking and Westmoreland) shut down for good. After exploring some alternative directions, Fenton
chose to emphasize traditional styles while creating innovative glass colors and distinctive handpainted decorations.

The Dusty Rose color gained steadily in popularity after its introduction in 1984, and a cute novelty called the "Birthstone Bear" caught hold. Talented Fenton decorators developed items for limited edition groupings, such as the Childhood Treasures Series (1983-1989) and the Birds of Winter Series (1987-1990).

In the mid-1980s, Fenton began to create annual groupings of special colors, such as Pink Opalescent and Topaz Opalescent. These evolved into the limited edition "Historic Collections" which continue today. Each Historic Collection color has admirers, but some are especially noteworthy: Persian Blue Opalescent (1990); Stiegel Green Stretch (1994); Mulberry (1996); and Royal Purple (1998). Lotus Mist Burmese, introduced in 2000, is another collector favorite.

Other Fenton limited editions made their presence felt in the 1980s and 1990s. The Connoisseur Collection, begun in 1983, annually attracts much interest, as the company continues to strive for the finest in art glass. Fenton's relationship with electronic retailer QVC in 1988, and television broadcasts made fans of many viewers who purchased Fenton glass made especially for QVC.

The Family Signature Series debuted in 1993, and the Floral Interlude tulip vase with George's and Nancy's signature was chosen as "Decorative Collectible of the Year" for 1998 by the National Association of Limited Edition Dealers (NALED). Other noteworthy limited editions from the 1990s which continue are the Designer Series, Mary Gregory, and the Glass Messenger Subscriber Exclusives.

Sculptor Jon Saffell came to Fenton in 1994, and his talents were reflected in many new moulds, including several vases and baskets as well as animal figurines and a twelve-piece Nativity Set. Throughout the 1990s, Fenton's decorating designers--Frances Burton, Kim Plauche, Martha Reynolds and Robin Spindler--showcased their talents on Connoisseur Collection pieces and various other items, including the Designer Bells.

During the 1990s, two fourth-generation Fenton family members joined the organization. Lynn Fenton Erb started in 1994 as Sales and Marketing Specialist, and she was instrumental in launching the Glass Messenger quarterly newsletter in 1996. Scott Fenton joined the company in early 1998 after college graduation and is now National Sales Manager.

Fenton Art Glass marked its 100th anniversary on May 4, 2005, and a gala celebration in Williamstown was slated for July 29-August 2, 2005, a time marked on the calendars of Fenton enthusiasts through the country.
[ON THE COVER]
Vasa Murrhina, Aventurine Green with Blue vase, 11", ca. 1964-1969. Christine Fenton recalls her dad bringing the vase home for her mother, who announced that she planned to redecorate to match the green and blue in the vase. Her dad Bill would later remark, "That vase sure cost a lot of money!"