Fenton USA Presents...Meadow Berry on Madras Pink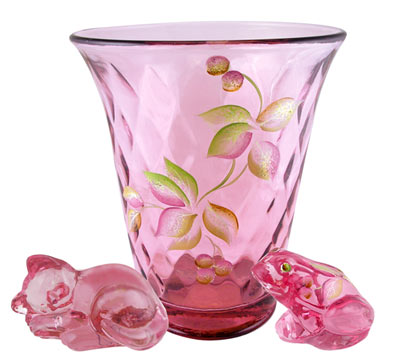 (Williamstown, WV, July 18, 2008). Madras Pink glass from Fenton USA is easy on the eyes and a perfect accent for home decor. Madras Pink glass is available unadorned or handpainted. Fenton designer Robin Spindler's "Meadow Berry" motif uses layers of sheer color and
a special sponge treatment to create an
eye-catching burnished effect on the glass. Handcrafted in West Virginia, each Madras Pink grouping from Fenton USA includes items ranging from animal figurines and candy
boxes to pitchers and vases.

Item 2744 P6 8" Vase retails for $139.00 U.S.
Item 5064 PJ 3-1/2" Sleeping Kitten figurine retails for $22.50 U.S.
Item 5274 P6 2-1/2" Frog figurine retails for $34.50

Creating spectacular colored art glass for more than a century, Fenton Art Glass Company represents American handcrafted glass artistry. Located in Williamstown, West Virginia, Fenton is known for its wide range of colors, handpainting and handcrafting. For four generations, Fenton family members have remained active in the business and are proud to continue an American glassmaking tradition begun in 1905.
Call 800-933-6766 for more information or visit www.fentonartglass.com